Living Well
Maggie Valley Wellness: Finding balance with a healthy mind and body
Wednesday, August 17, 2016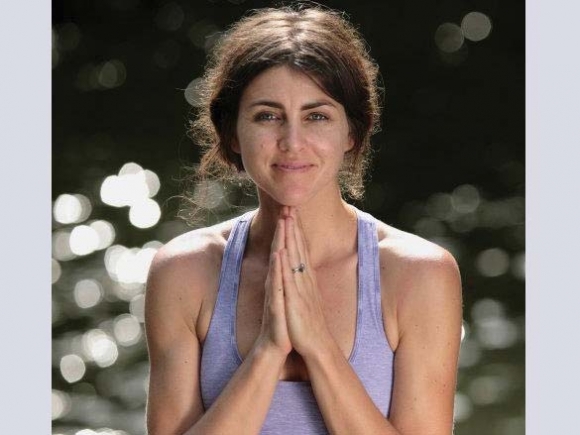 As a yoga instructor and a massage therapist, Candra Smith knows that staying healthy requires a sound mind and body, which is why her business — Maggie Valley Wellness Center — provides services for both.
Situated conveniently right across the street from the Maggie Valley Club off Moody Farm Road, the wellness center offers yoga classes or private sessions, skin care products and facials, a variety of massages, acupuncture, and recently added a nail salon.
Whether someone hurt their back playing golf across the street or a couple wants to enjoy a relaxing spa day before their wedding ceremony, Maggie Valley Wellness has them covered. Smith said the spa's array of services as well as the calm environment is what sets it apart from others.
"The selection of services but also the beauty of this space makes us different," she said. "I think just being on the creek and having that connection to nature sets us apart as well — you can just open the window during a massage and hear the creek flowing."
With the sound of Jonathan Creek flowing right behind the wellness center and a serene atmosphere inside the spa, stress quickly starts to melt away as soon as you walk through the door. Outside life is hectic, but inside things are quiet and your mind is able to slow down — and that's how Smith wants her clients to feel.
The medical benefits of massage include stress reduction, improved postural alignment, flushing of the lymphatic system and a boosted immunity, but Smith says there is so much more to massage, yoga and the other services her spa provides. In addition to Swedish, deep tissue and hot stone massages, Maggie Valley Wellness now offers medical massage for a host of conditions — from prenatal massage to oncology massage to help cancer patients.
"Most people aim for the body, but they forget the body is connected to the mind and soul as well," she said. "Giving your mind an opportunity to rest has so many benefits."
Yoga also allows people to improve alignment, flexibility, strength and breathing while also relieving stress. Smith said the ultimate goal of yoga is to improve the practice of meditation because it requires a high level of focus to perform the variety of poses. She said meditation helps people to connect with their inner being.
"The level of concentration is unique to most physical activity," she said. "It helps the mind focus and leads to improved meditation practices."
Smith, who has a degree in exercise science from University of North Carolina–Wilmington, opened Maggie Valley Wellness about 10 years ago. She also became a certified personal trainer at the Asheville School of Massage and completed her 500-hour certification as a yoga instructor at the North Carolina School of Yoga. Smith since has studied reflexology, craniosacral therapy and advanced deep tissue techniques. She integrates several techniques into her sessions. She typically begins with long fluid strokes to help warm the tissue and moves into deeper techniques to help "undo" chronic muscle tension.
She employs equally talented and experienced practitioners at the spa — including cosmetologist Karen Reilly, massage and physical therapist Elaine Dohms, licensed nail technician Lindsay Bowen and massage therapist and yoga instructor Annie Kim.
Maggie Valley Wellness Center does offer a special introductory discount for locals and special packages for massage, yoga and facials. Bridal parties can select from a host of package deals to unwind before the big day. Smith also offers yoga classes twice a week at the Haywood Regional Health & Fitness Center in Clyde — a beginner class at 9 a.m. Wednesdays and a level one and two class at 5:30 p.m. Thursdays.
Smith encourages people to put aside their fears or preconceived notions of yoga and give it a try.
"Don't be afraid — the list of benefits is really long," she said. "Yoga can be for anyone."