Archived News
Rally to 'save health care' draws crowd to downtown Sylva
Wednesday, January 18, 2017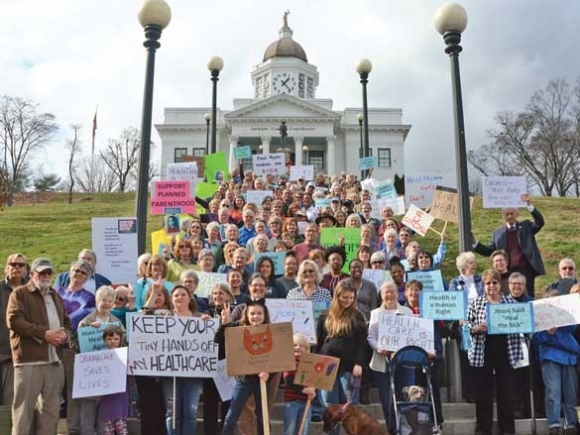 A crowd of more than 150 people took to the streets of downtown Sylva Sunday joining protestors in cities across America for a national day of action to save the Affordable Care Act.
"Repeal is callous and irresponsible," said Nilofer Couture, wife of a Western Carolina University professor. "It has truly changed the lives of families in this country. Those driving its repeal refuse to acknowledge the devastating effect it would have on millions of Americans."
The crowd gathered at the foot of the historic courthouse pumped their signs higher with each honk of support from passing traffic.
"Isn't it amazing how uplifting and empowering it feels for the community to come together to stand united in defense of our rights?" said Chelsea White of Sylva, a waitress and organizer with Progressive Nation WNC.
The rally drew supporters from several counties — including Haywood, Jackson, Macon and Swain — who called on the public to fight back against the assault on Obamacare and remember how much it's done.
Speakers touted the good that's come from the Affordable Care Act, like allowing young adults to stay on their parents' insurance until they're 26, no cost for birth control pills and preventive care, or protection for people with pre-existing health conditions.
"It works. The act works. Let's do everything we can to keep it in place," said Judy Leroy Robinson, vice chair of the Good Samaritan Clinic in Sylva.
The crowd Sunday represented a broad slice of America: college students and babyboomers, black and white, unemployed and well-to-do, the working class and executives, and even parents with kids in tow. Despite their diversity, there is one thing the crowd had in common — they all had health insurance.
That wasn't the case at a health care rally held in Sylva eight years ago. The crowd who gathered in this same spot in 2009 was fighting for reform of the broken health insurance system. Several took the microphone to share the plight of the uninsured, due to pre-existing conditions or exorbitant costs they couldn't afford.
Marsha Crites had been among them, and she took the mic again this week.
"I am furious that that right the basic right to health care is threatened at this point," said Crites.
Speakers also challenged common criticisms of the Affordable Care Act, like the idea that it's to blame for rising insurance costs.
"Health coverage premiums are actually growing at a slower rate since the ACA was introduced," White said.
Avram Friedman, a Sylva activist and director of the Canary Coalition, said Obamacare rules ended the dishonest shenanigans of insurance companies that used fine print in policies to deny people coverage they thought they had.
"Thanks to the ACA regulations, I knew what I was buying," said Friedman.
Friedman was among the millions of uninsured who now have coverage thanks to Obamacare.
"The hard-fought law, which brought healthcare to over 20 million people, is now being thrown out by individual who haven't a clue what it means to be sick and under- or uninsured," said Joanna Woodson, a student at WCU.
It was a recurring theme at the rally: the irony of Washington leaders with free health care for life stripping health insurance from the working class.
"I personally think they should lose their health care, too. They ought to come off it and be on the same thing we're on," said Frank Burrell, chair of the Jackson Democratic Party. "I hope every one of you here today are mad."
Following the rally, the crowd marched through downtown Sylva chanting "This is what democracy looks like!" and "Hey, hey! Ho, ho! Leave our ACA alone!"
Speakers warned that repeal would hurt everyone, not just the 30 million people who buy insurance through the Obamacare marketplace. The cost of treating uninsured Americans would once again be thrust on the backs of local hospitals, sap public assistance programs and drive up premiums for all as healthy people exit the risk pool, Couture said.
"I'm mad our health care is hanging in the balance and being kicked around like a political football," Couture said.