Archived Opinion
An escape into a magical world
Wednesday, February 15, 2017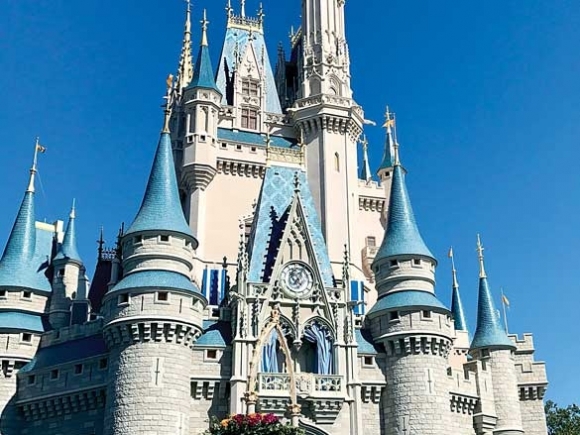 I was in the Disney bubble for seven days straight, so it was rather depressing driving home with the daily grind looming up ahead. A blogger friend of mine coined this discombobulating experience "re-entry." I'm sure you've experienced it yourself. An amazing vacation, a weekend music festival, a holiday vacation from work. "Re-entry" is when you leave that happy façade of a world and return to reality.
While I was looking forward to it, I had zero expectations for our trip to Disney. Throughout my life, I've learned that disappointment is worse when I build something up and happiness more acute when it's unexpected.
I wasn't sure if I was going to find Disney World cheesy or overwhelming or exhausting or hokey. Now that I'm home and reflecting upon it, I found it none of those things. We were exhausted each day, but it was a good, pleasant exhaustion full of memories and giggles.
A couple of years ago I read Randy Pausch's book The Last Lecture. Man, that book's amazing. If you haven't read it, add it to your list. Randy was a brilliant computer science, human-computer interaction, and design professor at Carnegie Mellon. He was diagnosed with pancreatic cancer in his mid-40s. He died less than two years later. Knowing his diagnosis was terminal, he gave an incredible "last lecture" called "Achieving Your Childhood Dreams" which became a popular YouTube video. He then co-authored a book of the same name which was a New York Times Bestseller.
Randy's childhood dream was to become a Disney Imagineer, so he talks a lot in his book about Walt Disney World. As an adult he served as an Imagineer consultant during work sabbaticals and helped design attractions featured at Disney parks. Something about the way he talked about Disney and the world of Imagineering intrigued me. From that point on, I thought differently and fondly of the person Walt Disney and his corporation.
With that thought in the back of my mind, I had a feeling Disney would be much more than princesses and kiddie rides. Then again, I'm not easily impressed, so I still wasn't totally convinced I would love it, but I was willing to go all in because my two little boys were ecstatic and had been counting down the days since last December.
Now that I'm back in Waynesville with my mind full of memories and thoughts from the trip, I can honestly say Disney was simply wonderful. They say it's the happiest place on earth, and I think "they" may be right. Everyone was genuinely friendly and knowledgeable, and especially engaging with the boys.
We visited all four parks: Magic Kingdom, Animal Kingdom, Epcot, and Hollywood Studios. Each offered a unique vibe which made every day different. The attractions, rides, firework displays, shows, food, character spots, everything was amazing.
My mom who passed away last August had been integral in the initial planning of our trip. In fact, she and I spoke on the phone the day before she went into the hospital about which resort the boys would like the best. She so badly wanted them to go on a big Disney trip while they're both at ages when life seems magical. And while I think it's true children find significant joy in Disney World, I'm now convinced it's magical for folks of all ages.
I saw glimpses of my mom throughout the week which made the trip even more meaningful. She always said the boys would like Animal Kingdom, and it ended up being their favorite park. We rode The Great Movie Ride at Hollywood Studios, and my mom's all-time favorite actors (Clint Eastwood, Lauren Bacall, Humphrey Bogart, John Wayne, Gene Kelly, Harrison Ford, Judy Garland, and more) came alive as animatronics. I smiled during the entire ride as I continually passed big-screen faces that made her so happy throughout her life.
My mom was born in 1940 and always said "Snow White" was her very favorite Disney movie. She said it's the one she remembers as a little girl. She bought the movie for my boys and loved watching it with them. When we walked through the Walt Disney museum last week, I learned that "Snow White and the Seven Dwarfs" was Disney's first feature film. I never knew that before, but it warmed my heart knowing it was my mom's favorite. There were many other moments as well where I could feel her by my side.
There truly is something special about Disney World, something I don't feel at Dollywood or Carowinds or Busch Gardens. While I enjoy those other parks, there's something different about Disney I can't quite put my finger on.
I read somewhere last week that Walt Disney was an extreme perfectionist which often took a toll on his bank account and his mental health. I learned that many tragedies befell him, but he constantly pulled himself from the mire to continue on relentless dream-achieving quests. The story of the man and the deep, rich history of the parks weave together to offer an unparalleled world of friendly people, unique rides, phenomenal shows, and more
Even at the age of 37, I was able to escape last week into a magical world of fun and entertainment. In Walt Disney's neverending goal to entertain everyone in the family, he once said, "Adults are only kids grown up, anyway."
Last week reminded me how very true that is and that I need to remember it more often.
(Susanna Barbee can be reached at This email address is being protected from spambots. You need JavaScript enabled to view it..)