Archived Arts & Entertainment
HART's scenic artist sets the stage for drama
Tuesday, February 21, 2017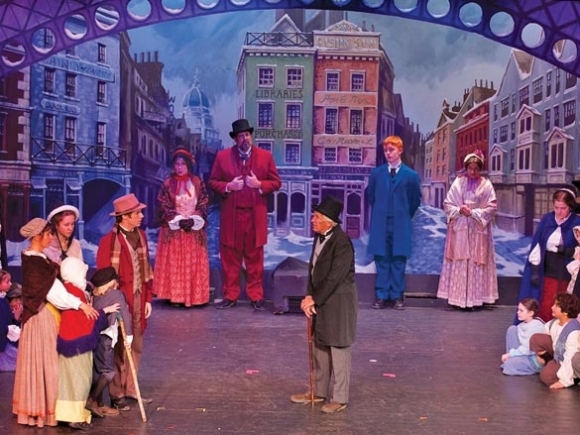 Lyle Baskin is a man of high places. He's spent most of his life on a ladder.
A scenic artist and backdrop painter, Baskin is up and down ladders all day, reaching and twisting his arms, waving and pumping his brushes, then it's back down the ladder and up the next one, lugging paint cans the whole way, from one end of the canvas to the other.
"You have to sling paint fast and get it up there and keep it wet until you get it right," he said.
The result is pure magic. A mystical forest, an eastern village, Times Square, a royal palace — Baskin can and has done it all in his 40 years as a scenic backdrop painter. After moving to Waynesville 10 years ago, he became the resident scenic artist for Haywood Arts Regional Theatre.
HART tried getting him an electric lift once, but it went up and down too slow, so he was right back to the ladder. Baskin's ladder proficiency is becoming a rarity these days, however.
"Most scenic drop artists paint with the drop on the floor and walk all over it while they are painting," Baskin said.
But not Baskin. He's spent so much of his life on ladders, "now it's the only way I want to work."
HART's director Steve Lloyd is an impeccable planner. He's already mulling the lineup for next year's shows, and will nail it down by August — far sooner than most theaters in the region. Over the next few months, he'll let a few names slip to Baskin.
"So, I was thinking … " Lloyd might mention in passing.
But no luck. Baskin has the poker face of an arms treaty diplomat and knows when to use it. Baskin pled the fifth when asked what scenery makes him cringe. If there's a backdrop he loathes or a show he detests, he wouldn't fess up.
"I don't dread any drops. They are all just a huge amount of work," Baskin said.
Nothing daunts Baskin anymore. Need a desert sunset? No problem. Want onion domes? Bring it on.
Baskin did have one confession, however.
"I am a messy painter," he said. "I have seen painters who don't get a drop anywhere but on the canvas. I can't do that."
Baskin was born an artist and gravitated toward set design as a teenager.
"I was drawing since I could hold a pencil," he said. "I tried other types of art but that's always where I go to."
Baskin can wield more than a paintbrush and pallet. He can saw, nail, cut, hammer, sand, screw, clamp, scroll and glue to build hard sets as well.
"I consider that part of the art really. I can create with wood as easily as painting," said Baskin, who can build a mean set of boulders from chicken wire and canvas.
He spent the first half of his career in Miami, where he plied his talents wherever he could.
"You always have to do a lot of different things with your skills. There were no fulltime jobs as a scenic artist in the '70s and '80s so you had to do other things," Baskin said.
He built displays for expos and trade shows, designed and painted billboards, and fashioned sets for TV shows, including "Miami Vice" for a few years. He was a large-scale graphic designer before there were computers — "I got really good with an Exacto knife," Baskin said — and worked for a party company building and painting scenery for lavish weddings and festivities.
But he always kept one foot in theater, getting whatever backdrop jobs he could, even volunteering if he had to.
"I like theater so much I like to be around it," Baskin said.
After Baskin's kids grew up, he got tired of life in Miami. Baskin had vacationed in the Smokies often, first as a child and later with his own children. When it came time for a life change, he and his wife moved to Waynesville.
In 2007, Baskin formed an alliance with HART as the theater's chief scenic artist. He still travels back to Miami for set jobs in between his work at HART, but he likes the vibe at HART better than many of the professional theaters he's worked for. There are fewer egos. It's a small shop, but Lloyd runs a seamless ship.
"It is a great place. I like the way Steve pulls it all together. He's able to keep a lot of things going at the same time," Baskin said.
Photo by John Highsmith