Archived Arts & Entertainment
HART's traveling backdrops wow theaters far and wide
Tuesday, February 21, 2017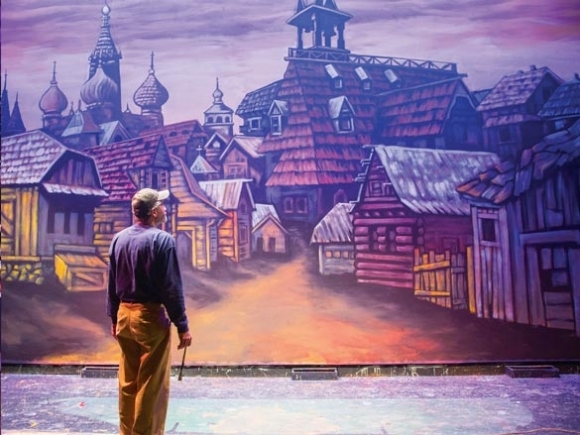 Haywood Arts Regional Theatre is known for is top-rate shows and high-caliber acting not typical of community theaters.
But HART has a well-kept secret that pulls its stage action together, a secret that's hidden in plain sight of audiences, always noticed but rarely noted: its stunning backdrops.
They do a lot of heavy lifting in a show. They set the scene and tone. They inspire actors to get into character. A well-done backdrop transports the audience to another time and place, suspending their sense of reality. After all, that's a critical aspect of the theater experience.
SEE ALSO:
• HART's scenic artist sets the stage for drama
• Six life lessons from a backdrop artist
But HART's jaw-dropping backdrops are also a revenue maker, a rarity for a community theater of its size. The robust backdrop rental program brings in $15,000 a year.
"It allows us to be more elaborate with our sets than we might normally be," said HART Executive Director Steve Lloyd. "The more money you've got, the better the shows can be."
Before HART was in the backdrop business for itself, Lloyd was on the other side of the table, trolling catalogs of set rentals in pre-internet days. But HART soon brought its scene design in-house and turned it into a thriving side business, thanks to a boot-strap, can-do attitude.
"As the years have gone by, we now have this huge collection and we add to it all the time," Lloyd said.
Any given month, HART's backdrops are hanging on theater stages all over the country. Lloyd picked up a clipboard and rifled through a thick stack of backdrop rental contracts from the past few months.
"Long Beach, California … Stove Borough, Pennsylvania … Chagrin Falls, Ohio … Prairie du Sac, Wisconsin … Castle Rock, Colorado," Lloyd read from the pages.
"Kiss Me Kate" backdrops have really been putting on the mileage lately.
"At the end of the rental in Overland Park, Kansas, it had to be direct-shipped to Fort Worth, Texas. It didn't have time to come back here first," Lloyd said. "If you do 'Kiss Me Kate,' you have to have this drop. You have to have it."
The workhorse behind HART's set magic is Lyle Baskin, a Waynesville resident by way of Miami. A lifelong scenic artist, Baskin has toiled behind the curtains of HART for a decade now. He's never been in a show, yet he's always present, creating the ambiance and sense of place that bring the production to life.
Baskin is paid on contract by the job, and the pay is a lot lower than you'd imagine. A simple backdrop is only $500, while a large elaborate one can run $1,000.
But consider that HART's big summer blockbusters rack up two to five backdrops a show — "Kiss Me Kate" and "Gypsy" topped out at six drops. Plus there's the cost of the giant canvas itself, around $400. Lloyd has spent up to $7,000 on sets for some of HART's bigger productions.
"We never would have been able to justify the money we spend on the sets if I hadn't known we were going to be able to make some of our money back," Lloyd said.
When Lloyd really wants to go big, he commissions Baskin to paint a show curtain. It's not a backdrop actors perform under. Instead, it's an artistically embellished curtain across the front of the stage rather than the typical black panels.
"It is a little self-indulgent, but when the audience walks in and there's a show curtain for Titanic or Night Music it makes the whole theater look magical and you know you are in for something special," Lloyd said.
Finding an audience
Lloyd has been at it long enough — more than a quarter century as HART's director — that he has a good idea what backdrops will be winners in the rental department. The most obvious factor: how popular the play is. HART put on the "Sound of Music" 15 years ago, and is still renting the backdrop.
"It rents all the time. We just rented it," Lloyd said.
The most rented of all-time was the "King and I."
"It is the most produced and our backdrops were spectacular," Lloyd said.
Sadly, HART just retired the backdrops from the "King and I" because they'd been folded and refolded so many times they wore out.
To showcase the collection, Lloyd manages an online inventory of all HART's backdrops. The dedicated web page features images, descriptions and prices of 50 some backdrops.
The job of shipping the backdrops all over creation falls to HART's facility manager and shop foreman, Tom Dewees. The duties of a backdrop wrangler take some muscle. The giant canvases weigh 50 to 90 pounds, the largest clocking in at 16 feet wide by 40 feet long.
Before Baskin can paint the drops, Dewees has to stretch and hang the canvas using a system of grommets, metal pipes, staples and wooden frames. Following production, Dewees takes the beasts off their frames, folds them, tags them and stores them.
HART doesn't have a corner on the backdrop rental market. Scenic studios that exist solely to create and lease backdrops have vast inventories compared to HART. But most of those backdrops are designed for professional, big-city theaters and don't fit on the smaller stages of community theaters and high schools. Plus, they cost more. When it comes to HART's price point, nothing beats its quality.
In keeping with its community-first mantra, HART rents its backdrops to local schools and organizations at half price. A patriotic backdrop from "Ragtime" is used for the Junaluska Singers' July Fourth Concert at Stuart Auditorium every year. And a backdrop from "Hello, Dolly!" makes annual appearances at the Tuscola High School show choir's Country Western Show.
When Lloyd's lucky, he can get double-duty from a backdrop. The farm scene from the musical "Gypsy" will be used for "Charlotte's Web" being performed by the Kids at HART youth program in late March. And an eerie silhouette of trees at night from "Winter's Tale" will be used for a graveyard scene in "Fiddler on the Roof" this summer.
"We fly that drop in and put out some tombstones and you've got that scene," Lloyd said.
Many community theaters HART's size don't have the luxury of putting on shows with multiple drops, or the flexibility to stash drops out of sight. HART can because it has a fly loft, that extra space above the stage that backdrops are hoisted into — a space Lloyd made a case for during the architectural planning for the theater in the mid-1990s.
"To be able to hang multiple backdrops and raise and lower them, you have to have twice the height in the loft," Lloyd said. "We can raise everything up out of the way 30 minutes after 'Hello, Dolly!' for the Swannanoa Chamber Music concert. If not for the fly loft, we couldn't accommodate those rapid changes. It is a valuable resource, but a lot of theaters don't have it."
Photo by John Highsmith