Archived Opinion
Hello darlin', nice to see you
Wednesday, April 12, 2017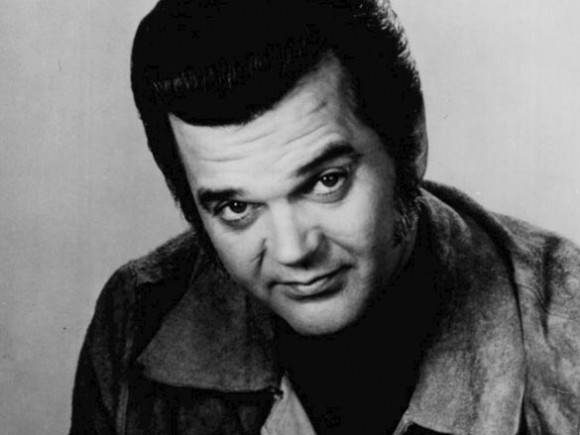 Ever since I left for college and began talking to my dad on the phone regularly, he's answered my call with "Hello, darlin'." I'll never tire of hearing his deep voice say those two words. Conway Twitty isn't the only country singer I grew up knowing intimately. In my childhood home on Village Court in Weaverville, we had an antique RCA Victrola (floor model). You walked in the front door, up a flight of stairs and it was right there. I can still see it clearly in my mind.
My dad had a slew of country music records. I remember sitting on floor flipping through album covers, and the faces of Willie, Waylon, Hank Sr., George Jones, Patsy Cline, Johnny Cash, Marty Robbins, Kris Kristofferson and others flashing by like an old cartoon sketch.
I would carefully slide out the vinyl and gingerly place it on the turntable. Then I would get my dad to crank it and play the music. I was terrified of breaking that Victrola.
With it being the 1980s, we had several other record players in the house as well. And we only had three channels on the TV, so music was always echoing off the walls.
Originally, my dad was going to be a disc jockey but ended up changing his mind and becoming an English teacher who was a huge music fan.
One minute he was reciting the prologue to Canterbury Tales in Old English and teaching me how to spell the longest word in the dictionary which is pneumonoultramicroscopicsilicovolcanoconiosis. I was 8 when I learned to spell that word. If you break it up, you'll see it's merely a number of small words combined to create the one long word which describes a lung disease acquired by inhaling a very fine dust found in volcanoes.
The next minute he was swooning along with one of the Highwaymen or telling me stories about the Grand Ole Opry. Apparently, it wasn't too expensive or hard to go back then. He and my mom or he and his friends were continually driving over to Nashville to see one musician or another. In fact, he and my mom were at the Ryman Auditorium when Porter introduced Dolly for the first time. True story.
While country music was always playing at home, my sister and I were also at the dance studio for hours on end leaping and twirling to Prince, Madonna, Huey Lewis & The News, Michael Jackson, Whitney Houston, The Weather Girls and Barry Manilow, among others.
Upon reflection, it's no wonder I've never really been into what's hot on the radio at the moment. I think when you grow up listening to a variety of solid musicians, you develop a unique respect for good music that lasts a lifetime.
Somewhere along the way, I became a child fan of Elton John. In sixth or seventh grade, I bought Elton John's Greatest Hits album. The CD itself is white with a giant E and J on the front. I can't remember what other kids my age were listening to, but it wasn't Elton John.
One night in seventh grade, I went to a slumber party at a friend's house and a new girl in town was there. She'd just moved to Western North Carolina from Natchez, Mississippi. As a restless spirit, I loved when new people showed up. I struck up a conversation with her at the slumber party.
At some point during the evening, we found out we both had Elton John's Greatest Hits album and began singing all his songs. Our favorite was "Don't Go Breaking My Heart." We split it up in sections and performed for numerous people. I am now apologizing to all those who were forced to watch that spectacle. We even have a video from our freshmen year in high school which I hope is always watched by us but never seen by anyone else, if you know what I mean.
From that night onward, she and I have been best friends. We were college roommates, had our firstborn children three months apart and have attended a number of Elton John concerts together.
My two boys and I spent this past weekend with her and her family in Raleigh. She and I have been through a lot of dark days and a lot of beautiful moments together. We both still have our original CDs we talked about that night.
Our bond is forever-strong and all started with a conversation about music.
In October 2005, my parents' house burned down as the result of a freak electrical fire. The Victrola, the record players and all my dad's records burned to ashes. There's no way he could recreate the collection he had.
But, as with all hard times in life, one has to think positively. I love my memories of that Victrola, looking at all his records and listening to those deep voices throughout the house. If the tangible still existed, maybe my memories wouldn't be so tender. I like to think of in that regard, anyway.
And now, many of the friendships I cherish have an element of musicality to them. We like the same music, talk about music, attend shows together, appreciate the same musicians and more.
Further, I never have the TV on if it's just me at home and even when the boys are here, the TV is on sparingly. They even love having music on in the background. I have no doubts I'm this way because of my own childhood.
They say music is one of the simplest yet most rewarding gifts in life. Reflecting upon my own experiences, both past and present, I couldn't agree more.
(Susanna Barbee can be reached at This email address is being protected from spambots. You need JavaScript enabled to view it..)