Archived Opinion
Thankful to have been a teacher
Wednesday, April 26, 2017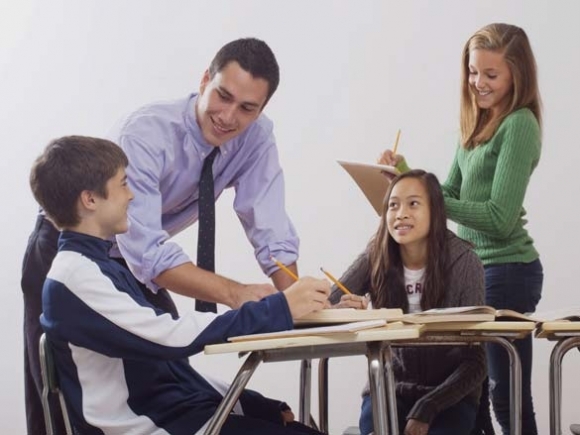 At 37, I'm still sorting out what I want to be when I grow up.
When I was 8, I sent a children's book to a publisher in Raleigh. Last Tuesday, I submitted a children's book to several publishers. In between those two submission dates, I have been a waitress, sales associate, school psychologist, English teacher, essential oil distributor, instructional coach, social media manager and writer.
My childhood self knew more about me than I realized. Had I followed my intuition back then, I could have saved a lot of time and money.
But life is a beautiful, messy journey and I will never lament my long string of careers. I thoroughly enjoyed all of them for different reasons, but of all the jobs I've had, teaching was the most complicated and intense. While all of my professional endeavors possessed quirks and challenges, nothing has compared to managing the stresses of teaching while simultaneously working to inspire 105 middle schoolers in an eight- or nine-hour span of time.
Both of my parents were teachers. My mom initially taught high school business but spent the bulk of her career as the media coordinator (formerly known as a librarian) at Weaverville Primary School. My dad taught English, social studies and worked with colleges to write grants for new public school programs and initiatives.
They worked their tails off and on the side, my mom sold Avon and my dad was the night manager at the old Roses once located on Merrimon Avenue where Stein Mart is today. It seemed they were always working but also always pinching pennies so my sister and I could do and have what we needed and wanted.
I never wanted to be a teacher. When I was very small I wanted to be a maid. I remember fastening a basket around my waste with a hot pink spiral jelly belt, putting cleaning items and a tip jar in the basket, and performing small chores around the house for change. Then for a brief period, I wanted to go to Yale and be a pediatrician. Oh, the things we think we're gonna do someday. Shortly thereafter, I began writing. As a little girl, I had all sorts of diaries and journals and wrote poems and stories galore.
Even though language arts and English were always my favorite classes, I began steering away from my goal to be a writer. I don't know why that happened, but it did.
I was awarded the North Carolina Teaching Fellows scholarship and when that happened, I completely put my writing aspirations aside and majored in psychology, minored in English, and ultimately obtained masters and specialists degrees in school psychology, an add-on degree in journalism and licensures to teach middle grades language arts and high school English.
The bulk of my career as an educator was on the second story of the Bowles Building at Waynesville Middle School teaching seventh-grade language arts. I loved my time as a teacher but something about the profession just didn't jive with my core personality. Despite that, I truly miss the students. They were my absolute favorite part of the job. Getting to know them, teaching them new information, reading and exploring literature with them, working to enhance their writing and grammar skills and most importantly, being a small component of their life and development into young adulthood.
I still love seeing former students in town. I catch myself smiling like a proud parent when I'm scrolling on social media and one of them pops up in Europe or on a mission trip or playing a college sport or running a marathon or doing some other amazing thing.
With confidence, I can say most teachers stay in the profession for the students. With pathetic pay, severe stress, intense demands and pressure to show growth on high-stakes testing, the connection with young minds still wins out.
And I love that. I love when human relationship prevails above everything.
Even though I haven't been in the classroom in several years, my dad still likes to give me teacher paraphernalia or resources. The other day, he gave me a poster that said:
Rules for Teachers — 1872
1. Teachers each day will fill lamps, clean chimneys.
2. Each teacher will bring a bucket of water and a scuttle of coal for the day's session.
3. Make your pens carefully. You may whittle nibs to the individual taste of the pupils.
4. Men teachers may take one evening each week for courting purposes, or two evenings a week if they go to church regularly.
5. After ten hours in school, the teachers may spend time reading the Bible or other good books.
6. Women teachers who marry or engage in unseemly conduct will be dismissed.
7. Every teacher should lay aside from each pay a goodly sum of his earnings for his benefit during his declining years so that he will not become a burden on society.
8. Any teacher who smokes, uses liquor in any form, frequents pool or public halls, or gets shaved in a barber shop will give good reason to suspect his worth, intention, integrity and honesty.
9. The teacher who performs his labor faithfully and without fault for five years will be given an increase of twenty-five cents per week in his pay, providing the Board of Education approves.
While the profession is certainly different than it was in 1872, it's still one of the most important jobs in the world, if not the most important. All professionals, no matter the field, began in a classroom with a teacher who helped a lightbulb go off.
"Teacher Appreciation Week" is coming up soon (May 8-12), and while it's always fun to have a single week to really spoil the teachers in your life, I do hope you let them know they're appreciated during other times of the year. Even a quick email, note in an agenda book or a small card means a lot to a teacher.
Teachers love to know they're making an impact. At the end of the day, that's what gets them out of bed each morning. I know because I was there. And even though I've moved onto a different career, I will forever be proud to say I was once a teacher.
(Susanna Barbee can be reached at This email address is being protected from spambots. You need JavaScript enabled to view it..)