Archived News
Franklin museum a real 'gem'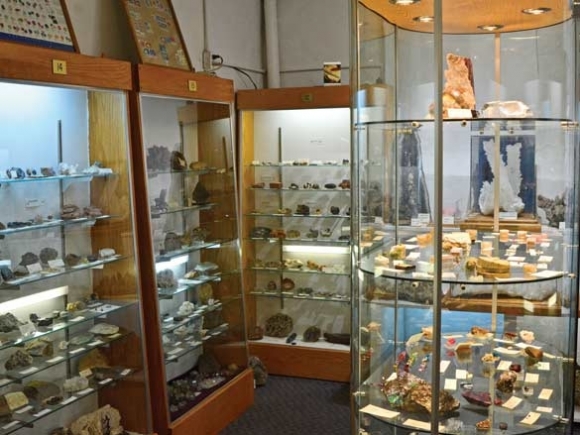 At first glance, the Franklin Gem and Mineral Museum may seem like a hokey tourist attraction, but visitors willing to give it a closer look will discover the largest inventory of gems in the Southeast.
Located in the old jail in downtown Franklin that dates back to 1852, the museum features eight rooms full of local history, one-of-a-kind gemstones, minerals, Indian artifacts and fossils from all over the world. The museum has about 6,000 specimens on display and another 3,000 in storage.
"We get visitors from all over the world — China, Ukraine, Germany, South America — you name it," said Al Pribble, a member and past president of the Gem and Mineral Society. "Our guest book includes every state in the union. We have a worldwide reputation."
The museum has a State Room with items found within North Carolina, an International Hall with pieces from around the world, a Fossil Room and a Florescent Room, featuring rocks that glow under a black light.
Pribble can often be found in the back of the museum working on polishing or setting a gem. He got involved in the gem society in 2010 and quickly found a new hobby. He hopes the museum encourages others to get involved in understanding the importance of geology and how it ties into the rich history of the area.
"Our mission is education," he said. "We give tours to schools and offer classes to the community."
Classes offered at the museum teach people how to identify, cut, polish and mount gemstones. People can also learn wire-wrapping techniques for jewelry and faceting.
Virginia Bennis helps teach some of the classes at the museum.
"I moved here from New York where no one cares about rocks," she said. "But I moved here and met all these people who go rock hunting — I've found my people," she said.
With proceeds from the museum gift shop and proceeds from the annual Mother's Day Gemboree show, the Gem and Mineral Society is able to offer mini grants to teachers for special science or geology projects and field trips.
"Little kids are always interested in rocks," Pribble said.
Although business has been picking up in the last three to four years at the museum, Pribble said, income would suffer this year with the cancellation of the Mother's Day Gemboree. The event is usually held at the Robert C. Carpenter Community Building, but the facility is undergoing major renovations at the moment and another venue couldn't be found in time.
"We'll be losing a third of our income this year because of that," Pribble said. "But we hope to have a co-sponsored show in July once the renovations are complete."
The museum is open noon to 4 p.m. Monday through Saturday through Oct. 31 and open Saturdays noon to 4 p.m. Nov. 1 through April 30.
Visit www.fgmm.org or call 828.371.2436.