Archived News
N.C. GOP bans members of Haywood's patriot faction from party events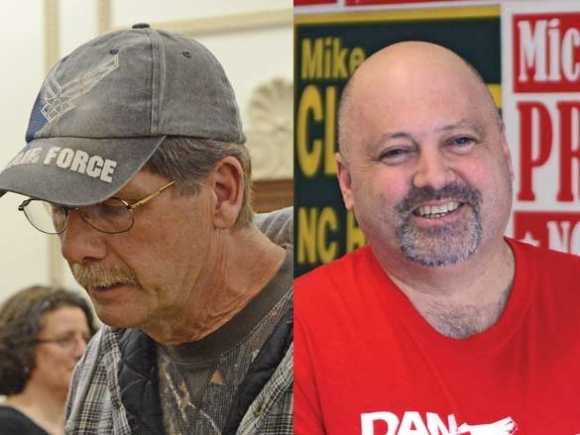 Two conservative activists in Haywood County have been banned from Republican Party functions under the threat of trespassing charges from state party officials.
It's the latest salvo in a festering conflict between a grassroots patriot faction and mainstream Republican Party leaders in Haywood County. Some members of the patriot faction have been labeled as troublemakers for their belligerent and defiant behavior. But the patriot faction claims they are merely standing up to a corrupt party establishment and defending true conservative principles.
A letter was sent to two leaders of the patriot faction last week — Jeremy Davis and Eddie Cabe — warning them that they would be charged with trespassing if they show up at Haywood GOP meetings or party-sponsored events.
"The North Carolina GOP has determined that certain actions taken and or statements made by you are inconsistent with the ideals and mission of the North Carolina Republican Party," the letter states, signed by Thomas Stark, general counsel for the NCGOP.
While it was a rare step, the behavior and conduct of those banned was deemed so out of bounds that state party officials drew a line in the sand.
Dallas Woodhouse, the executive director of the state GOP, declined to comment on the trespass warnings or even confirm who the letters were sent to, but he did pass along a general explanation of why such an action might be taken.
"We can't discuss specific questions about how we handle safety and security procedures. Speaking in general, the party takes these issues seriously," Stark said. "In a rare few cases, a handful in the last decade, due to questions of conduct, the party has exercised its legal right to restrict access to its properties and events under its control."
The patriot faction dominated the Haywood GOP for the past four years. But they were ousted en masse in February from the party's executive board — about a dozen in all were voted out of party leadership roles. Mainstream Republicans calculated and planned the strategic overthrow to purge the patriots from party affairs and win back control, hoping to end the division that had fractured the party for the past few years.
The patriot faction did not bow out of the political landscape, however. They started a new conservative organization called the Haywood Republican Alliance.
Davis and Cabe have been vocal critics of their overthrow and the party leaders behind it —particularly Haywood Party Chair Ken Henson and Vice-Chair Debbie King. Henson and King were formerly buddies with the patriot faction, but the relationship soured last year and they became rivals. Both sides blame the other.
"These so-called activists are nothing but bullies," Lynette Ramsey, one of King's allies, posted on Facebook.
Michele Nix, the vice-chair of the NCGOP, called the patriot faction a "terrorist organization because you're only good at trying to terrorize others" in a Facebook post that she later took down.
The patriots responded by posting a photo of a potluck dinner with smiling seniors and kids, asking if they looked like terrorists.
"I am a proud patriot, a veteran and I STRONGLY resent being referred to as a terrorist," posted Joy Diettle, a member of the Haywood Republican Alliance.
Social media sparring is the modus operandi of the patriot faction, which uses digital outlets to trash the mainstream Haywood GOP and state party establishment.
But one online stab went too far in the party's eyes and ultimately prompted the trespassing notices.
"Your recent computer postings appear to constitute libel per se," states the letter of trespass warning to Davis and Cabe.
The post in question was a farcical animated music video depicting Henson and King singing Sonny and Cher's "I Got You Babe" and the pop song "Barbie Girl" by Aqua.
In the video, the heads of Henson and King were superimposed on cartoon caricatures dancing and rolling in a field of flowers, hugging and twirling, and riding in a convertible together. Lyrics to "Barbie Girl" — a song about Ken and Barbie — include the line, "Touch me here, kiss me there, hanky-panky."
It's unknown who created the video, which was posted to an anonymous website that self-purports to "expose things that HCGOP leadership would prefer remain in the dark."
Davis and Cabe say they aren't behind the website or the video, which has since been taken down.
"Those of us that received the letters had nothing to do with making it," Davis said.
However, Davis did share the video on Facebook. Many were offended by it and claimed it was sexually suggestive and constituted harassment. Davis resoundingly disagreed.
"It was comical and funny, not perverted or twisted," Davis said. "When they said they were going to sue me for sexual harassment I encouraged them to do so. I never in a million years thought the video contained anything sexual."
However, Ramsey thought it was "suggestive and lewd" and warranted the banishment from GOP functions.
"The NCGOP has an obligation to protect its members and I am thankful they take this seriously," Ramsey posted on Facebook.
Davis nor Cabe have been to a single GOP event or meeting since they were ousted from the executive board, not even the county convention or district convention.
"I told my people I specifically was not going to go because I didn't want to cause problems," Davis said.
But for the record, Davis doesn't think the notice is legally binding or enforceable.
"I am 99 percent sure they can't do this," Davis said.
The letter tells Davis and Cabe they can't come "on any property owned or leased by the NC Republican Party or any of its subsidiary or affiliated organizations" — and specifically references a convention center and hotel in Wilmington where the statewide party convention is coming up next weekend.
Davis said the trespass notice attempts to exclude those who identify with the conservative grassroots activist movement from party affairs.
"The intent of this letter is to bully and intimidate," agreed Diettle. "One cannot prohibit attendance at a political event unless there is a formal, court ordered restraining order, of which this letter is not."
Party leadership at the state level has been through its own turmoil that mirrors the division between the patriot faction and the Haywood GOP. The state party ousted its chairman who hailed from the Tea Party camp last year and replaced him with a mainstream Republican.
However, party officials maintain the trespass notice is intended to protect its party members, not silence opposing voices.