Archived News
Emergency planners brace for crowds during total solar eclipse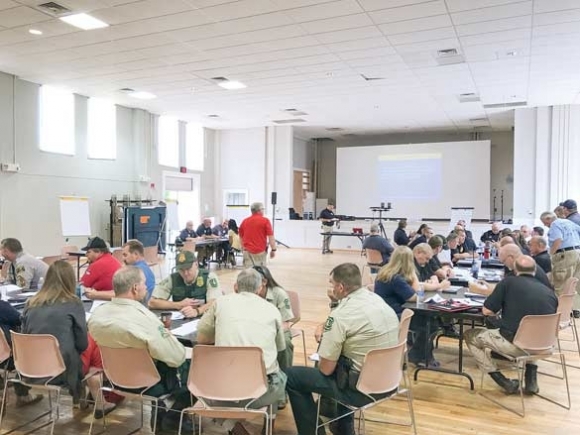 Todd Dillard isn't the kind of guy who leaves anything to chance. What-ifs are his forte, as they should be for the Jackson County emergency management director.
But the latest scenario to invade his white board is a first, to say the least. A massive influx of visitors will swarm the far western mountains this August for the once-in-a-lifetime chance to witness a total solar eclipse.
The Great American Eclipse will pass over 12 states, but the path of totality is only 70 miles wide. It will go right over Jackson, Macon and Swain counties shortly after 2:35 p.m. on Monday, Aug. 21 — making the region ground zero for tens of thousands of eclipse-chasing tourists.
"Some are calling it July Fourth on steroids," Dillard said.
How many to expect, what roads they'll use, where they'll be going and even when they'll come — the weekend before or the day of? — is a big mystery.
"The biggest problem we are having is the unknowns. We don't know how many people will come. People ask me 'How many people are you expecting?' And I have to say 'I don't know,'" Dillard said.
Dillard was first summoned to an eclipse meeting last summer by Nick Breedlove, the Jackson County tourism director.
"My perspective is you can always be overprepared but you should never be underprepared," said Breedlove.
Breedlove put out a countywide call over a year ago to set the planning wheels in motion. While tourism players had a big to-do list of their own to get ready for the celestial debut, Breedlove realized the eclipse would effect everyone — from the school system grappling with an afternoon dismissal time in the thick of the eclipse to ambulance drivers needing contingency routes in case of traffic jams.
"We brought everyone to the table who might be impacted in some way," said Breedlove. "The stakeholders' meetings have been invaluable and everyone has taken ownership of their individual sectors."
Dillard admits he was initially perplexed why Breedlove had invited him to an eclipse meeting last year. But once the light bulb went off, Dillard quickly reached out to his counterparts in neighboring counties to make sure they knew about it, too.
"This could be a huge event. You cannot plan for it as an island," Dillard said.
When Dillard convened an eclipse meeting with emergency planners in neighboring counties, he got a taste of his own medicine at first.
"They looked at me like I had two heads," Dillard recalled.
But the import soon sunk in.
"It put the flag up for us that we needed to do a little planning, too," said David Breedlove, the emergency management director in Swain County.
Preparing for the eclipse has been a whole-cloth affair.
"We didn't have a plan on the shelf for an eclipse," Dillard said.
The last one to touch U.S. soil skirted through Oregon in 1979.
Call to duty
Now, with less than three months to go, the countdown to the big day is in full force. Eclipse task force meetings are the new normal for emergency responders, law enforcement, the National Park Service and the N.C. Department of Transportation.
In mid-May, a tabletop emergency exercise was convened to facilitate regional coordination. It put federal, state and local agencies through the paces of handling the unprecedented masses — and more importantly, what they would do if a disaster occurred in the thick of eclipse day.
"The whole idea is to prepare for the worst and hope for the best. That's what any drill is about," said First Sgt. Matt Wike for the N.C. Highway Patrol's mountain region.
The tabletop exercise was funded through a Homeland Security grant and conducted by Specialized Consulting Services.
"This was their very first solar eclipse exercise," quipped Dillard, commending them on the job.
Nearly 60 people from more than three dozen agencies across a six-county area participated.
"It gave us all a chance to sit down and think about the additional resources we need to have in place and how we could set up a communication network with the other counties," said David Breedlove. "The ability for us to work together that day should we need to, that was the biggest thing we gained out of it."
For example, a designated VIPER radio frequency will be set up for the eclipse, allowing agencies across the region to communicate with each other in real time.
The mass influx of eclipse spectators not only means a lot more people to keep safe, but also clogged roads, which could hamper emergency response times.
During the tabletop exercise, participants were confronted with various scenarios, and acted out their possible response strategies. What if a tractor-trailer jack-knifed and shut down a major road? What if there was a severe weather warning? What if there was a bomb threat and thousands of tourists had to be evacuated quickly?
While extreme and unlikely, the exercise proved invaluable.
"We are really showing how federal, state and local agencies are working hand in hand with this," Dillard said.
While much work has been done, emergency planners are still in the fine-tuning stage.
"Now we need to develop tactics on these plans and figure out how to put the rubber to the road," Dillard said.
For example, ambulances and fire trucks will be strategically stationed at satellite locations to counteract potential traffic jams. Jackson County has even drafted a state of emergency plan and is ready to execute should the need arise, Dillard said.
Managing the roads
Sgt. Wike doesn't expect widespread gridlock, but "you will have pockets that can't handle excess traffic," he said.
Wike will pull about two dozen additional troopers from other counties across the mountains to work the roads in the eclipse totality zone.
"It is just a matter of redirecting your manpower," he said.
A top concern is the two-lane roads that serve as major arteries — like N.C. 107 to Cashiers or U.S. 19 through the Nantahala Gorge. The terrain is rugged and shoulders sometimes non-existent, making it impossible for traffic to pull around a wreck.
A unit of motorcycle troopers from Charlotte will be called in to help for the day.
"They are real effective at negotiating through congested or stopped traffic," Wike said.
Meanwhile, the DOT is pulling in extra units of its Incident Management Assistance Patrol, which helps get broken-down cars moving again by fixing flats, jump-starting engines and filling gas tanks.
"We want to get them going again and completely off the roadway. We don't even want them sitting on the shoulder if we can help it," explained Chad Franklin, deputy division traffic engineer for DOT's western-most division.
Quick clearance protocols will be in effect on eclipse day as well.
"If there is an accident, we basically take a picture and jerk them out of the road," Franklin said.
Franklin is also working out the stoplight timing for major roads. He will monitor major thoroughfares, like N.C. 107 in Sylva, with real-time cameras and will activate the stoplights with pre-programmed signal plans to expedite traffic flow based on actual conditions. In some locations, signal technicians will be on stand-by to make changes manually.
"We can plan so much but the biggest part of our reaction is responsive," Franklin said. "We are trying to prepare for the unknown."
In a worse-case scenario, people should make sure their gas tanks are full on eclipse day.
"If we dump 6,000 cars into Hayesville, there's not a whole lot I can do about. They're just going to be sitting there," Franklin said.
Franklin is also pondering where to set up digital signboards. And he's not alone. Every agency — from sheriff's departments to emergency managers — is counting up the number of digital road signs they can beg, borrow and steal from elsewhere in the state, and then figuring out where to put them and what they should say.
Meanwhile, the Nantahala National Forest is also laying plans for an inundation.
"We will have everybody out and about that day," said Mike Wilkins, district ranger with the Nantahala National Forest.
The U.S. Forest Service's biggest challenge will be managing roadside parking at hotspots like Wayah Bald and Whiteside Mountain.
"We already have to man those at busy times of year because we just don't have enough parking spaces. It gets so plugged up, people can't get in or out," Wilkins said.
Wilkins said attending the tabletop eclipse exercise provided an outlet to learn how other agencies planned to gear up.
"We got to hear what everybody was doing and got to tell them what we are doing and think of options to be prepared for," Wilkins said.
Eclipse frenzy
While emergency planners have been puzzling out eclipse-day strategies for months now, the spectacle of the Great American Eclipse hasn't fully dawned on the general public yet.
"It is sort of like the Power Ball. Most people don't care until it gets up to about 400 million," said Nick Breedlove, Jackson County tourism director.
While a partial eclipse will be visible everywhere in America on Aug. 21, millions will journey to the path of totality — a 70-mile swath traversing the country from Oregon to South Carolina — to the catch the full experience.
"You really want to be in totality. If you can get yourself to totality, that's where you want to be, because this is such a cool experience," explained Susan Sachs, an education ranger in the Great Smoky Mountains National Park.
Skies darken, stars come out, birds nest, shadows elongate and the sun's spectacular corona — visible only during totality — dances around the rim of the moon.
"People may think I'll be where it's 99 percent and that's good enough, but that's not good enough," explained Knox Warde, an astronomer who lives in Nantahala.
The last time a total solar eclipse traversed the country was in 1918. The last eclipse to grace the Smoky Mountains region was in 1506. The next one will be in 2153.
Those in the know have wasted no time laying plans. Rooms began booking a year out, with special eclipse packages and state park campgrounds in the path of totality long since sold out.
When the Great Smoky Mountains National Park went live with tickets to a special Clingman's Dome viewing event, the 1,325 slots sold out in just four minutes. In Jackson County, about 75 percent of the overnight lodging in the county is already booked for the night before the eclipse.
Tourists making a weekend pilgrimage aren't the only ones who will be jockeying for viewing sites on the day of the eclipse. People across WNC who live just outside the path of totality — like Waynesville and Asheville — will press into neighboring counties for the day.
For tourism communities in the path of totality, the eclipse is a true gift from the heavens.
"People are coming for the eclipse but we want them to experience what we have to offer here — the waterfalls, the hikes, the craft breweries, farm-to-table restaurants — and we think they'll fall in love with the area," said Breedlove. "I think the economic impact will be huge for Jackson County."