Archived News
Back to the water: Friends, family remember Bryson City Olympian
Wednesday, August 09, 2017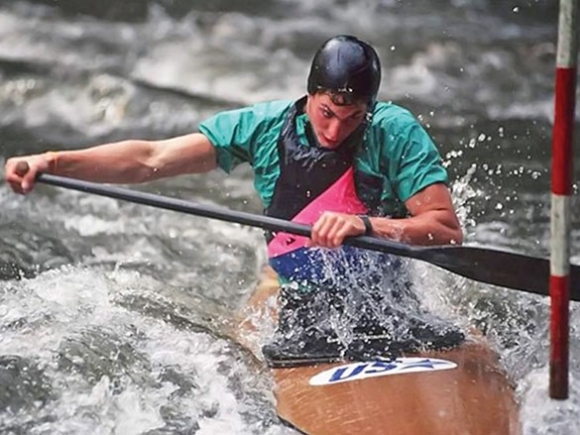 Adam Clawson of Bryson City spent some of his best days on the water. At 8 years old, he tied a rope around the middle of an old inner tube to fashion a canoe, and with a borrowed paddle, learned to maneuver the rapids of the Nantahala River.
The Nantahala River is where he found the passion that would give him focus and drive him for the next 17 years of his life.
"He just excelled at it, and that changed the direction of his life at the time in such a good way. He was always a hyper kid that couldn't focus in school, so having something he was so passionate about gave him focus, direction and meaning in his life," said Maggie Parkes, Clawson's mother. "I've always thought that my boys could do anything they set their minds to, and Adam really hadn't found his niche until he came out here."
Clawson knew from an early age he wanted to pursue canoeing competitively, and that's what he worked toward from age 8 until he graduated from Swain High School in 1990. With the help of coaches and the whitewater community at the Nantahala Outdoor Center, he followed his dream.
At the 1991 World Championships in Yugoslavia, his C1 team won the gold medal and Clawson won the individual C1 silver medal. At 19, he competed in the canoe slalom event at the 1992 Summer Olympics in Barcelona where he placed 21st. And at the 1996 Summer Olympics in Atlanta when he was 23 he placed 19th. Though his performance at the 1996 Olympics was impressive, a last-minute gaffe caused him to lose his lead and his shot at an Olympic gold medal.
Bunny Johns, a fellow whitewater racer and a recent inductee into the Whitewater Hall of Fame, was Clawson's neighbor when he was growing up in Bryson City. She said he always had an interest in the water and eventually began paddling on a real boat. She also remembers returning home with a medal after competing in the 1981 World Championships.
"He was paddling even more so I gave him my uniform to use — he could only wear it for about six months," Johns laughed, "But he made really good use of it."
Johns was also an official judge on the day Clawson raced down the Ocoee River during the 1996 Olympics. Situated in a tent on the middle of the course, she said she was so excited to watch him come down the difficult course.
"He was having a fabulous run — so fluid, so smooth and strong," Johns said. "We were all so excited that we followed him down to the last gate but it was a very difficult upstream and he missed it so he didn't win that gold medal we wanted him to, but he gave it his all."
Parkes said that's how Clawson raced — all or nothing. He could have taken the Olympic course that day and had a guaranteed silver or bronze, but he was never one to play it safe.
"That kind of speed is a sure sign you're going all out, but just one tiny little misstep and you've blown it," Parkes said. "If he hadn't missed it, I believe he would have won a medal at the Olympics."
After the 1996 summer Olympics, Clawson once again traveled on the International Canoe Federation circuit and won the gold medal at the Pre-World Championships in Brazil, ironically beating out all of the Olympians he raced against on the Ocoee. After that, Clawson decided to retire from the sport on a high note and came back to Bryson City to settle down.
"He found that he had the talent and the drive and the discipline to start racing at 10 years old and that's what he did until 1996 when he was 24 years old," Parkes said. "He proved to himself that he could race against the world's best. He went out on top."
After racing, Clawson felt like he needed to find a job that could pay the bills. While traveling around the world and competing in the Olympics is an once-in-a-lifetime experience, Clawson settled into the reality faced by many in the whitewater racing community.
Parkes echoed the sentiment of many aspiring athletes today, "Whitewater Olympians at the time weren't making any money. Unless you're a high-profile athlete with sponsorships and endorsement deals, U.S. whitewater athletes have to buy all their own equipment and cover their own travel expenses."
"You have to pay for everything — no one was sponsoring whitewater athletes in those days," Parkes said. "It was tough. And today, that is still the case."
After the 1996 Olympics, Clawson wanted to focus on his family and build a home. He came back to Bryson City and purchased a 13-acre farm in Whittier. He worked tirelessly at converting a 1940 farmhouse into a place where family and friends could gather. He built his own workshop on the property where he spent much of his time creating things out of wood and metal.
Clawson started his working career at Byron's Paint and Body in Bryson City where he learned how to weld and fabricate metal, which is how he found his creative passion in life. As a welder and fabricator, he explored his creative energy and found that he could make unique items that were in demand. He launched his own business that would harness his creative talent and would capitalize on the need for a local fabricator. Clawson Creations built boat trailers and worked on aluminum fabrication for many of the pontoon boats on Fontana Lake.
"His real passion was doing things that were creative. He was very creative — there was really nothing he couldn't do," Parkes said. "He could fix anything and was fearless in tearing something down so that he could build it back again."
"Even as a kid he would always be building and making things," Fred Crawford, Clawson's stepfather recalled.
"I would buy him plastic model car kits and he would assemble them completely different from the instructions," Parkes said, smiling at the memory of her young son. "He would never follow instructions — always trying new things."
Since Clawson's recent death, Parkes and Crawford have been inundated with cards, visits and loving memories of their son and the joy he brought to so many people's lives. They received a letter of condolence from the U.S Olympians & Paralympians Association along with the U.S. Olympic Team flag to honor his memory.
Old racing buddies have come by to share stories of their experiences with Clawson on the river. An online memorial page, www.adam.clawson.muchloved.com, contains story after story of his accomplishments and all the ways he touched the lives of people in his community.
While Clawson accomplished Olympic and World Champion status on the water, his life on dry land proved more challenging for him.
His friends, family, teammates, coaches and fellow Olympians are still mourning his recent and sudden death, but they all hope to return his ashes to the river he loved Oct. 8 during a memorial service at the NOC. Parkes and Crawford hope the time between now and then will give everyone more time to heal and come to grips with his death so they are able to celebrate his life at the memorial service.
"It's cathartic to laugh and think about the good times — that's what we hope happens in October," Parkes said.
One friend told the story of how Clawson saw a friend's post on Facebook about a family in need of firewood to get through the winter. With barely the money to take care of himself through the winter, Clawson purchased a full truckload of wood and had it dropped off at the family's house. He didn't know them and they didn't know who had dropped it off.
"A common theme I took away from the outpouring of support from friends was how helpful and inspiring Adam was to people. So many people said to me that, 'Adam would talk to me. If I was down, he'd lift me up. If I needed help, he would drop what he was doing,'" Crawford said. "He was an inspiration to people not because of his physical prowess as racer but because he was an uplifting soul to people."
One of Clawson's closest childhood friends was Heath Shuler, a former NFL quarterback and former U.S. representative for North Carolina. The two met in eighth grade at Swain County High School and remained close though their lives went in different directions.
"We had an incredible friendship and made lifelong memories," Shuler said.
Though they concentrated on different sports in high school, he said they had the "common goal of reaching our goals athletically and academically."
Shuler recalls spending the night with Clawson growing up and getting up before school with him so he could practice paddling on the Nantahala. The sun wouldn't even be up but Shuler would hold up a spotlight toward the gates so Clawson could see where he was going in the water.
"He had a dedication beyond belief," Shuler said. "We'd always kid that Swain High won state championships, but Adam won world championships."
Athleticism was not Clawson's only talent, Shuler said. He was also a talented artist, drummer, welder, mechanic and more. Shuler remembers one Friday afternoon after school Clawson said he was going to take his truck engine apart and put it back together.
"We all said he'd never get it back together, but he did and he drove it back to school Monday," Shuler said. "He had a creative and mechanical mind — most people have one or the other but he had so many skillsets."
Shuler and many of the friends Clawson made throughout the years could tell you all kind of hilarious stories — but said many aren't suitable for print.
"He had the adventures of a lifetime — he packed a lot into a short life," Parkes said.
"But as years go by, not having that focus on racing and not being in shape was hard on him. When you were at that level as an athlete, I think it leaves a void."
Despite his accomplishments and his giving heart, Clawson battled depression for many years. It's not uncommon for Olympians and other professional athletes to suffer from depression after retiring from their sport and trying to go back to a "normal" life.
Research isn't conclusive, but the unfortunate reality is that too many professional athletes have committed suicide after suffering from severe depression and alcoholism.
Shuler hopes Clawson is remembered for his many accomplishments and the positive impact he had on so many people. He will remember all the fun times they had together as kids and in their adulthood.
"We were close in high school, then I went and did my thing and he did his, but last year we really reconnected — he was struggling with issues and I tried to get him help," Shuler said. "It's all shocking to me. There's not a moment that goes by I'm not thinking about him."
Parkes and Crawford bought a portion of Clawson's property last year and moved into the farmhouse he renovated. Life was beautiful and calm this summer with Maggie tending her flower garden in the front yard, tending the vegetable garden, and canning vegetables in the kitchen while Clawson spent most of his time working in his shop up on the hill. But on July 10, without warning, he was gone.
"Depression is a horrible disease. When people suffer from depression and feel so hopeless, we just can't imagine the depth of pain they are experiencing," Parkes said.
Like so many other cases, Clawson's death has left his family, friends and community with unanswered questions and what feels like insurmountable grief.
"Depression is a disease that deserves greater awareness, attention, and treatment. If Adam's tragedy can raise that awareness, then, a greater good will come from this," Crawford said.
Friends and family will always remember Adam by his wide smile and endless generosity.
"We want others to live like Adam lived and help people in need. Always help each other," Parkes said.