Archived Outdoors
Keeping ash in the Smokies: Land managers, conservation groups work to protect ash from invasive pest
Wednesday, November 29, 2017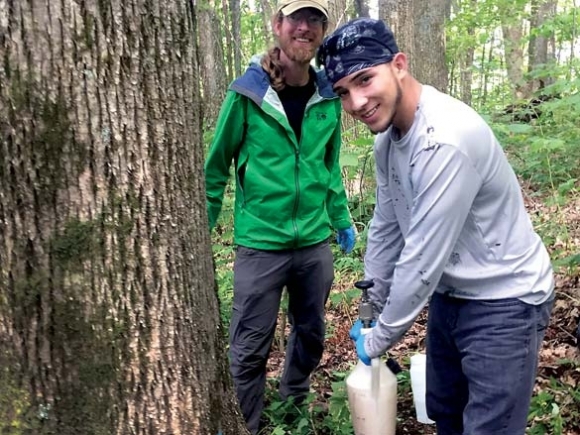 At some point roughly 20 years ago, a shipment from Asia arrived in the United States with a passel of six-legged stowaways lurking in its wooden pallets. Since it was first detected near Detroit in 2002, the emerald ash borer has gnawed its way through ash trees across North America, leaving a swath of destruction across 31 U.S. states and two Canadian provinces — and counting.
The EAB was first spotted in North Carolina in 2013, when it was confirmed in Granville, Person, Vance and Warren counties, a contiguous area in the central part of the state bordering Virginia. Now it's present in 33 of the state's 100 counties and continues to spread. WNC counties with confirmed ash borer infestations are Haywood, Swain, Macon, Graham, Buncombe, Madison, Mitchell and Yancey counties — this month, the N.C. Forest Service found EAB on several trees in the Alarka area of Swain County after the beetle was initially found in Bryson City last summer.
"Once you can actually notice that a tree has EAB, it's almost too late to save them," said Josh Kelly, biologist for MountainTrue. "You almost have to detect ash borer as they get to the site or before they get there to have a shot at saving the tree."
With no escape in sight for ash trees in WNC, that's just what MountainTrue along with the Appalachian Trail Conservancy and with support from the U.S Forest Service, is trying to accomplish.
A 1,000-tree goal
The ash borer lays its eggs in the trees' cambium, the layer of living tissue underneath the bark. The larvae chew away at that tissue as they develop, and when they eventually emerge as adult beetles, they spend the rest of their lives munching on ash leaves. Once the EAB arrives in a region, all the ash trees around are doomed to die.
Unless, that is, the trees receive a treatment to keep the EAB at bay. MountainTrue hopes to save the ash tree population in WNC by raising money to keep 1,000 standing ash trees alive.
"The ultimate goal is that after EAB moves through Western North Carolina that there will still be trees around to reseed their genetics into the forest and hopefully maintain as much of our native Southern Appalachian ash genetics as we can," Kelly said.
That's a daunting task. First off, treating ash trees is expensive. Costs vary based on the size of the tree, but with the type of treatment MountainTrue plans to use, it would cost about $120 to treat a 2-foot diameter tree for five years. Treatments must be given annually, and many of the trees MountainTrue hopes to save stand in out-of-the-way places accessible only by hiking.
Treating 1,000 trees for five years would require raising $120,000. So far, MountainTrue has raised only $5,000, supplied by a grant from the Appalachian Trail Conservancy that allowed the organization to inventory a 10-mile section of the A.T. for ash trees and give one-year treatments to more than 200 trees. However, MountainTrue is currently applying for additional funds from other sources and hopes to launch a crowdfunding campaign soon.
"It's going to take years of fundraising and years of dedicated effort," Kelly said. "That's the writing on the wall."
Prioritizing treatment
Kelly hopes that the need to treat ash trees will one day come to an end.
"Its entire life cycle is dependent on the ash tree," he said of the borer. "If there are no ash trees left, it doesn't have a home."
Unlike the hemlock wooly adelgid — another invasive pest decimating North American trees — the emerald ash borer can only inhabit trees that are at least 1 inch in diameter, as the tree has to be large enough to have a cambium layer capable of supporting larvae. The thought is that once the ash borer has eaten all the trees in a region capable of supporting its life cycle, it could disappear from the area. When that happens, the 1,000 trees treated by MountainTrue will still be around to regenerate the population.
But nobody knows for sure that's how it will play out.
"We don't know if EAB is going to eat itself out of house and home completely," Kelly said.
Looking at places in the Midwest that saw the ash borer arrive earlier than did North Carolina, he said, it seems that the insect is not coming back immediately. But it's too soon to know for sure, and opinion on the question is not universal.
"I don't think that they are going to completely disappear," said Glenn Taylor, a biologist with the Great Smoky Mountains National Park. "That's the concern we have. They will probably be in some areas that haven't been infested yet and still be able to jump back into an area that has only the surviving trees around it."
Much of the ash borer's spread across the continent has been facilitated by people unknowingly moving infested firewood and other untreated wood products. EAB may vanish from a local area when all the ash trees are gone, Taylor said, but there's nothing to stop it returning later the same way it initially arrived.
That doesn't mean that Taylor — or the park in general — sees treating ash trees as a lost cause. To the contrary, the Smokies has a robust ash program that treats 300 trees each year with a chemical that protects them from invasion for two to three years. Like the effort MountainTrue is spearheading, the program is expensive, and there's no funding in the federal budget. The park's nonprofit partner Friends of the Smokies is funding the $15,000 annual cost.
While MountainTrue's focus is on stands of ash growing within the forest, treatments in the Smokies concentrate on roadsides and frontcountry recreation areas.
"We've been treating along main busy roadways like U.S. 441 and in busy picnic areas and campgrounds that have significant ash," Taylor said. "Some don't have any ash, but some places like the Chimneys Picnic Area have nearly 70 ash trees within falling distance."
The park contains more than 800 square miles of land, and since it would be impossible to find and treat all the ash trees growing on that landscape, staff have to prioritize which trees receive treatment. When ash trees get infested and die, they eventually fall down, presenting a safety hazard. That's why high-traffic areas like picnic areas are first in line for treatment. However, the park has also been treating some backcountry trees — big, old trees 50 and 60 inches in diameter that are especially valuable to the park's beauty and ecology.
"One spot in Cataloochee has trees up to 60 inches in diameter," Taylor said. "There's pretty massive trees up there and the areas around those aren't disturbed, so if those ash trees were to die, that would change."
Worth saving
The ash tree is just one of more than 100 native tree species in Western North Carolina. But keeping it around is important, because — as in every environment — each species has a unique niche to fill and a job to do within the surrounding landscape.
"I don't necessarily know if we have a good handle on how ecologically important they (ash trees) are. They're a relatively small portion of the forest cover we have in Western North Carolina, but I believe the old saying that if we're going to manage lands and tinker with the land, we need to keep all the pieces, and ash is one of the pieces of our forest," Kelly said, referencing the words of renowned conservationist Aldo Leopold.
Some components of the ash's ecological importance are well known, however. They provide habitat for many types of animals, and their seeds are an important food source. More than 60 insect species depend on them for survival. Unfortunately, treating trees may not save those insects, as the pesticides use to kill the EAB could harm them too.
Ash trees are also important as a fast-growing tree capable of growing up in disturbed areas, such as recently burned or logged acreage. Such areas are also a favorite for many invasive species, like kudzu and ailanthus, and land managers often struggle to keep these unwanted species from encroaching when an opening crops up. This makes native species, like ash, that are capable of filling this role all the more important.
"I think it's worth trying to save ash trees," Kelly said. "They're beautiful, economically, ecologically and aesthetically important trees."
Stop the emerald ash borer
Since its arrival from Asia, the emerald ash borer has continued to disburse throughout North America, but everyone can play a part in slowing the spread.
Don't move firewood. Much of the emerald ash borer's spread has been facilitated by people moving firewood from contaminated areas to non-contaminated areas. Always use locally felled or kiln-dried firewood, and don't transport untreated firewood across state and county lines.
Report new infestations. Ash trees infested by the EAB will have thinning and dying crowns with increased woodpecker activity and D-shaped holes in the bark of about one-eighth of an inch where adult beetles have exited the trees. Sprouting from the main stem and observable tunnels on the inside of the bark where the larvae have fed will also be evident. Report infestations to your county's N.C. Forest Service ranger office.
Stay informed. Obey firewood quarantines such as the one currently in effect prohibiting any hardwood firewood from North Carolina to be transported outside the state. Complete information on the EAB and up-to-date infestation maps and quarantines are online at www.emeraldashborer.info.