Archived Arts & Entertainment
New pictorial book on Cherokee released
Wednesday, March 14, 2018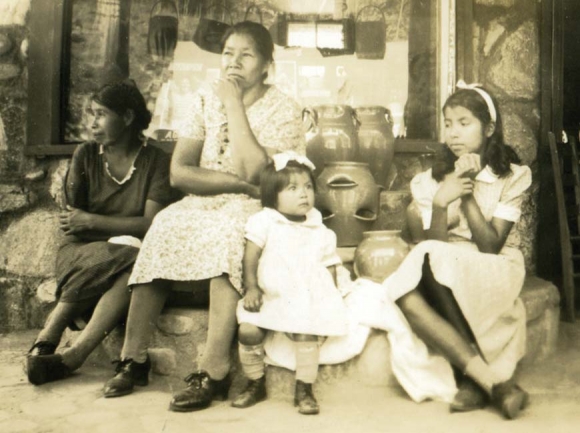 'Mothers and Daughters,' photograph in the collection of Andy Lett.
Images of America: Cherokee, Anna Fariello's new pictorial history book, will be presented during a special event at 6:30 p.m. Friday, March 16, at City Lights Bookstore in Sylva. The book is part of a popular series that highlights cities and towns throughout the country. Fariello's long career has focused on preservation and working with historic photographs.
"I was particularly interested in images that had not been published previously, those that might reveal new information to members of the Eastern Band and their neighbors," Fariello wrote, "and to credit those organizations who diligently save and share their collections."
The book acknowledges those institutions and organizations that have saved — and continue to preserve — historic photographs. Images of America: Cherokee includes photographs from formal collections held by Cherokee's key cultural partners — Cherokee Historical Association, Museum of the Cherokee Indian, and Qualla Arts and Crafts Mutual — as well as collections by regional and national institutions, including the Great Smoky Mountains National Park, Hunter Library Special Collections at Western Carolina University, State Archives of North Carolina, and Smithsonian Institution.
Fariello worked with individual collectors as well, giving particular recognition to Georgia native, Andy Lett, who loaned a substantial part of his vast collection to the project. Fariello worked with local people to help identify locations in the photos. Beloved Man Jerry Wolfe provided stories and details beyond what was shown in the pictures.
The town of Cherokee is in an area traditionally known as Yellowhill. Today, Yellowhill is one of six townships represented on Tribal Council. The town took its formal name when a US Post Office was established there in 1883. In the book's introduction, Fariello described Cherokee as a 21st-century town that sparkles with modern architecture and numerous tourist attractions. Beneath its progressive exterior is the original homeland of the Cherokee people.
The book includes 200 photographs from the 20th century with most dating from the 1930s to the 1960s. "In organizing this book," Fariello wrote, "it was my purpose to collect photographs near and far from Cherokee and bring them 'home.'"
The book's seven chapters cover the landscape, family, work and school life, as well as craftwork and community traditions. The last two chapters are devoted to organizations that Fariello calls "keepers of culture." Readers can look to some of their favorite heritage destinations to see how they've changed over the years. Cherokee includes early views of the Oconaluftee Indian Village, Unto These Hills, Qualla Arts and Crafts Mutual, and the Museum of the Cherokee Indian.
There are also photographs of other destinations, many of which are now gone, including Frontier Land, The Cherokees, Water Wheel Craft Shop, and the Boundary Tree Enterprise. The last photograph in the book is of the Old Mill, a gristmill that dated to 1886. With its prominent water wheel, the mill sat along old Highway 107 for many years until, tragically, it burned in 2017. Fariello concluded, "Old photographs, like this one, are important as they capture the fading presence of old buildings and the changing personality of a community's cultural landscape."
Fariello's work with historic photographs began at the start of her undergraduate years with her first university job, working as a student archivist in a slide library. In those days, she says, "'slides' were two-inch pieces of transparent film, not the ephemeral light images projected via today's Powerpoint. Working with slides meant masking film with reflective tape and mounting them into glass housings."
After earning multiple degrees, Fariello worked at two state universities and several museums, before coming to Western Carolina University in 2004 to develop an online archive for Hunter Library. For over a decade, as an associate professor, she assembled photographic collections focused on the region's material culture including collections related to heritage crafts, Cherokee traditions, and the history of the Great Smoky Mountains National Park.
Fariello is the author of three books on Cherokee arts and crafts, writer of numerous book chapters and articles, curator of over 40 exhibitions, and speaker on topics related to the region's rich culture. She is a recipient of a 2010 Brown Hudson Award from the North Carolina Folklore Society, a 2013 Guardians of Culture award from the Association of Tribal Archives and Museums, and a 2016 Preservation Excellence award from the North Carolina Preservation Consortium.
Images of America: Cherokee is published by Arcadia Press and is available at City Lights in Sylva and Catching Light in Cullowhee. The March 16 reception and book signing begins is free and open to the public. City Lights is located at 3 East Jackson Street, in Sylva. For more information, contact the bookstore at 828.586.9499.