Archived Outdoors
Telling NOC's story: Book shows early years of outdoor center through the eyes of staff, leaders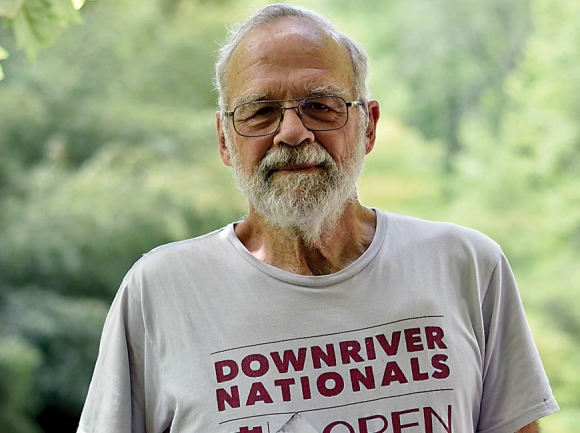 Payson Kennedy, author of NOC Stories. Holly Kays photo
It was 1972, and the world of whitewater paddling was changing. Americans were just about a decade into experimenting with kayaks and it had been only three years since the first whitewater race in the South and the passage of the Wild and Scenic Rivers Act. That year's Summer Olympic Games in Munich would be the first to include whitewater paddling among its events.
Amid all of this, Horace Holden, Payson Kennedy and Aurelia Kennedy decided to start a new rafting business in Swain County, to be called the Nantahala Outdoor Center.
"We did not expect it to be anything of the scope that the NOC became," Payson Kennedy, now 85, said during a recent interview on his home's spacious deck. "We expected it to be a small family and friends group that would operate on a very much smaller scale. The first few years, the only heat we had was a potbellied stove, and we would spend our winters sitting around that stove doing crafts to sell in the summer and making spray skirts to sell."
After 46 years in operation and growth into an outdoor center that's hosted all manner of national and international whitewater events, employed more than 25 Olympic athletes and guided countless visitors on once-in-a-lifetime expeditions down the Nantahala River, it's fair to say that the NOC exceeded expectations. And the stories behind how that happened, and what it was like to be part of it all, have stuck with Kennedy in the decades since.
Now they're enshrined in a new book, NOC Stories. Kennedy compiled the book, and Greg Hlavaty edited it, but — as with the center itself — the writing was a team effort. Each section contains stories, vignettes, essays and even poems by the people who have been part of the NOC family throughout its lifespan.
"I'm not a writer, never was in school or in my academic life. Writing was always hard," said Kennedy. "That was the key to making it (the book) happen in my mind, was not trying to do it myself but getting lots of staff people to send their memories."
The first memory, though, is Kennedy's — that of the leap from a stable life as a librarian at Georgia Tech in Atlanta, where his wife Aurelia was a schoolteacher, to the uncertainty of scraping out a living on the river. Holden had approached them about the opportunity after he bought The Tote 'N' Tarry, a complex including a motel, restaurant, souvenir shop and gas station where the NOC stands now. The Kennedys decided to come down for that first summer, 1972, and then return to their jobs in the fall before deciding to go all in.
They decided to do it, selling their house and collecting their retirement funds to invest $25,000, and moved themselves and their four children to the NOC campus, where they still live today.
Flow
The business lost money that first summer. And the next. And the next. But then came 1975, the year that Kennedy would come to see as a turning point. The center saw an influx of top-level staff that year — Olympic paddlers, a U.S. team coach, a pair of older paddlers who quit higher-paying jobs to join the NOC crew.
"People like that came to work, and we made a profit for the first time. That was our fourth year," said Kennedy. "That seemed like the turning point. Then by 1980, which I always thought was our best year ever financially, profit was up to $250,000 on revenue of maybe $4 million. And our staff had grown, and it really seemed like we were prospering."
Those first years were hard. Payson and Aurelia were working 80 to 100 hours a week, just trying to get it all done, and they pushed their staff as well. The river guides weren't just guides. They were also dishwashers and waitresses and maintenance workers and drivers, working 60 or 70 hours a week.
"For the privilege of working, I was paid $80/week plus room and board," wrote Sue Firmstone Goddard in NOC Stories. "I've never been happier. I had to be told to take my mandatory days off, or I would just keep guiding."
Kennedy can understand that perspective. Those first years were the hardest. But they were also the best, and the greatest provider of a sought-after state that Kennedy terms "flow."
"It's a time when you're confronted by a challenging and new situation that causes you to focus your attention so completely that your mind gives up all the chatter that's usually there, and you're completely focused on what you're doing in that moment," he said. "You're able consequently to perform at a much higher level than usual, and the aftermath leaves you with a feeling of euphoria."
In addition to the challenge of starting and running and growing a new business, there was the added dimension that whitewater itself was a relatively new sport. When Kennedy was learning to paddle in the 1940s, there were no kayaks, and canoes were made of wood and canvas. The boats couldn't handle much abuse.
"I did a three-day river trip from North Georgia to Atlanta when I was a camp counselor, and one of the canoes with two campers hit a rock," Kennedy recalled. "We had to stop and finish the day patching the canoe and letting the patch dry. It interrupted the trip if somebody hit a rock. People were very cautious and didn't get on difficult water till their skills were very developed."
Aluminum canoes came later, and then plastic, which made it even easier to slide off rocks. More and more people became interested in paddling — the NOC was built atop the foundation of a surging sport.
Building a culture
The center soon found itself to be something of a hub for high-level paddlers.
"The key was early on attracting some really capable, outstanding staff, and they told their friends and top-level paddlers," said Kennedy. "They told their friends about it and their friends would come and there just became such a feeling of a group of friends working together."
That culture had its roots in the very first season, 1972, when a man named Jim Holcombe, whose family was big into paddling, came to work at the NOC. Jim's sister Louise Holcombe was on the inaugural Olympic whitewater team in 1972. She was also a college student and took her brother up on his suggestion that she look to NOC for summer employment. Louise brought another member of the 1972 team with her, and the next year she brought her fiancé, also an Olympic paddler. The chain went on from there.
"That initial group attracted more and more of the top paddlers in the country," said Kennedy. "When they got here they spurred one another on in competition, but also in teaching and coming up with new ideas of how to teach and new paddling techniques."
Many of the NOC's top guides were women, something of an unusual occurrence for river outfitters at the time.
Several NOC employees competed at the 1996 Summer Olympics on the Ocoee River. Villa Brewer photo
"In those days, women couldn't get jobs as guides very many places," Kennedy said. "Most companies thought river guides needed to be men, so we got lots of the top women paddlers because we were happy to have women who were good paddlers."
Kennedy credits that development of top-notch guides, combined with the team-player atmosphere he strove to create, with much of NOC's success over the years. Early on, NOC adopted a policy that allowed employees to become part owners in the company — though the plan has evolved since then, the original policy allowed employees to earn four shares per month after their first year working at NOC.
"Our goal was to have a good life for everybody, and not just a few absentee owners," Kennedy said.
Kennedy retired from the NOC in 1998 — sort of. He went back to work to help the company through a hard time from 2004 to 2006, is still on the board and still lives on campus, also guiding occasionally and helping to orient new staff.
Since 2012, the NOC has had new ownership — a group of six businessmen and outdoorsmen from Atlanta bought majority control — and its story has continued to evolve. Things are different now than they were when he owned it, Kennedy said, but "a strong element" of the early culture still survives, its legacy filtering throughout Western North Carolina. Over the years, NOC has had about 12,000 different people on staff, and while many of them were college students who just worked a summer before moving on, others have stayed, becoming entrepreneurs, teachers, contractors and leaders in the mountain community.
Paging through the memories in NOC Stories, past employees certainly seem to remember their years there as "the good life," a time of adventure, learning and growth.
"We look up at the stars and read in them/a hundred glorious tales of a future that/waits for us with open arms/that will welcome us just as we are/unadorned and smelling of fern and spring water/draped around by purple raspberry flowers/that glow faintly/from the star-shadows/on the riverbank," Florrie Funk wrote in a poem about summer evenings during her time at the NOC from 1973 to 1975.
Other memories feature more adrenaline-filled moments, like Eric Nies' piece "Staring into the Eye of God," about the first time he ran the challenging Section III of the Chattooga — during high water — and found himself paddling straight into the one feature he'd been told to avoid, dubbed "The Eye Of God."
"I remember a giant corkscrew thing, breaking hard right, and mist coming up like the edge of the world," Nies wrote. "It was a tornado on its side. I have been waiting 30 years to see that wave again, and if I never do, my recollection will mostly be a thought of amazement that water could do such a thing… we squared up and charged. Chaos, noise, the boat seemingly airborne and totally submerged at the same time, then on its right tube, me deep in a vortex of mystery, Phyllis somewhere in the sky. And then calm. We were upright, floating away, and then somehow we were sitting in an ordinary eddy, looking back at the Narrows."
Adventure and camaraderie like that don't just disappear. They stay in the air, traveling alongside their possessor throughout the seasons of life. Creating NOC Stories gave Kennedy — and anyone who reads the book — a chance to see how those gifts have served members of the NOC family through the decades.
"Over the years, I have heard with increasing frequency folks using expressions such as 'having one another's backs' and 'looking out for their wingman on the river,'" Kennedy wrote in the book's last chapter. "And when I receive communications from former employees about their time here, they most often speak about what an incredible community it was and how they still feel a part of that community, even though they no longer live at Wesser or one of our outposts."
Hear the stories
The roots of the Nantahala Outdoor Center will come alive during a panel discussion at 3 p.m. Saturday, June 2, at City Lights Bookstore in Sylva, featuring eight of the people most instrumental to the 46-year-old business's success.
All eight panelists are contributors to the new book NOC Stories, which describes the NOC's first 25 years, a time of explosive growth in whitewater sports and instruction. Compiled by Payson Kennedy and edited by Greg Hlavaty, the book presents the history through the eyes of its early leaders and dedicated staff from 1972 to 1997.
Contributors in attendance will include Payson Kennedy, John Burton, Bunny Johns, Villa Brewer, Tom Gonzalez, Florrie Funk, Maggie Parkes and Cathy Kennedy.
Reserve a copy of NOC Stories by calling City Lights at 828.586.9499.