Archived Mountain Voices
Honey locust pods are well-protected
Wednesday, October 31, 2018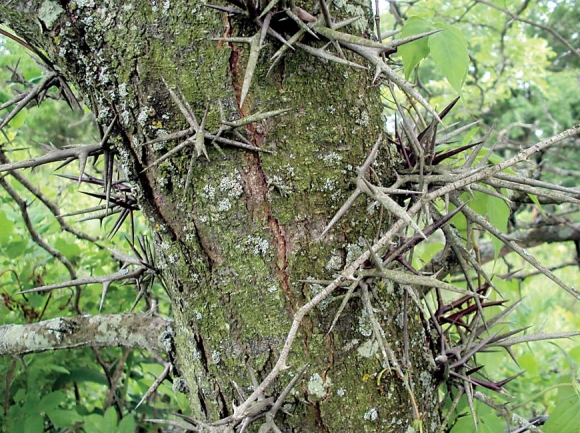 Honey locust tree.
Strap-shaped honey locust pods can be up to 2-inches wide and a foot or more in length. Hanging in abundance along roadsides, they bring back memories. My buddies and I used to gather them to eat the sugary pulp.
The young greenish-brown pods that appear from mid-summer into early fall yield a sweet treat, whereas the older twisted maroon-colored pods that fall in winter tend to be bitter, although it's possible to find a few older ones that contain good stuff. Unfortunately, the young pods are virtually inaccessible, being protected as they are by the tree's vicious three-forked spines.
A squirrel being chased by a dog will flee up a honey locust tree because of these barbs, which cluster around the area where the first set of limbs grow as well as along the limbs. The larger spines can be up to 12-inches long!
My friends and I were foolish fellows, but never so crazy as to climb a honey locust tree. We used to occasionally find pod clusters that could be reached from the ground or an adjacent tree or building. Usually, however, we attached a rope to a rock and tossed it over a limb and stripped off the fruits by pulling the rope across them.
I suppose the last time I harvested honey locust that way was in the mid-1950s. Now, I like to pick up the fallen pods and keep them around my desk or add them to dried arrangements.
Recently, I decided to read up on honey locust (Gledistia triacanthos), which grows typically to about 75 feet beside roads and fields here in WNC, but sometimes in the forest. Here are some things I found:
• The "Knowing Your Trees" volume first issued by the American Forestry Association in 1937 advises, "While belonging to the pea family, botanists (do not) classify it with ... black locust (Robinia pseudoacacia), with which it is often confused ... In 1753 Linnaeus named the genus 'Gledistia' in honor of Johann Gottlieb Gleditsch, then professor of botany at Berlin. The forked spines are recognized in 'triacanthos,' meaning 'three-thorned' ... The numerous, brown, oval bean-like seeds enclosed within the pods are separated by a sweet and succulent pulp. They are eaten by cattle, deer, rabbits, foxes and squirrels, which scatter the seeds over large areas ... The species matures at about 120 years, but may live longer."
• In "The Common Forest Trees of North Carolina" (1977) pamphlet issued by the N.C. Department of Natural Resources states that the wood, which has been used for fence posts and railway ties, is "coarse-grained, hard, strong, and moderately decay-resistant. It should not be confused with the very durable wood of the black locust."
• In Fall Wildflowers of the Blue Ridge and Great Smoky Mountains (1987) Oscar Gupton and Fred Swope note, "Honey locust, also known by the names sweet locust and honeyshuck, is very much an ornamental species by way of its large and colorful fruits and the finely divided foliage that produces an effect of green, lacelike mist. The formidable thorniness has a beauty of its own, but it can also present formidable problems. There is, however, a (cultivated) form of the tree that is completely free of thorns."
• L.A. Peterson in Edible Wild Plants (1977) volume in the Peterson Field Guide series warns that the shorter, bulkier pods of the Kentucky coffee tree (Gymnocladus dioica) — occasionally found in WNC around old homesites — are poisonous when fresh, although they are used as a caffeine-free coffee substitute when roasted and ground.
• If you find grasshopper or small rodents impaled on honey locust thorns, you're observing the work of a loggerhead shrike, a stocky black, white, and gray bird that resembles a mockingbird. In Birds of the Carolinas (1980) the authors note that "shrikes are called 'butcherbirds' because they hang their excess prey on thorns or barbed-wire fences somewhat the way butchers hang slaughtered animals on meat hooks."
• My favorite tree-information book is A Natural History of Trees of Eastern and Central North America (1950) by Donald Culross Peattie, who made his home in the Tryon, N.C., area during the period before and after World War II. We'll give Peattie the last word in our honey locust symposium:
"Down in Florida this tree is still sometimes called by the obsolete name of Confederate pintree, because its formidable spines were used to pin together the tattered uniforms of the southern hosts in the war of the Blue and Gray. Honeyshucks is the name used in some parts of Virginia, and very appropriate it is on account of the sweet pods eaten by cattle and sometimes by nibbling country boys ....
"The word locust, of course, is a transportation to the New World tree of an Old World name. When Saint John went into the wilderness he lived on 'honey and locusts,' says the Bible, and by later transposition the name of the noisy insect became attached to the rattling, edible pods of carob (Ceratonia siliqua), often called St. John's-bread. Not unnaturally, a sweet-tasting pod on an American tree received the name 'locust.' While the thorns of the black locust are superficial and easily picked off, those of the honey locust arise from the wood and cannot by any means be pulled out. At first they are bright green, then bright red, and when mature a rich chestnut-brown that shines as if it had been polished. In the days when southern mountain folk had to use the natural resources at hand, they employed these thorns in carding wool, and for pinning up the mouths of wool sacks."
(George Ellison is a naturalist and writer. He can be reached at This email address is being protected from spambots. You need JavaScript enabled to view it..)