Archived News
Good Samaritan's last good deed
Wednesday, January 16, 2019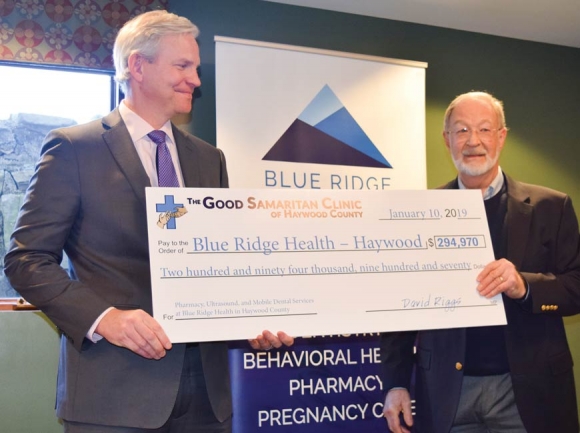 David Riggs, former board chairman for Good Samaritan Clinic, (right) presents Blue Ridge Health CEO Dr. Richard Hudspeth with a check for $294,970. Jessi Stone photo
For 20 years, Good Samaritan Clinic provided much needed health care services to people of Haywood County. Even though the nonprofit has now dissolved, past volunteers and board members came together last week to do one more good deed and fulfill its mission.
Good Samaritan handed over a check for $294,970 — the remaining funds from its coffers — to Blue Ridge Health.
"Good Samaritan Clinic has dissolved, but the legacy of Good Samaritan will continue on through Blue Ridge Health," former GSC Board Chairman David Riggs said during the check presentation at Blue Ridge Health last week.
BRH plans to use a majority of the funds to open a pharmacy at its location on Hospital Drive in Clyde for Haywood County residents to have access to low-cost and/or free medications. Remaining funds will cover the cost of a new ultrasound machine and a mobile dental care unit.
BRH is the nonprofit health care system GSC chose in 2016 to carry on its legacy of providing crucial services to the most vulnerable populations in the county.
While GSC accepted patients 18 to 64, BRH offers sliding scale services to all ages whether they are uninsured or underinsured. Since partnering with The Good Samaritan Clinic in 2016, BRH expanded to a larger location, added new services and built upon the existing GSC staff. Today, the practice has seven providers and offers family medicine, pediatric, behavioral health, nutrition, and pregnancy care services to patients of any age or insurance status.
Riggs said dissolving GSC was an unavoidable decision given the changing climate of health care and the growing need in the county.
"We came to the realization that we weren't going to have the sustainable growth needed to serve the people of Haywood County within the same organizational type," he said. "So we went through a long process of looking at alternatives."
In the end, partnering and transitioning services over the Blue Ridge Health made the most sense to the GSC board. Riggs said BRH started out 50 years ago with a similar mission that GSC started with when it opened its doors on Feb. 14, 1999, at Dr. Teeter's medical practice along with Nurse Practitioner Jenny McNair.
As Blue Ridge Health CEO Dr. Richard Hudspeth looked around the room, he said he was happy to see so many former GSC employees who chose to continue on under the BRH umbrella.
"I'm honored and blessed to have this partnership with Good Samaritan. We will do our best to honor the legacy and vision that was put in place 20 years ago and make sure it continues, said Hudspeth said. "Our providers are accepting new patients and ready to take care of anyone who walks through our front doors."
Before partnering with BRH, GSC had long waiting lists for patients needing to be seen, but BRH has added more providers in order to deplete the wait and also accept new patients of all ages whether they're uninsured or underinsured.
Hudspeth said the funds provided by GSC would cover the cost of a new ultrasound machine that's already being used at BRH and would also allow the practice to provide Haywood County residents with low-cost or free medications at the new pharmacy and a mobile dental clinic.
Donda Bennett, former GSC practice manager and now director of BRH in Haywood and Jackson, thanked all the churches, organizations and individuals who supported GSC clinic throughout the years. She added that GSC's board of directors made a good decision to partner with BRH.
"I've seen amazing things happen with Blue Ridge Health already. It's a very exciting time to be in Haywood County," she said.
Neil Budde, a former GSC board member, said he was also pleased with the decision so far though it was a tough one to make at the time.
"When we made the decision in 2016 to join forces with Blue Ridge Health, we certainly had questions, but speaking on behalf of the board, looking at what Blue Ridge Health has done in the last two years, we feel we made the most right decision possible," he said. "More people are being served with more services than we could ever provide at Good Samaritan."
For more information about BRH, visit www.brchs.com/haywood-health-center.