Archived News
SBI investigating Jackson jail death
Wednesday, January 30, 2019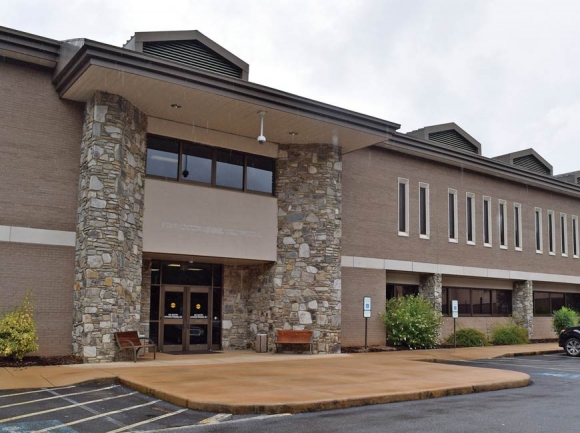 The 72-bed Jackson County Detention Center was built in 2003. File photo
The recent death of a Jackson County Detention Center inmate has spurred a probe from the N.C. State Bureau of Investigation.
Melissa Middleton Rice, 49, was found unresponsive after she was admitted to the detention center Jan. 16, according to a Jan. 17 press release from the Jackson County Sheriff's Office. Detention staff provided medical attention while waiting for Harris Regional Hospital EMS workers and Sylva first responders to arrive, and Rice was taken to Mission Hospital in Asheville.
She died two days later, according to an obituary. Middleton was the mother of three and the grandmother of two, and she loved horses, motorcycles, music, the outdoors and trips to Montana, the obituary said.
Jackson County Sheriff Chip Hall requested the SBI investigation, according to the press release, something that SBI Special Investigator Kelly Oaks said is typical in such situations. She could not speak to whether or not any wrongdoing is suspected on the part of detention center staff.
"If somebody sustains injuries or dies in custody, they usually ask for an independent investigation," she said.
Oaks expects the investigation to be complete at some point in the first week of February. Once the report is final she'll turn it over to District Attorney Ashley Hornsby Welch, who will decide whether the report points to any criminal wrongdoing worthy of prosecution. Oaks said she's seen such decisions take as little as a day or as long as six months. SBI reports are not public record.
Rice was admitted to the detention center on the afternoon of Jan. 16 on 11 charges, including two charges of breaking and entering, domestic criminal trespass, simple assault, larceny of a motor vehicle, possession of a stolen motor vehicle, burning personal property, resisting a public officer, assault on a government official and assault on a law enforcement animal.
It was not the first time Rice had been arrested. A simple Google search turns up various police blotter entries in Jackson and Macon counties, with past charges including larceny of a horse, harassing telephone calls and possession of counterfeit currency. Just nine days before her final arrest, on Jan. 7, Jackson County deputies charged Rice with violation of a post-release order, domestic criminal trespassing, interfering with emergency communication and simple assault.
The circumstances leading up to her arrest Jan. 16 and subsequent collapse in the detention center are unknown, however. In response to a request for the incident report accompanying Rice's Jan. 16 arrest and the log of jailers' rounds from that day, Maj. Shannon Queen said, "I have been told to refer all inquiries to the NCSBI" and did not reply to follow-up requests for clarification on why the records were being withheld.
There is no basis in state law for withholding records that would otherwise be public due to the presence of an investigation, said Amanda Martin, attorney for the N.C. Press Association.
"Public records do not disappear from public view because an investigation is undertaken," she said. "So if the city budget is a public record (which it is), it doesn't matter if it gets used in the investigation of the county manager for having stolen money from the city. It's still a public record. That premise is embodied in the very language of the public records law."
According to G.S. 132-1.4(f), "The use of a public record in connection with a criminal investigation or the gathering of criminal intelligence shall not affect its status as a public record."
Four years ago, two suicides occurred in the Jackson County Detention Center within months of each other, and in those cases records showed that jailers had failed to comply with state law requiring that they check on inmates a certain number of times per hour.
State statute requires that detention officers visually check on all inmates at least twice per hour, with four checks per hour required for inmates who are suicidal, mentally ill, intoxicated, violent or displaying erratic behavior.
In the case of Steve Ross, who was found hanging from his cell on March 13, 2015, there was a gap of 85 minutes between the last check and the one that resulted in the discovery of his body, with intervals for the rest of the day ranging from 20 to 106 minutes. Ross's death came just months after the Nov. 21, 2014, suicide of Charles "Chuckie" Moose, when logs showed a 33-minute gap between the last visual check of Moose and the discovery of his body. Intervals for the remainder of that day had been as large as 53 minutes, records showed.
The same two jailers were on duty in both instances and as discipline received five days' leave without pay. The SBI investigated Ross' death but not Moose's. Welch declined to file charges in either circumstance.
The 2014 and 2015 suicides occurred during a transition in leadership. On Nov. 21, 2014, Hall had just won his first election as sheriff but had not yet been sworn into office. At the time of Ross's death, Hall was just over three months into his new job, taking over from a sheriff who had held the position for 12 years.
Following Ross' death, Hall made some changes.
He created a new jail captain position and entered into a contract with Georgia-based Transform Health Correctional Services to provide improved medical care for inmates. He also completed an updated policy and procedure manual and made some upgrades to the jail facility itself.
In November 2018, Hall was elected to a second four-year term, which began Dec. 3.