Archived News
Large donations will benefit Haywood students, residents
Wednesday, March 13, 2019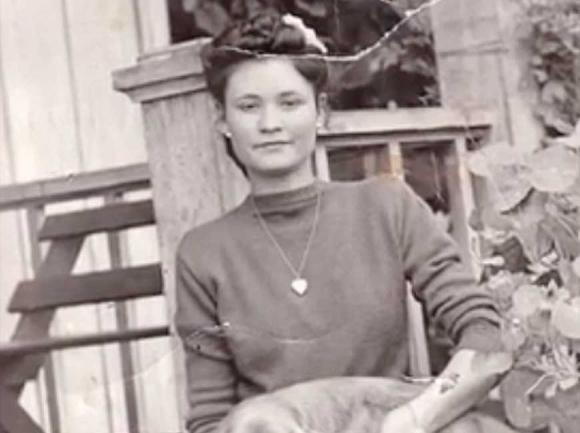 Irene Smathers (above) and her husband David left a substantial gift that will benefit Haywood County long into the future. Wells Funeral Home photo
A substantial and somewhat surprising gift by two Haywood County natives has the potential to contribute to the community for generations to come.
"No one would've guessed that they were doing what they were doing over the years," said Canton attorney Pat Smathers, of the charitable donations made by David and Irene Smathers during their life together. "They were good, community-minded people who enjoyed their lifestyle, but they did not have a great, lavish lifestyle. There's no doubt they lived frugally. I think only people who were either personally acquainted as confidantes, as their attorney or financial advisor, and family members would have any concept that they would have that kind of wealth."
A March 7 press release issued by Smathers, who's charged with administering the $6 million gift, explains that it's to be broken up into three separate gifts of $2 million each.
One of them is a straight donation to The Broyhill Home, a residential facility on 90 acres in Clyde that serves foster children. Established in 1971, the home is run by Baptist Children's Homes of North Carolina.
Another $2 million will go into something called the Cruso Endowment.
"The Cruso Endowment was actually set up by David and Irene back in the 1990s," Smathers said. "It is, for those who are familiar with estate planning, what's called a CRUT [charitable remainder unitrust]."
Although it may have surprised some that Irene, who worked at the Waynesville Tannery, Dayco and Rays Department Store, and David, an engineer by trade, had that kind of money, it's not surprising, said Smathers, that they chose to set up the endowment that will likely function in perpetuity.
"David was originally from Canton, and Irene was from the Bethel area, Cruso, in that area. David had moved away and I don't think he really came back to Canton until he had retired," he said. "He was very smart. He would have what I would call a 'quirky engineer's mind' and people who knew him knew he was very bright. He never threw anything away — he would keep things to be reused. He was just a very bright guy."
David passed away in 2009 and was joined by Irene in January of this year.
"She was equally sharp," he said. "Her profession was different than his, but she was very much aware of what was going on up until her death, up in her 90s. Just a sweet lady, she would love to talk to people."
Smathers said that several local nonprofits had long been receiving gifts from the endowment, which had about $160,000 in it before the $2 million gift hits the account.
Once it does and after the dust settles, Smathers said the Cruso Endowment would begin spending the interest the account accrues.
"As far as the Cruso Endowment, to meet Internal Revenue Service requirements, 5 percent must be spent every year," he said. "Based on current projections, spending 5 percent of the principal, which will continue to grow, that would be roughly $90,000 to $110,000 [in disbursements each year] depending on the investments made."
Those investments are chosen by the endowment's fiduciary, the North Carolina Community Foundation, and are designed maximize return on the principal that will ultimately focus on eastern Haywood County within the limits of the Pisgah High School district.
"It has four purposes. The first purpose is to help economically disadvantaged people in that area for needs that are very general — food, clothing, shelter, fuel. Two is actually church construction, so I guess it could be an addition or whatever, but [Irene] was very clear in saying this is not to be used for operations of the church. It's not to pay salaries, utility bills. Churches would be entitled to money if they were doing a program to help the needy, or the disadvantaged."
The third area, Smathers said, is for "recreation" needs in the town of Canton.
"And that's very broad," he said. "It could be anything from parks to athletic fields, events, anything involving entertainment, and then the fourth purpose of it is for beautification and appearance enhancements in the town, and then again from parks to flowerbeds to statuary."
Upkeep is part of the equation as well.
"Also part of it is for the maintenance of those things," he said. "A lot of people want to build a garden, but nobody wants to pull the weeds."
The funding isn't intended to supplant town spending on such items, but instead augment it.
"Her intent was this was to enhance the current programs in the town of Canton — appearance and recreation," he said. "To do that the Town of Canton has to spend the average of what they've spent for the last five years in recreation or beautification projects and appearance projects."
Smathers said that he'll help make disbursement decisions with Irene's sister Doris Hall, and that they've together agreed not to delve into the principal so the fund can grow. Once Hall and Smathers are no longer able to serve in those roles, those decisions will be made by whomever is serving as Canton's mayor.
The third $2 million gift creates something called the Smathers Education Endowment Fund.
The press release says it's to "assist physically disabled students and to assist economically disadvantaged students with scholarships to attend college, giving preference for attendance at Haywood Community College."
Other academic needs, like computers, are also a possibility, and social needs — like if someone needs a prom dress — could also qualify for funding.
"I think the way the money is designated is for the kids that may not have everything but could maybe benefit from the money," said Haywood Board of Education Chairman Chuck Francis. "What a great opportunity for our kids to have the money to do things that they maybe wouldn't have had otherwise."
The Smathers Education Endowment Fund will be administered by the Haywood County Schools Foundation, which had already received more than $600,000 in gifts from David and Irene before the $2 million contribution.
Francis said he believes it's the Haywood County Schools Foundation's largest gift ever.
"We're overwhelmed by the generosity of David and Irene," said Hylah Birenbaum, president of the HCSF board. "This will not only help our high-performing school district continue to grow, but will also help with the little things — band uniforms, even — that contribute to a well-rounded educational experience."
Smathers, too, lauded the gifts; as former mayor of Canton and current HCS board attorney, he's well-placed to gauge the impact and the intent of David and Irene.
"They had wealth, they used it for what they determined were good purposes for their community and disadvantaged people, and that's how they enjoyed their money — not spending it on themselves or trying to get in the newspaper trying or to feather their own nest," he said. "They just knew, in their minds, the wealth didn't go to their heads. It wasn't necessarily for them."