Archived News
State bills seek to bring sports betting to Cherokee
Wednesday, April 10, 2019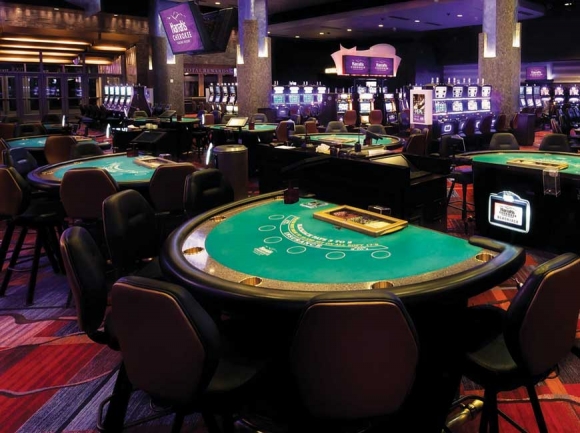 A pair of bills now working their way through the state House and Senate would legalize sports betting on tribal lands, bringing to fruition a possibility that's been discussed ever since the U.S. Supreme Court ruled on the subject in May 2018.
Previous to the court's 6-3 decision in Murphy v. National Collegiate Athletic Association, sports betting had been prohibited under the Professional and Amateur Sports Protection Act of 1992. However, the court ruled that the act was illegal under the 10th Amendment, which says that powers not specifically delegated to the federal government are reserved for the states. The act prohibited states from allowing sports betting, which the court ruled conflicted with the constitution.
That decision meant that states could decide for themselves if and how to allow sports wagering in their jurisdiction.
"The tribe asked me to, and they want to expand their gaming and their wagering operations to include sports betting and include professional and collegiate sports. The Supreme Court said it's legal, so I told them that I'd be willing to sponsor it," said Sen. Jim Davis, R-Franklin, who sponsored the Senate version of the bill.
Rep. Kevin Corbin, R-Franklin, introduced a similar bill on the House side.
"Personally I'm not a gambler. I'm not into all that," said Corbin. "The thing is it's legal. The casinos are already there, and this is just something that's been ruled legal that the tribe wants to take up. They're in my district and Jim (Davis') district, so we felt like it was the right thing to do, to give them that opportunity if that's what they choose to do."
As originally introduced, the bills are identical, and short. They propose adding just three lines of text to the existing statute governing gaming on Indian lands. Those lines add sports wagering to the list of games allowed on tribal land and define sports wagering as "the placing of wagers on the outcome of professional and collegiate sports contests."
The bill would not allow for bets to be placed online — players would have to be on casino property to participate.
"A big concern with some of the legislators is will the Eastern Band be able to do sports betting via an app where the player would not have to be on property," said Principal Chief Richard Sneed. "The short answer to that is no. That is a violation of NIGRA (the National Indian Gaming Regulatory Act)."
Language added to a second version of the Senate bill makes that limitation more explicit and also seeks to allow betting on horse races. The bill expands the definition of sports wagering to stipulate that "the wager shall be deemed to occur where it is initiated and received, all of which must occur on Indian lands within the State lawfully permitted to conduct Class III gaming activities."
Horse race wagering would include fixed odds or pari-mutuel wagering on thoroughbred, harness or other racing of horses, including simulcasting and off-track betting. This type of betting would also be required to occur on-site.
The Senate bill was introduced a few days earlier than the House bill — Feb. 27 as opposed to March 7 — and is a bit further ahead on its quest to become law. It appeared on the calendar for April 9, though any action on the bill occurred after press time. The House bill has been sitting in the Committee on Judiciary since March 11.
Rep. Joe Sam Queen, D-Waynesville, is a cosponsor on the House bill and said that, while he wouldn't favor a blanket authorization of sports betting in North Carolina, he feels that the proposed action is responsible and would benefit the region overall.
"I wouldn't want it opened up everywhere," he said. "I'm very much in favor of if we do it, let's do it where we know we're doing it at an institution that's responsible, that has a good track record."
Twenty years after welcoming its first guests, Harrah's Cherokee Casino now has locations in Cherokee and Murphy, attracting hundreds of thousands of visitors each year and returning hundreds of millions of dollars in profit to the tribe. A $250 million expansion slated to be complete in 2021 is only expected to increase those metrics.
"Across the country, attitudes toward gaming have changed, and certainly the Eastern Band has demonstrated over the last 20 years that we have done a good job of running a responsible gaming operation," said Sneed.
Sneed said that revenues from sports betting are expected to be relatively small, with data from establishments in Las Vegas indicating it might make up 3 to 5 percent of the revenue. However, he said, it's something that guests have definitely been asking for and an amenity the casino wants to give them.
If the bill passes, sports betting could be up and running at the casino by this summer, said Sneed. It would be a pretty easy offering to add, as no specialized equipment or staff is needed. The odds would come from Las Vegas, with Harrah's Cherokee essentially acting as a satellite for the Caesar's Entertainment property there.
"We've identified some space on those properties (in Murphy and Cherokee) where we could immediately put in a sports betting lounge," Sneed said. "Basically it would be like a sports bar, but you'd be able to place bets."
The state already receives about $11 million annually from gaming revenues on tribal lands, said Sneed. According to Davis, sports betting is expected to produce about $14 million in revenue and add about $1 million in state taxes.
The Senate bill is online at www.ncleg.gov/billlookup/2019/S154, with a link to the House version available at the top of the page.