Archived News
Tribe to purchase 198 acres in Tennessee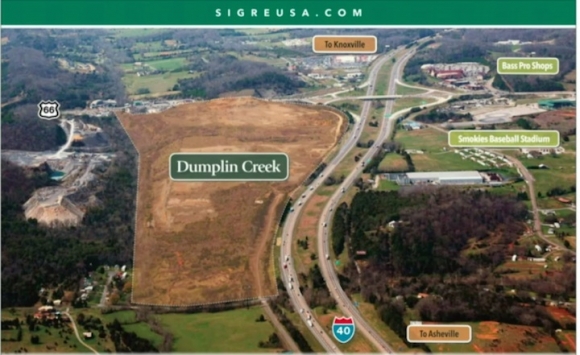 The Eastern Band of Cherokee Indians will enter into a $13.5 million contract to purchase 197.62 acres of land along Interstate 40 in Tennessee following a unanimous vote from Tribal Council July 11.
"It is probably the most prime real estate over there," said Principal Chief Richard Sneed. "It's already flat and about $2.5 million worth of site work done to it."
The property is located south of I-40 just east of the Exit 407 interchange and borders I-40 for about a mile. On the other side of the highway lies another piece of property recently purchased by the tribe. Tribal Council voted in February to buy the 122-acre tract for $7.5 million.
"Both properties have excellent economic development potential and were purchased at below the apprised value, so it was also a great investment for the Eastern Band," Sneed told The Smoky Mountain News in a follow-up conversation.
Buying the Dumplin Creek property will "instantly increase" the value of the property the tribe bought in February, Mark Hubble, CEO of Kituwah, LLC, told Tribal Council July 11.
Kituwah, LLC — the tribe' business arm created in March 2018 — will be tasked with figuring out how best to develop the land, provided that the deal closes following a due diligence period. According to the resolution enabling the purchase, funds to buy the land will come from the fund balance of Endowment Fund No. 2, and the deed will be in the name of Kituwah, LLC. The LLC can then bill the tribe up to $500,000 for contracted work to complete a marketing and development plan for the property. That plan would be presented to Tribal Council for funding consideration.
"It is what I would say is very, very prime property," said Hubble. "That being said, the tribe needs to understand that developing this property without a comprehensive development process for it, I don't know that would be advantageous for the tribe or the Tribal Council. That's why we asked for the money to put together a development plan that would be very comprehensive."
Developing the property won't be inexpensive, said Hubble, probably north of $60 million. However, fully developed it's potentially worth $1 billion.
The current owners of the property have already completed a development plan for the site that's about 30 pages long, said Sneed. Ideas discussed include mixed-use developments that that combine retail, dining and residences, as well as a pad for a big box store like a Wal-Mart.
The fact that the current owners invested so much in the property is a positive sign for Hubble. About eight or nine years ago, they paid more than $20 million for the land and then did $2.5 million worth of land development before running out of money and going into foreclosure. At $68,300 per acre, the tribe is picking it up for about half the cost the previous owners laid out.
"Somebody was willing to put their own money at a valuation for the same property several years ago, and that area has only developed since then," said Hubble.
Exit 407 is one of the busiest intersections, if not the busiest, in the state of Tennessee, said Hubble, and development in the area is only expected to increase. If the Tennessee Department of Transportation were to ever build an Exit 408, then the property would become even more accessible, with a highway exit on either side of it. The land purchase could greatly aid the tribe's efforts at economic diversification, said Hubble, as the property is expected to be lucrative regardless of whether gaming is ever a possibility in Tennessee.
Tribal Council gave its support to the plan in both words and votes.
"I think we need to start investing in land," said Councilmember Boyd Owle, of Birdtown. "We've had the casino here for about 20 years, bought very little land outside Cherokee, so I think we'll have to start looking at buying land outside for that diversification tool that we need. But I'm actually for this."
"We all campaigned on diversifying our economy," agreed Councilmember Tom Wahnetah, of Yellowhill. "I think this will help out as long as the Kituwah LLC board is in full support of this and are willing to take it under their leadership and run with it."
"We're getting both of these properties at under appraised value," added Councilmember Bo Crowe, of Wolfetown. "We could turn around and sell the property and make money."
Once the deal closes, the LLC board will be tasked with deciding whether to sell it or how to develop it — those decisions will not come back before Tribal Council, unless the LLC board requests tribal funding to carry out its plan for the property, in which case Council can vote to approve or deny funding.
"That's what we created the board for too, was to make the business decisions," Sneed said.
The resolution to enter into a contract on the property was passed unanimously. It still requires a signature from Sneed, who said he plans to sign it.