Archived News
Sports betting legalized on Cherokee land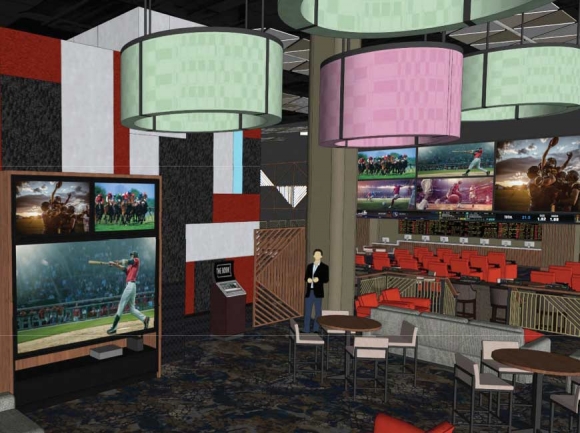 Screens will be key at The Book, the new sports betting lounges planned for casinos in Cherokee and Murphy. JCJ Architecture rendering
Sports wagering is now legal in casinos on the Qualla Boundary following Gov. Roy Cooper's signature on Senate Bill 154 Friday, July 26. Harrah's Cherokee Casinos is hoping to open sports betting areas at both its Cherokee and Murphy facilities by late fall.
"This is an exciting time," said Brooks Robinson, Regional Senior Vice President and General Manager of Harrah's Cherokee Casinos. "We continuously work to offer new experiences and opportunities to our customers and are confident that our new sportsbook will be an added delight for our guests and sports fans."
Harrah's plans to open The Book later this year at both casinos, allowing guests to wager on collegiate and professional sports as well as off-track horse racing. The Book will offer food and beverage service, a variety of seating options and large-screen TVs for patrons to watch the games they're betting on.
Sports wagering is expected to bring in an additional $14 million in casino revenue, accounting for 3 to 5 percent of total casino revenue. The state is expected to gain $1 to $1.5 million each year in taxes.
"Especially customers that visit other markets, there's just a certain type of offering that they look for, and this is one of those items," said Brian Saunooke, regional vice president of marketing for Harrah's. "It's an important part to the business, and it's comparable to something along the lines of poker. It brings in an important additional revenue stream to the casino."
In Cherokee, The Book will initially open temporarily in the space currently occupied by Sound Bytes, in the UltraStar Multi-tainment Center. It will later move to the location of the Essence Lounge and feature smaller, private areas — "fan caves" — where guests can make reservations.
In Murphy, The Book will be located near the promotions stage of Harrah's Cherokee Valley River Casino and Hotel, located to the right of the main entrance.
There is not yet an estimated cost or grand opening date for the project, said Saunooke.
"The two projects, both of them have a lot of details that have to be nailed down before we can get an official grand opening date," he said. "There's a surprising amount of infrastructure, especially on the IT side, that has long lead times."
Sen. Jim Davis, R-Franklin, introduced the Senate bill that ended up passing on Feb. 27, with Rep. Kevin Corbin, R-Franklin, introducing a House version March 7. The bills were a reaction to a May 2018 U.S. Supreme Court ruling, which said that the federal government had no power to prohibit states from allowing sports betting. Instead, each state could now decide for itself if about how to permit sports betting in its jurisdiction. Lawmakers saw the Eastern Band a prime candidate to be granted this new ability.
The legislation met little opposition, passing the Senate 90-7 on April 9 and the House 90-27 July 15.