Archived News
WNC to lose $9 million in mental health funding
Wednesday, August 28, 2019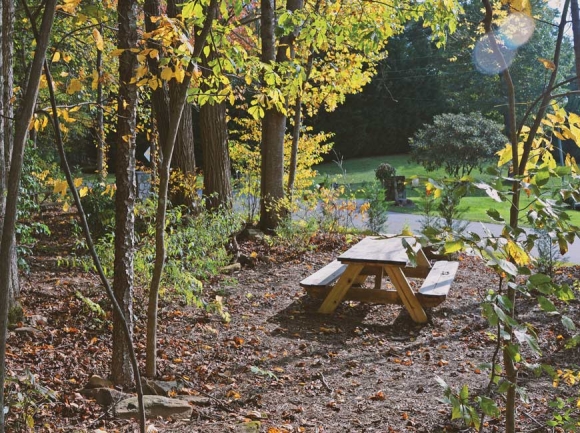 Assistance is available around the clock at the Balsam Center in Waynesville for mental health and substance use emergencies. File photo
The North Carolina General Assembly has proposed cutting millions of dollars in mental health funding in the recommended 2019-20 budget despite ongoing efforts to fight the opioid crisis and improve these services in rural Western North Carolina.
Gov. Roy Cooper vetoed the budget in late June because it didn't include Medicaid expansion — one of his top budget priorities — and while there doesn't appear to be much negotiating between Democrats and Republicans on the Medicaid issue, local behavioral health providers are bracing themselves for another round of massive funding cuts.
Vaya Health — the regional agency responsible for distributing state funds to local agencies providing mental health and substance abuse services in the 23 most western counties — could stand to be cut $9 million over the next budget year if the proposed budget is passed in its current form.
"We're kind of in limbo right now," said Vaya CEO Brian Ingraham. "No one knows anything for sure — all we can do now is look at history in the compromised budget. We have lobbyists in Raleigh that pay a lot of attention to where things are headed, but we have no news. We're shooting in the dark."
Each year Vaya doles out state funds to local providers in the western counties that actually perform the behavioral health services for those without health insurance — referred to as Single Stream funding. Vaya also receives a pot of state funding to provide services for those covered by Medicaid. The $9 million in estimated cuts will be to the Single Stream funding, leaving those uninsured without options for services related to substance use and mental health.
The $9 million in cuts would come on top of previous cuts made to Vaya and the other seven regional agencies in the state. Vaya Health absorbed over $14 million in Single Stream funding cuts from the state in 2016-17 and then another $7 million in 2017. According to Ingraham, Vaya has been cut $48 million over the last four years.
Shelly Forman, the western region community relations representative for Vaya, mentioned the potential cuts to Macon County commissioners during an Aug. 13 board meeting while giving an update on the county's involuntary commitment procedures.
"If you have insurance, if you have Medicaid, you can get what you need. If you don't, the General Assembly has just gutted the funding for folks with no insurance," she said.
Had the General Assembly chosen to expand Medicaid, it's estimated about 500,000 more people across the state would be covered.
"There are a lot of people across the state and Western North Carolina that do not have Medicaid and have significant needs," Ingraham said. "Expansion would change things immensely for health care — that's just a fact. There's a lot of political will involved in this issue and we stay out of it but the reality is people need a lot of services in that population and we can't continue to backfill those reductions."
Ingraham also has an issue with how the statewide cuts are dispersed among the regional agencies — called Managed Care Organizations (MCOs) — and feels like the methodology doesn't give WNC a fair shake. Despite the cuts over the last four years, Ingraham said Vaya has mostly been able to shield its providers from feeling the impact through internal reductions in force, departmental restructuring, expenditure reductions and using its fund balance.
"We can't fund that ourselves anymore — we're out of fund balance and we can't reduce our own Vaya administration enough to account for that $9 million," he said.
Based on what Vaya sees in the budget right now, Ingraham said a $9 million cut would have to result in some kind of reduction in services. Vaya leaders have already met with the Providers Advisory Council, which includes a representative from all the providers that receive funding through Vaya.
"We've shared with them everything we know. We decided the most prudent thing to do is to not let state services get any bigger; it's a growth containment plan so we can begin to get our arms around this. It will only affect people requesting new authorizations, so it's basically a moratorium on new services," Ingraham said. "And it's just on the non-Medicaid side."
Jeanne Duncan, who serves as the president for Vaya's Providers Advisory Council, said she thinks Vaya has done all it can to absorb the state cuts without passing the cuts onto the local providers.
"They did some reorganization as an agency. They suspended development of some programs rather than cut existing ones," she said. "They have to respond now so as to prevent larger cuts later. While it will impact access to some services for new needs it will preserve continued services for those currently receiving."
Tabatha Brafford, regional director of community relations for Appalachian Community Services, said the proposed state cuts have left Vaya with a difficult decision to make, which has left local providers frustrated as they try to meet the growing needs in the region.
"These cuts will affect our most vulnerable individuals that are uninsured and that rely on this funding to provide them with care," she said.
Vaya's "growth containment plan" means providers will no longer be taking on new uninsured patients for certain services — enhanced mental health and residential services — provided through the Single Stream funding but will continue to provide those services for those already under the provider's care.
New uninsured people will still be able to access basic services through providers including individual or group therapy, clinical and psychiatric assessments, medication management and peer support.
On one hand, Brafford said it's a good thing that ACS's crisis continuum services won't be impacted, but during a time when more people are dealing with trauma, mental illness and substance use disorders, the moratorium on new services for the uninsured will have a "profound impact."
"A significant amount of people walk through our door every month with no insurance seeking care for the first time," she said. "And when people don't get the level of care they need, we see an increase in emergency room visits and an increase in these people ending up in jail — those places are not intended for behavioral health patients. Not to mention those are more expensive services so we're providing a savings by providing these services."
Even though the cuts are discouraging, Brafford doesn't want to discourage people from walking in the door at any ACS clinic to get the help they need. It might not be everything the person needs but it's a move in the right direction.
"We want to highlight there are still services available — we're not going anywhere and we'll continue to serve our mission," she said.
The Balsam Center in Waynesville provides many of ACS's critical services. The treatment center was renovated and expanded from 12 to 16 beds in 2017 and now serves as a 24/7 crisis center for those experiencing substance or mental health emergencies.
Vaya Health contributed $374,000 in community reinvestment funds toward the total expansion cost of $542,000. ACS and its parent company, ncgCARE, provided $50,000, with an additional $118,000 in funding coming from the Evergreen Foundation.
To date, Vaya has reinvested $18.5 million in a broad array of initiatives that address the needs in the region, including facility-based crisis center expansions, Narcan distribution and programs for youth transitioning out of foster care. Unfortunately, the state cuts since 2015 have forced Vaya to use its reinvestment dollars accrued from Medicaid savings to pay for non-Medicaid services previously covered by Single Stream Funding.
As of right now, Ingraham said the Balsam Center won't be impacted in this round of cuts.
Duncan sent legislators a letter in June expressing her concerns about the proposed budget cuts to mental health. As someone who sees Vaya's financial statements each month during board discussions, she can attest to the fact the agency won't be able to absorb another $9 million in Single Stream funding reductions.
"Vaya has built a solid crisis continuum using their comprehensive provider model. Services are available in every county. Open access assures individuals are seen the same day they present. Walk in crisis, mobile crisis, facility-based crisis and urgent care are available to individuals in the Vaya catchment," Duncan wrote.
While she sent the same letter to all legislators in Vaya's district, she said she only received one response thanking her for the information.
Meanwhile, the Republican leadership in Raleigh continues to push Democrats to pass the budget without Medicaid expansion. Senate Leader Phil Berger, R-Rockingham, and House Speaker Tim Moore, R-Cleveland, issued a press release Aug. 22 announcing the Taxpayer Refund Act in response to the state's budget surplus. If passed into law, every taxpayer would receive a refund in the amount they paid in state taxes up to a maximum of $125 per person.
"Sending taxpayer relief back home to hardworking North Carolinians is consistent with the General Assembly's successful approach to the state budget that built the $900 million surplus and benefits families with higher take-home pay, more jobs, and a rapidly growing economy," Moore said.