Archived Arts & Entertainment
Finding the beauty within: Green Orchid Soap
Wednesday, November 20, 2019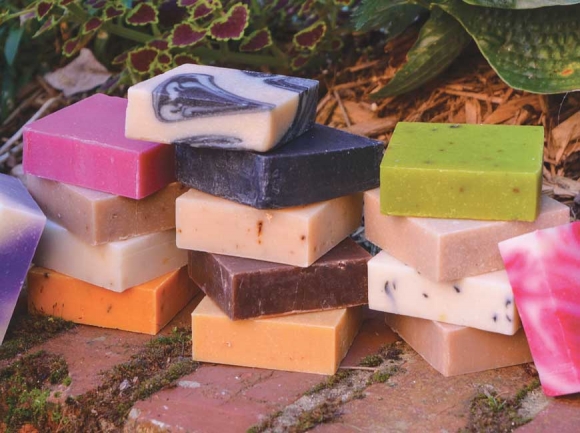 Specializing in an array of specialized skin remedies, Green Orchid's flagship product is its wide-array of homemade soaps. (photos: Garret K. Woodward)
Tucked in the depths of Wall Street in Waynesville, the Green Orchid Soap Co. is meant to be found by chance or happenstance — this cozy spot just off Main Street, right down a side alley away from the bustle of downtown.
"Healthy skin is so important. If you're itchy and miserable, it affects everything else in your life," said Babs Szczepanski, owner of Green Orchid. "The skin you have is all you got, so why not use products that best suit what your skin needs to flourish?"
Sitting behind her desk at Green Orchid, Szczepanski is surrounded by dozens of orders in boxes ready to shipped and ideas for new products. Opened this past April, Szczepanski is now at the helm of a steadily growing company that's becoming more and more in-demand.
"Our bodies absorb 80 percent of what we put on it in about 20 seconds. And a lot of these mainstream products still use questionable ingredients," she said. "There has to be something better for your skin and there has to be a reason these handmade soap company are popping up — people want quality, they want to know exactly what they're putting on their bodies."
A paralegal by trade, Szczepanski found her way into the small business world with her original store, Ellie's Fine Resale, a consignment boutique on Main Street. After selling the business, she looked for a new endeavor, with soap and skin products a constant idea floating around in her mind.
"This was in 2014, a time when my mother was terminally ill and I was helping her pass peacefully. And while I was going through that, I found myself with some extra time and started dabbling in making soap to keep my mind off of things," Szczepanski said. "Making soap became a kind of healing mechanism for me. I just started tinkering around with recipes and techniques, mainly learning by doing and by watching 'how to' videos on YouTube."
Szczepanki noted her long-time, sincere love of making things with her hands as an ode to her upbringing and late mother.
"We were poor and my mother made everything from toys to clothes — whatever we needed," Szczepanski said. "She tried to make it as best as she could without having to spend a lot of money."
From humble beginnings of trial and error with her soaps, Szczepanski started to sell her wares. First soaps, then pushing into seemingly every avenue of skin products. So much so, she now works with another person in creating and manufacturing the products. For Szczepanski, it's about a liberation of the soul through your skin.
"I'm 50 and I'm part of a generation that grew up in the 1980s. We had big hair and we were told we were fat," she said. "So, I'm trying to reach for this category of women who are coming into their own. They're not dying their hair anymore, they're just kind of figuring out who they are — and there's a lot of pride in that."
Babs Szczepanski, owner, Green Orchid
But, it's one thing to offer a product of value to the consumer, and it's another thing to place that product in a welcoming environment that is the store itself.
"Every store that I've ever owned, I've wanted it to be a space where you could come in and just decompress," Szczepanski said. "And I can see that when people walk in. They take a deep breath and they're relaxed — it's a great feeling to witness that."
When just taking into account handmade soap purchased within the last year, Szczepanski estimated Green Orchid has sold north of 500 bars since its April launch. Offering gift bundles, Szczepanski likes to layer the bars with her handmade lotions, scrubs and candles.
"Life can get so busy and crazy, that sometimes the only space in the day you have to yourself is in the shower," she said. "So, why not make the most of that and turn it into a meditative moment? Breathe in, breathe out."
Walking around the shop, Szczepanski pointed out each product and its uses, where one could simply go on a "pick your own scent" kind of adventure, with the variety of aromas as unique as the products themselves.
"In my products, I use a lot of classic ingredients — shea butter, olive oil, grapeseed oil, sunflower oil. There's a reason these ingredients have been around so long — they work," Szczepanski said. "It's crazy how many chemicals and detergents a lot of these mainstream products use. We want to change that with real ingredients that won't irritate your skin."
Now that Green Orchid is off and running, and seemingly at a faster pace with each new order and new idea implemented, Szczepanski is readying a men's line of soaps, lotions, shave butters and beard oils.
"If you feel good on the outside and you're not worried about that, then maybe you can start on the inside," she said.