Archived Mountain Voices
Start planning the gardens now
Tuesday, December 31, 2019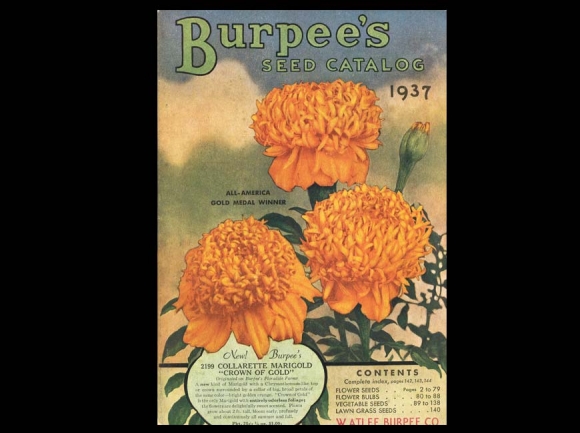 Editor's note: This column first appeared in a January 2006 edition of The Smoky Mountain News. | Have you started making your gardening plans yet? It's time. The garden catalogs started arriving in the mail several weeks ago: Johnny's, Burpee's, Pine Tree, Park's, Shumway's, Seeds of Change, etc. Folks have been studying these sorts of publications with pleasure for decades.
Among the earliest seed companies were Burpee's, founded in 1876, and D. M. Ferry, founded in the 1880s. For their 100th anniversary in 1976, Burpee's issued centennial place mats featuring color reproductions from historic, lithographed catalog pages. Those old-time catalogs had a special look and feel, one that R.W. Shumway's Garden Guide still attempts to replicate, unsuccessfully in my opinion.
During the 1970s into the early 1980s, my wife, Elizabeth, and I were fairly serious home gardeners. We maintained a quarter-acre plot in a level, cleared area up the creek from the house. Our family, which included three children, pretty much depended on that garden for vegetables year-round. Elizabeth canned tomatoes, green beans, and similar fare. Every evening during the winter months, we ate pies made from either butternut or acorn squash. Those pies were awfully good — and they were filling, which was equally important with five mouths to feed. The seeds for those gardens were ordered via various catalogs, primarily Burpee's, as well as from Clampitt's Hardware in Bryson City.
Then, for various reasons, we got away from gardening on that scale for a number of years. We cut back to dabbling around in the yard with ornamentals. Elizabeth maintained a small area alongside the house for spring greens, tomatoes, peppers, fall greens, and several other items.
As of now, however, it looks like we're headed back to gardening on a grander scale.
One of our daughters, Quintin, established a homestead last year on property just up the creek from us. Quintin has always enjoyed fooling around with plants, both vegetables and flowers. And she had always wanted a greenhouse. So, I went halves with her on one that we ordered and erected on a flattened area up above the barn.
We didn't get it up and running until last April, so this year will be the first full season. We are finding that there's more to greenhouse gardening than we'd supposed. A good deal of planning is required, in addition to the specific care each sort of plant requires.
Quintin and her mother are to be in charge of vegetable and fruit gardening. To date, I have overheard discussions regarding lettuce, spinach, spring onions, Swiss chard, sugar snap peas, pole beans, cucumbers, eggplant, kohlrabi, various peppers, okra, Irish and sweet potatoes, rutabaga, tomatoes, turnips, various winter squashes, fall greens, berries, and two persimmon trees (one female and one male). Other items have doubtless been discussed of which I am not presently aware. That should make for some good eating, with little or no effort on my part.
I'm in charge of flowers for the yard and the containers situated on the deck. So far, I've checked off agastache, cathedral bells, Siberian blue dianthus, purple coneflower, gallardia, cardinal climber, black-eyed Susan vine, fountain lobelia, melampodium, green-eyed rudbeckia, pincushion flower, Mexican sunflower, Stokes' aster, and tall verbena. Once I add up the cost for those items, I'll probably have to trim the list before placing my order.
In the meantime, I'm thoroughly enjoying just sitting inside the house, doing absolutely nothing except perusing seed catalogs. Subconsciously, I understand that any orders I make will mean work in the months ahead. But as of now it's clear sailing, just thumbing the pages and placing an occasional check mark, being an armchair gardener.
(George Ellison is a writer and naturalist who lives in Bryson City. This email address is being protected from spambots. You need JavaScript enabled to view it.)