Archived Mountain Voices
Possums are the ultimate survivalist
Wednesday, January 15, 2020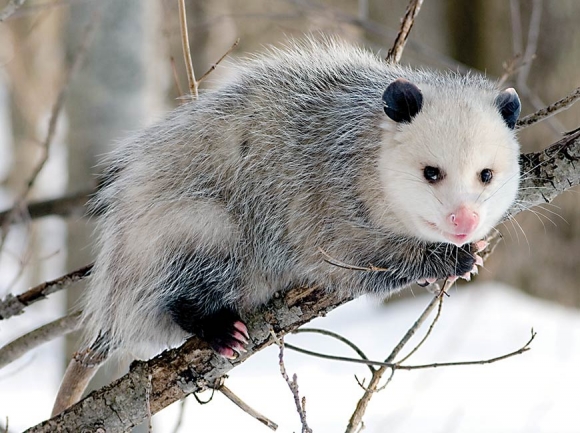 Editor's note: This article first appeared in a January 2005 issue of The Smoky Mountain News | I became acquainted with opossums when I was a boy running a trap line — a series of wooden box traps and steel jump traps that I checked every morning before school. Even though they weren't my prime quarry, it was possums that I usually wound up trapping. I learned very quickly to respect their sharp teeth and claws. And I was early on introduced to their survival tactic of "playing possum;" that is, feigning death.
When an article appeared in Smithsonian magazine several years ago titled "A Few Miles of Land Arose From the Sea — and the World Changed" by John F. Ross, I read it with interest because it explained how the possum got to North America in the first place. Ross detailed the significance of the appearance of a land bridge (the Panamanian isthmus) between North and South America approximately three million years ago. According to Ross, some scientists are now viewing that event "as perhaps the single most important natural history event since the death of the dinosaurs 65 million years ago."
They may be right. For one thing, the land bridge rerouted ocean currents, so profoundly altering the northern hemisphere's climate that it triggered the series of Ice Ages initiated two million years ago. For another, ocean levels were lowered 200 to 300 feet during the last Ice Age (the Wisconsin), creating another land bridge (Beringia) that allowed modern humans to enter North America from northeastern Asia. And finally, the land bridge between North and South America allowed numerous animals to cross from one continent to the other. That's it in a nutshell — no Panamanian isthmus, no Ice Age, no Beringian land bridge, no American Indians, no Cherokees, no casino gambling in Western North Carolina, and no possums in our southern woodlands.
Of the numerous critters that trekked northward over the isthmus, the lowly possum has been the most successful because it has been the most adaptable. Humans have not stemmed its progress, which has now reached into Canada. Our barns and outbuildings provide den sites. Our garbage is a never-ending source of nourishment.
They may have small brains and be a touch dim-witted, but possums can find food. And they can remember exactly where they found it in the first place, which — to my way of thinking — is the ultimate sign of intelligence. One researcher tested various animals for ability to remember which of four runways was connected to a food box. The possum scored better than cats, chickens, dogs, goats, pigs, rabbits, rats, and turtles, although somewhat less well than humans.
Contrary to popular belief, possums aren't cowardly. They eat snakes with impunity. In some areas of the country, copperheads constitute up to 6 percent of the possum's diet. But when faced with a situation it can't handle, a possum does what it's most famous for — it "plays possum" by curling on its side, closing its eyes, lolling out its tongue, and lowering its heartbeat in a feigned death posture. It can remain in this state for up to 6 hours. Once the danger has subsided, the possum picks itself up and goes about its two main items of business: finding more food and producing more baby possums.
The only menace possums have been unable to adapt to is the automobile. They are slain by the hundreds of thousands every year by onrushing vehicles during the nocturnal hours. Caught in the headlights' glare, they freeze and are thereby doomed. It's too late to "play possum," which wouldn't work anyway.
But the automobile is a relatively new challenge. Let's give these adaptive critters a little more time to form a response. They are, after all, the ultimate survivalists.
(George Ellison is a writer and naturalist who lives in Bryson City. This email address is being protected from spambots. You need JavaScript enabled to view it.