Archived Reading Room
A sea journey well-told
Wednesday, February 19, 2020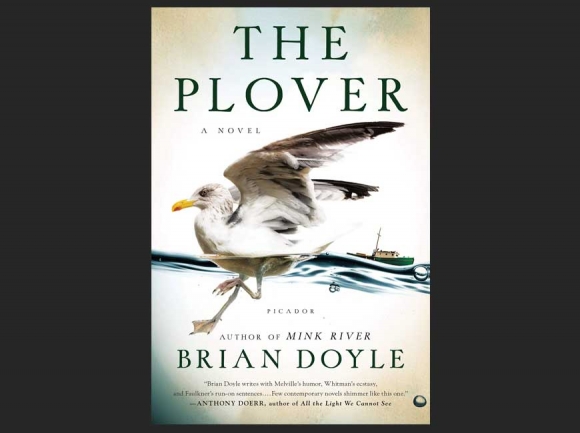 I'm on page 289 of a 308-page book by Brian Doyle called The Plover and am having fun. The book takes place in present time on the high seas of the Pacific Ocean by an author who has been compared to Joseph Conrad, Robert Louis Stevenson, Jack London and even Gabriel Garcia Marquez. A young man sets out in a small craft in order to get away from humanity and modern civilization and to make his life and his "country" the sea. Talk about conflict! If the natural forces of the oceanic landscape aren't enough, there are plenty more human-related conflicts to come.
And, yes, I'm having fun with the conflicts as well as the amazing storytelling and one could even say poetic quality of Doyle's writing. As I'm nearing the conclusion of this novel I'm already feeling the tears when I actually reach the end. So, I've already ordered two more of Doyle's books (he is no longer with us, but was, thank goodness, a prolific writer) from the Jackson County Library in Sylva.
To properly review The Plover and give one a decent experience of Doyle's story and writing style would take the whole issue of this week's Smoky Mountain News, as I'd have to share with you at least several lengthy passages from this book as evidence of Doyle's subtle literary brilliance as well as his amazing insights into human psychology and history, marine biology, ornithology and the present-day relationship with all of these. So, here, let me show you what I'm talking about. This, a passage from the early pages of the book with the story's main character, Declan, getting ready to set sail from the northwest coast of the U.S. and out into the Pacific Ocean:
"Dawn like an eye opening, the Plover rocking gently. A pregnant silence, a deep silence filled with waiting, the invisible musicians with their transparent hands poised over their evanescent instruments; and then a lorikeet whistles in the woods; and then the inquisitive quizzical koels ask their quiet questions, and then a sea of warblers all at once as if by command, by signal, by the descent of a baton only they can see; and then the deluge, pigeons and doves, noddies and tattlers, godwits and turnstones, curlews and pipers, teal and widgeon, boobies and petrels, shimbrels and phalarope, and o my little terns!"
With his Faulkner-like sentence structure, he follows that up a few pages later with this inspired proclamation from the minister for Fisheries and Marine Resources and Foreign Affairs on the island of Tungaru, who is being interviewed by a major Atoll culture newspaper in the Gilbert Islands and who is running for office:
"I wish to make the poverties die. I wish to establish a republic of free people beholding to no fading empire or nation or country at all. I wish to establish a republic where every tenth person, male or female, young or old, is chosen a National Dreamer. I wish to establish an army of thinkers who will imagine and execute ways for the republic to borrow the energy of the sea which is our mother. And finally I wish to establish many more things, gently and respectfully, without guns or shouting. I think we are all children even if we have old bodies and we should make a republic that runs on the wonder of children whether we are old or young children."
From here we are passengers on Declan's boat, The Plover, named after the species of bird with that name, and experience the unexpected trials and tribulations of everything from modern-day sea pirates to boat-smashing storms. At the end of the book Declan's small craft has become full of Marquez-like characters and various birds all crammed onto a small boat, yet finding ways to interact and survive amicably. Doyle is a master at creating character as well as writing environmental and animal description.
But perhaps nothing in the book matches his portraits of the character of the ocean itself:
"Maybe the ocean thinks. Maybe the ocean licks its islands every night like mothers lick their cubs. This could be. Maybe the ocean remembers the old days when the worlds were just made and there was naught upon the waters but storms upon the sea; the ocean's wild and tumultuous youth. Maybe all the smaller seas and oceans are the children of the mother of oceans. Maybe the ocean stares at the stars and yearns for the oceans on other worlds. This could be."
I'm on page 292 now and am reading this passage spoken by one of the characters which more or less sums up Doyle's philosophy for his lively seafaring story: "Ideas take on lives of their own and become quite real. One of the most fascinating things about human beings is your imagination and how it can create something that was never in the world before in billions of years and will never be in the world again in that form in billions of years to come." I've reached the end of Brian Doyle's book The Plover. On the back cover it reads: "this is a rapturous, heartfelt celebration of life's surprising paths." Enticing praise, this. And from this reader's experience, Doyle delivers.
Thomas Crowe is a regular contributor to The Smoky Mountain News and is the author of an historical novel The Watcher and a collection of short stories titled Firsts. He lives in the Tuckasegee community of Jackson County and can be reached at This email address is being protected from spambots. You need JavaScript enabled to view it.