Archived Outdoors
Give Craggy extra protection
Wednesday, March 04, 2020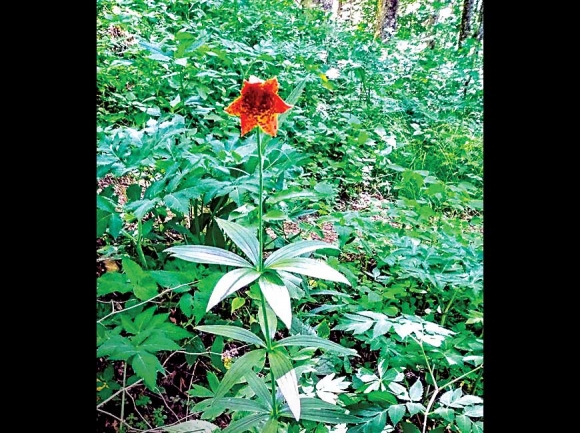 Gray's lily — one of the rare species known from the proposed CWNSA. Don Hendershot photo
"The clearest way into the Universe is through a forest wilderness."
— John Muir
And if a coalition of local, regional and national businesses, governments and conservation/environmental organizations is successful, one way into the universe will be through the Craggy Wilderness and National Scenic Area (CWNSA) less than 20 miles from downtown Asheville.
Supporters of the CWNSA include Friends of Big Ivy, the Sierra Club, MountainTrue, Mountain Bizworks, Outdoor Gear Builders of Western North Carolina, Liberty Bicycles, Carolina Climbers, Buncombe County Commissioners, Asheville City Council, Defenders of Wildlife, Southern Environmental Law Center and hundreds more. More than 4,000 people have signed a petition asking the U.S. Forest Service to protect the Craggies.
Will Harlan is co-founder of Friends of Big Ivy and one of the organizers of the I Heart Craggy campaign. Harlan is also an author (Untamed: The Wildest Woman in America and the Fight for Cumberland Island,) editor of Blue Ridge Outdoors Magazine and a renowned trail runner. He lives near Big Ivy and has spent many hours on the trails that meander through old growth forest, climb steep and rocky slopes, pass waterfalls and pass more than 40 species of rare plants and animals.
Harlan believes the time is right for CWNSA to become only the 11th National Scenic Area in the U.S. Harlan said the CWNSA would include about 16,000 acres with a core wilderness area of nearly 8,000 acres. He noted the Tennessee Wilderness Act enjoyed bipartisan support in Congress (all wilderness areas must be recommended by Congress) and was recently signed into law creating new and adding to existing wilderness areas in the state. Harlan said he felt the House Natural Resources Committee would be open to new wilderness legislation and he knows the Forest Service is aware of the wilderness characteristics of the Craggies and Big Ivy. He hopes to secure a recommendation for CWNSA from the Forest Service in its new 30-year management plan. Friends of Big Ivy, Forest Keeper and others are working with Congress to introduce a Craggy Wilderness and National Scenic area Act.
According to Harlan, "The Craggies offer a rare opportunity to protect thousands of acres of wild ancient forest, full of old growth, rare plants and animals and outstanding scenic beauty all just 15 miles from downtown Asheville."
Josh Kelly, public lands biologist for MountainTrue, has also spent time exploring the Craggies. "There are some exemplary areas of old growth in the Craggies," Kelly said, "including some virgin timber." Kelly said he felt the reason for the nearly 3,000 acres of old growth in the area is because it was some of the first forests purchased by the Forest Service —a some of it as early as 1914-1915. Kelly said most of the old growth was northern hardwood but there was some montane oak forest and even a little rich-cove forest. Some of the rare species Kelly noted included Aconitum reclinatum, trailing wolfsbane, Dodecatheon meadia, shooting star, Cypripedium parviflorum var. parviflorum, small yellow lady's slipper, northern flying squirrel, Alleghany wood rat, cerulean warbler, black-billed cuckoo, pygmy salamander, rock vole and others.
Dr. Alan Smith, a professor of biology at Mars Hill University, surveyed old growth in Big Ivy back in 1999. Smith concluded there were 3,250 acres of forest that could be classified as old growth. And he documented some trees that pre-date the Revolutionary War by 100 years or more. In conclusion Dr. Smith wrote, "In sum, the Big Ivy Watershed represents a magnificent, biologically significant area which contains a relatively large amount of old growth forest that should be recognized and protected."
You can go to https://iheartpisgah.org/ and/or www.change.org/o/i_heart_craggy to sign the petition to the Forest Service and/or comment on the new FS 30-year management plan. Comment period is open till March 14.
(Don Hendershot is a writer and naturalist. His book, A Year From the Naturalist's Corner, Vol. 1, is available at regional bookstores or by contacting Don at This email address is being protected from spambots. You need JavaScript enabled to view it.)