Archived News
Improvement plan selected for Soco Road
Wednesday, March 11, 2020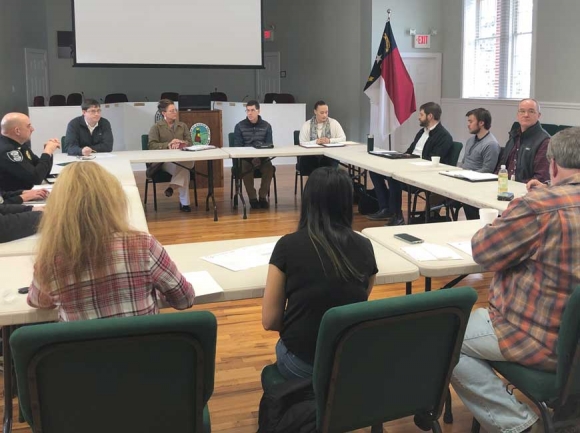 Maggie Valley Board of Aldermen meet with staff from North Carolina Department of Transportation to discuss improvements on Soco Road. Jessi Stone photo
The Maggie Valley Board of Aldermen recently directed the North Carolina Department of Transportation to move forward with a plan to improve safety along Soco Road from the intersection of U.S. 276 to Fie Top Road.
The DOT presented the town with two alternatives for improvement plans. According to project manager Danielle Schwanke both plans are "designed to make Maggie Valley more pedestrian, bicycle friendly, and also implement some traffic calming measures," but alternative two would include more extreme measures.
The second alternative would reduce Soco Road from four lanes down to three lanes between Fie Top Road and the west end of Moody Farm Road, add a bike lane, build refuge islands for pedestrian crossing, improve existing crosswalks, and create some on-street parking.
The first alternative is a proposal to upgrade existing pedestrian crossings along Soco Road to make them more visible and to add pedestrian refuge islands in the median.
The board of alderman voted against alternative two — also called the road diet — back in October because board members as well as a majority of constituents voiced their objection to decreasing Soco Road to three lanes.
"Based upon the kind of the presentation that they saw in September, their conversations with their constituents, I think the board is much more comfortable sticking with the conservative way of alternative one, which would just focus in on the pedestrian islands, improving the cross walks, the signage, et cetera, than pursuing the road diet at this time," said Town Manager Nathan Clark.
DOT staff came back before the board of aldermen during a March 5 agenda-setting meeting to ask how the town wanted to proceed now that the road diet has been eliminated. Now decisions have to be made about the logistics of moving forward with alternative one — where to place pedestrian islands, where crosswalks make the most sense and how to signal them.
There are currently 13 crosswalks along the portion of Soco Road that will have improvements made. Aldermen discussed whether improvements needed to be made to all of them or whether some of the crosswalks could be eliminated so that pedestrian traffic can be shifted to certain areas.
"Fortunately, sometimes more is boring, sometimes less is more. You can have 15 crosswalks, when you really need 10 crosswalks and if by doing 10 crosswalks you can actually direct the most foot traffic there, you can protect it better by having less," Clark said.
The DOT offered upgrades that would include pedestrian islands, more signage, flashers, and repainting. However, each flasher signaling a crosswalk will cost the town up to $50,000 per installation. For this reason, the board is considering whether or not each crosswalk should have flashers, or if there are other alternatives DOT could suggest that would keep pedestrians safe and slow down traffic. These include options like more signage and 3-D paint.
The town will await a proposal by the DOT for where, and how many crosswalks make the most sense according to their research data. All in all, the board agreed that more visible crosswalks would not only keep pedestrians safe but would most likely help slow down traffic in pedestrian heavy areas.
As for the pedestrian islands, DOT Division 14 Engineer Brian Burch wanted to know "who's going to decide where we're putting the refuge islands?" Burch needed to know if the town was going to provide preferred locations or if the DOT should come back to the town board with a proposal of where refuge islands would make the most sense.
It's an important question because the new pedestrian islands will more than likely change where drivers are allowed to make left turns, which may upset business owners if their customers can't make a left turn directly into their parking lots.
"The DOT does a very good job at technically designing the crosswalks based upon the data they have, using their science to decide where crosswalks [go]," Clark said. "But there's some political consequences to that. Same thing on the islands. If we were to say, 'Hey, we want the best islands available,' they (DOT) design the islands and maybe all of a sudden it prevents a left turn at three businesses."
Mayor Mike Eveland agreed that the town needed to be strategic about where they would be placed. He suggested DOT place the islands and then the board can look it over to see if there's a way to adjust it to minimize the impact to local businesses.
"There's no way to do it without losing a couple of lefthand turns. We'll look at the basic plan and then look at adjusting it — it's not going to be met with 100 percent approval," Eveland said.
While the board noted that it may be impossible to make everyone happy about the location and construction of these pedestrian islands, they would work hard to organize the road construction in a way that was most beneficial for the town.
The board has been looking to make safety improvements in response to several major vehicle accidents along Soco Road in recent years. Following the death of two motorcyclists in June 2015 near the U.S. 276 and Soco Road intersection, a petition was signed by 1,200 people — Maggie Valley residents and tourists alike — pleading with the DOT to implement safety measures. In the petition they suggested lowering the speed limit to 35 mph, installing a caution sign with flashing yellow lights and prohibiting left turns out of Dollar General. The accident was caused when a car turning left out of Dollar General collided with a motorcycle traveling westbound killing both passengers.
However, after an investigation by the DOT to see if safety improvements could be made, an analysis resulted in no recommendations for improving the safety of the intersection. The aldermen did not take "no recommendations" for an answer though, and continued to work with the DOT to find a solution.
Since work began with the DOT to make changes to Soco Road the town has been presented with multiple plans. The idea of creating a town center, that would include street parking and a pedestrian and bike lane in a center median, along a quarter mile strip of Soco Road near the festival grounds was ultimately rejected by business owners due to the loss of road front property in order to accommodate the expansion.
Following the rejection of the road diet plan in October, the town board is now looking to move forward with this most recent plan to update pedestrian crosswalks already in place, make them more visible and construct pedestrian refuge islands. Though more conservative, the board hopes this plan will make pedestrian traffic safer and aid in slowing vehicle traffic.