Archived Reading Room
Fire, fire burning bright … the notebooks of Leonard Cohen
Wednesday, April 01, 2020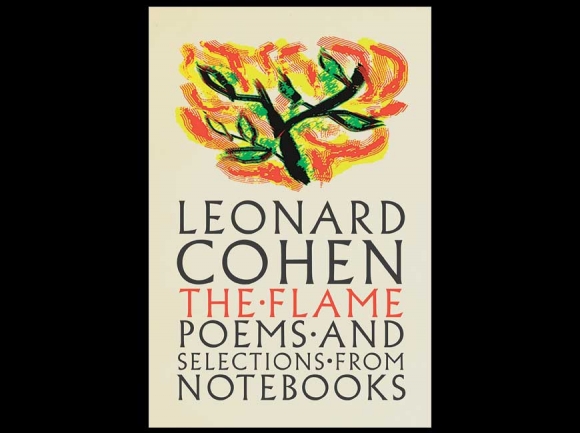 In some literary and music circles the debate continues as to whom is the best songwriter of the 20th and current 21st centuries. In circles I travel in, this debate usually comes down to either Bob Dylan or Leonard Cohen.
This debate even carries over to the debate as to who is the best poet in relatively recent years. Recently, Bob Dylan won the Nobel Prize in Literature for his songwriting lyrics. Leonard Cohen has also won many literary awards including the Songwriters Hall of Fame and the Prince of Austurias Award for Literature. Both have written books of poetry, prose and published large tomes of their song lyrics.
So, it would seem to be a dead heat and Dylan and Cohen are running neck and neck. At least that was before Cohen's posthumous collection The Flame came out a year and a half ago and only a couple years after his death in 2016. (It doesn't seem that long ago that he came to Asheville as part of his world tour and I saw him in concert at the Thomas Wolfe Auditorium.)
The Flame was compiled and edited by Leonard Cohen's son, Adam, who is himself a musician and songwriter who has taken texts from his father's unpublished journals and notebooks that he was working on when he died. It is essentially, and as the subtitle for the book states, a collection of "Poems, Lyrics, Notebooks and Drawings." In his Forward to the book, Adam Cohen writes: "My father, before he was anything else, was a poet and regarded this vocation as a 'mission from G-d'. Writing was his reason for being. It was the fire he was tending to, the most significant flame he fueled. It was never extinguished." Between the covers of this 277 page book we not only get some of Cohen's most reknown and remembered song lyrics, works in progress, unfinished poems, jottings and, if this wasn't enough, dozens of original drawings, paintings, self-portraits and Kenneth Patchen-like illustrated broadsides. So there is literally, and especially for Leonard Cohen fans, something for everyone.
In The Flame, Cohen's finely crafted and subtly profound metaphors and lyrics are found everywhere. From the very first page in the poem "Happens To The Heart," we get to experience the essence of Cohen's mind and soul in the lines "I was always working steady/But I never called it art/I was funding my depression/Meeting Jesus reading Marx/Sure it failed my little fire/But it's bright the dying spark/Go tell the young messiah/What happens to the heart."
From there we get into the more confessional writing from his notebooks and jottings which contain entries like the lines in "Never Gave Nobody Trouble:" "never gave nobody trouble/i'm a law and order man/never gave nobody trouble/but you know damn well i can."
Or in these more romantic lines from an unfinished piece he's titled "Antique Song": "Too old, too old to play the part,/But, oh! The kisses that we kissed,/That swept me to the shore/Of seas where hardly i exist, except to kiss you more." All these finished and unfinished fragments are reminiscent of Cohen's more well-known poems and lyrics in songs such as "Crazy To Love You" and "Come Healing" and let's not forget "Halleluja," which is one of the most recorded songs of all time.
Some of the entries in the Notebooks section read like a Christian confessional. This, from September 2008: "You who havenfallen/beneath all contempt/whose pockets are swollen/but you're living in debt/and dead to the culture/that murdered your pride/you pick through the scriptures/for somewhere to hide." And then this from an earlier entry on Aug. 11, 2000, and sounding somewhat local to us here in Western North Carolina: "It's going to be like this/sitting in a bar in Geneva/or is it Zurich/I can never tell which/Carolina, Carolina/I can never tell which."
From these would-be song lyrics we find ourselves also reading reminiscences such as the one describing a dream about hearing a concert by Tom Waits while sitting in the Green Room in a theatre in Brighton, England. Also, we are exploring notes from Campanille de San Marco, Venice, where he writes: "I just came back to say goodbye/Been raining almost every day/We came here for the sun/We had that earthquake in L.A./It wasn't that much fun."
The Flame, with its drawings and photocopies of pages from original notebooks makes this tome seem almost like a personal gift. While unsigned, it comes across as being inscribed and something straight from Leonard Cohen's personal pen. Perhaps this short entry written on Jan. 3 from Mumbai, India, pretty much says it all and serves as an exclamation point at the end of his posthumous book; as if looking back from above and scratching out in the sky: "We made a little garden/in the middle of L.A./so our hearts/they wouldn't harden/& our spirits/they could play." Leonard Cohen loved to play. Loved to play with words. He was a poet. A poet who had a genius for rhyme. I imagine him as being the next songwriter receiving the Nobel Prize ... yet in another time.
(Thomas Crowe is a regular contributor to the Smoky Mountain News. He is the author of several collections of poetry including Radiogenesis and Postcards From Peru. He lives in the Tuckasegee community of Jackson County and can be reached at This email address is being protected from spambots. You need JavaScript enabled to view it.)