Archived Outdoors
The Naturalist's Corner: Eeekk! Not a mouse
Wednesday, April 08, 2020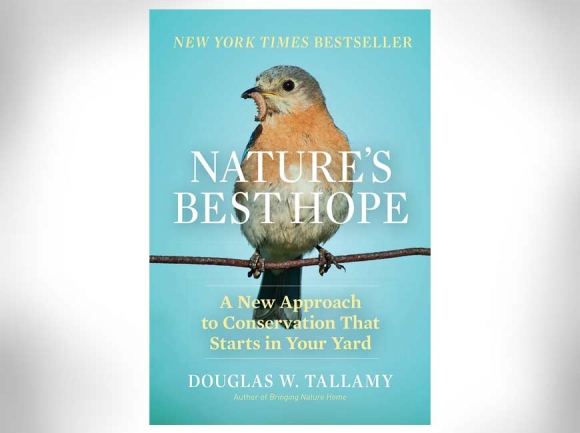 No one knows what WNC will look like post COVID-19, but these mountains have seen much over their millions of years — ice ages, civil war, pandemics, etc. and they are still here. Spring will come with its ephemerals and migrants; summer will flush green and hot; autumn will descend in a kaleidoscope of color the way autumn does and cold, still winter will follow.
When I formatted my book, A Year from the Naturalist's Corner: Volume 1, I chose to start with Jan. 1, then follow with weekly columns to Dec. 31, the way my Naturalist's Corner column runs in The Smoky Mountain News. I purposely did not attribute the original publication date (some chapters are from recent columns, some go back more than a decade) because the natural world operates on its own time and for the most part almost any one of the chapters could be current.
So as we embark on this covid-journey together I will (thanks to Scott McLeod and SMN) post the chapter from the book coinciding with the date i.e. this week's column will be "Eeekk! Not a mouse." And it could represent any first week of April in the Blue Ridge, past, present or post COVID-19.
These are clearly tumultuous and quickly changing times … hold nature close and know she moves at her own pace, now and always.
Chapter 5:
A friend e-mailed me to say he had voles living on his porch in a covered woodpile, and that they had piqued his curiosity. Well, the email piqued mine, because it's uncommon to find voles in such a habitat. Not unheard of, but uncommon. These secretive rodents generally aren't found far from terra firma.
There are four species of voles in Western North Carolina: southern red-backed vole (Clethrionomys gapperi,) rock vole (Microtus chrotorrhinus,) meadow vole (microtus pennsylvanicus) and woodland or pine vole (microtus pinetorum.) Voles are in the order rodentia and the family muridae. Voles look a lot like chunky, short-tailed mice. Woodland voles are approximately three to four-and-a-half inches long, excluding the tail, which is approximately onehalf to one inch in length, equal to or slightly less than the length of the hind foot.
The fur is generally brown above with the underparts ranging from gray to cinnamon. Woodland voles have small, inconspicuous eyes and ears. The woodland vole is listed as uncommon, ranging across the state of North Carolina. Woodland voles prefer open woodlands, deciduous and/or pine and orchards. Woodland voles construct extensive burrows and spend much of their time beneath ground. They are active day and night.
Meadow voles are widespread and common across the state except for the coastal plain. They inhabit meadows, wetlands, orchards and open grasslands. Meadow voles are three to five inches in length with a tail one-and-a-half to two-and-a-half inches long; about twice the length of the hind foot. Meadow voles have large eyes and their ears, while partially hidden by the dense dark brown fur, are more noticeable than the woodland vole's. The underparts of the meadow vole are silverygray.
Meadow voles are active above ground where they create shallow surface trails. They are active day and night but seem to be more nocturnal during summer and more diurnal during winter.
The red-backed vole is uncommon and found mostly across the western quarter of the state. They average about three to five inches in length with a one to two-anda- half inch tail. The dorsal fur is dark gray with a defining chestnut stripe along the back. The underside is gray to white. They have small but readily visible eyes and ears. The red-backed vole prefers rocky, mossy terrain and is known primarily from spruce-fir forests but also, occasionally from northern hardwood and/or mixed deciduous/coniferous forests. Red-backed voles are active day and night but primarily nocturnal.
The rock vole is listed as a species of special concern in the state. They are known from the far western mountains only. Rock voles range from four-and-a-half to sixand- a-half inches in length and their tails are from one-and-a-half to two-and-a-half inches long. They are brown above and grayish white below. Most have a yellowish to rufous tint around the eyes, but it can be lacking in some specimens. The small dark eyes are easily visible while the ears are somewhat covered by the dense fur.
Rock voles also habitate mossy, rocky areas and are sometimes found in the same area as red-backed voles. Also active day and night, rock voles are primarily diurnal and most active in the morning.
If the creatures that have taken up residence on my friend's porch are voles, they are most likely meadow voles. These are the most common species in the area and spend more time above ground. The woodland vole is primarily a burrower and the red-backed and rock vole are generally restricted to rocky areas where they use a combination of surface trails and burrows.
All voles are prolific breeders with short lifespans. One captive meadow vole produced 17 litters in one year. Meadow voles are not quite so productive in the wild but litters of three to five may be born during any month. The other three species of voles in the state generally breed from early spring to late fall and produce multiple litters. Because of a high nestling and juvenile mortality rate, it is hard to predict an average lifespan for voles.
A Pennsylvania study showed meadow voles with a normal lifespan of only three to six months, but some individuals lasted for 18 months. Rock voles have a lifespan of less than a year in the wild. Red-backed voles have a life expectancy of 10 to 12 months and the woodland vole is thought to have an average lifespan of 15 to 18 months.
Voles are omnivorous and opportunistic when it comes to diet. They can cause damage to orchards, lawns, golf courses and nurseries because of their shallow runway systems and their penchant for girdling and killing seedlings and even mature trees. In the wild they typically forage on a variety of grasses, roots, bark, berries, forbs, snails, insects and fungi and provide an abundant prey base for raptors, snakes, bobcats, foxes and coyotes.
(Don Hendershot's book, A Year from the Naturalist's Corner, Volume I, is available at area bookstores or directly from the author by emailing This email address is being protected from spambots. You need JavaScript enabled to view it.)