Archived News
Low-turnout congressional runoff election will be predictably unpredictable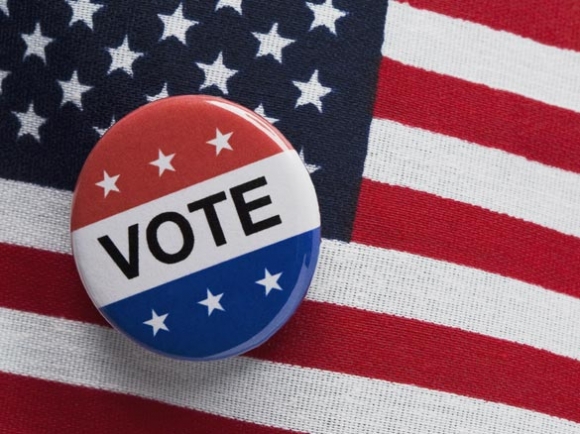 A year ago, few would have predicted that a crowded field of Republicans would eventually whittle themselves down to two, in a runoff, competing for the U.S. House seat of Asheville Republican Rep. Mark Meadows.
"It is an unusual race," said Dr. Chris Cooper, "We got into it for unusual reasons."
On Dec. 19, 2019, after representing the racially gerrymandered 11th Congressional District for almost eight years, Meadows stunned the political establishment by announcing he wouldn't seek re-election to his sprawling, rural, deeply red district.
His announcement took everyone by surprise — everyone except Maggie Valley real estate agent Lynda Bennett.
The first in a series of shady moves that drew anger and condemnation even from folks in her party was her campaign website, registered months before Meadows' announcement.
Then, it was the quick 6 a.m. endorsement by the Asheville Tea PAC that came just hours after Meadows' announcement, before most of the country had even awakened to the news.
Once they did, 11 other Republicans jumped into the race, including Sen. Jim Davis, R-Franklin, and real estate investor/motivational speaker Madison Cawthorn, of Hendersonville.
Bennett has also come under fire for audio recordings suggesting she's a "never Trumper" who spoke out against the president during his campaign.
When early balloting started on Feb. 13, many Republicans were shocked to see volunteers handing out flyers listing Bennett as the "official" conservative candidate.
A Smoky Mountain News investigation found that the ballots were created by a two-day-old PAC with significant ties to Bennett's campaign.
Other candidates said they hadn't been interviewed for the sham endorsement, with some threatening legal action and others even calling on Bennett to drop out of the race.
Interestingly, the ballot doesn't recommend the Trump-endorsed U.S. Sen. Thom Tills, and volunteers were instructed to tell voters, "Anybody but Tillis!"
Macon County GOP leaders called the effort "sleazy shenanigans," and even the NCGOP's 11th District Chairman, Aubrey Woodard, said that these "transgressions" shouldn't have happened.
The fact that some of those ballots ended up in the Haywood County GOP's office, coupled with social media messaging by the HCGOP that appeared to favor Bennett — county parties are to remain neutral, and Bennett doesn't have support from 100 percent of the HCGOP anyway — landed HCGOP Chairman Ken Henson in hot water with higher-ups in the party.
Bennett has refused to speak with major media outlets since the publication of the sham ballot story on Feb. 22 but did manage to place first in the heavily-fragmented March 3 Primary Election, edging Cawthorn's 20.4 percent with 22.7 percent of the vote.
That total, however, was far below the 30 percent threshold needed to advance to the November General Election against retired Air Force prosecutor, Asheville Democrat Col. Moe Davis.
On March 30, Meadows abandoned his seat, resigning to become President Donald Trump's fourth chief of staff in four years, while leaving most of Western North Carolina without a voice in Congress amidst a global pandemic and the passage of unprecedented federal aid packages.
A runoff election, called a "Second Primary" in North Carolina, was scheduled for May 12, but concerns over the Coronavirus Pandemic pushed that back to June 23.
In the meantime, almost every one of Bennett's Primary Election opponents has endorsed Cawthorn, leaving the 24-year-old with a broad base of support that also includes almost every Republican sheriff in the 17-county district.
Last week, Bennett was a no-show to a "forum" hosted by The Mountaineer in Waynesville, The Sylva Herald and the Cherokee One Feather. Bennett refused to answer questions from The Smoky Mountain News over why she didn't attend and also refused to participate in an interview for this story.
"Really the worst part about my opponent is that without a script, without cue cards, without having a prepared statement, my opponent is unable to defend the cause of conservatism," Cawthorn said on May 28. "Right now, we are at a precarious moment in our country where we could very well see our country fall to the likes of socialism."
Cawthorn admits there's not a lot of ideological difference between him and Bennett, but Cawthorn's a polished and prolific speaker who's appeared on Fox and Friends twice and has earned comparisons to young upstart Democratic Congresswoman Alexandria Ocasio-Cortez for his passion, if not his politics.
"A lot of people like to oftentimes act like AOC is just kind of a laughingstock, but you know, whenever I've seen her speak, her ability to articulate and compel others to believe the same is pretty amazing," he said. "She's a very intellectual young woman."
Young voters in the 11th Congressional District runoff could be the ones to make all the difference; Cawthorn said he's been reaching out to those demographics in the district's two largest counties, Buncombe and Henderson. Given that Cawthorn wasn't initially seen as a top-tier candidate, his Primary Election strategy may have worked.
"I think that the liberals have really cornered the market on young people with representatives like an AOC and Ilhan Omar," Cawthorn said. "The Republicans really need to start reaching out to the younger generation or in a few years, a few short decades, we will have some very dark days in our Republic."
The pandemic could also play to Cawthorn's favor — he's been campaigning virtually, something he said comes naturally to people of his generation. That may be why he won the two largest counties in the district, both of which skew significantly younger than the rest of the district.
Still, according to Cooper, Cawthorn's got an uphill battle.
"Bennett would be the odds-on favorite, and I say that because she got the most votes in the first primary. So all else being equal, the person who gets the most votes in the first primary is the person who wins in the second primary. That happens in North Carolina about 75 percent of the time," Cooper said. "With that said, I mean, this is as close to unpredictable as we can get. This is going to be a low turnout election. It is, again, taking place during COVID-19 so we're unsure on exactly what the patterns are going to look like."
Cooper does note, however, that there some "interesting geographical cleavages" that could dictate the outcome of the runoff.
"The population centers — Buncombe County, which is of course home to Asheville, and Henderson County — make up about 41 percent of the eligible voters here and those tend to be Cawthorn territory," he said.
Mail-in voting started on May 8, and Cooper's been tweeting about the running totals. In his last update, on May 30, Buncombe County had gone from representing 25 percent of all votes cast in the first primary to 37 percent of all votes cast thus far in the runoff. Henderson County, Cawthorn's home county, had jumped from 20 to 25 percent.
Bennett's home county, Haywood, had climbed from 7 percent of all votes cast to 8 percent.
Cawthorn, who is confined to a wheelchair as the result of a devastating car accident a few years back, thinks those numbers could bode well for his campaign.
"I've been burned alive and I've very nearly died. I've had to claw back from within an inch of death. I've looked into the abyss. I know what's going to look back at me and I know who I am," he said. "Many of my opponents have said that we need someone with a backbone of steel, but I can quite literally say that mine is reinforced with titanium. I will very well and very passionately and very aggressively defend this cause of conservatism, because I believe it is the best thing for America."