Archived News
Constituents concerned with Haywood commissioner's stance on drugs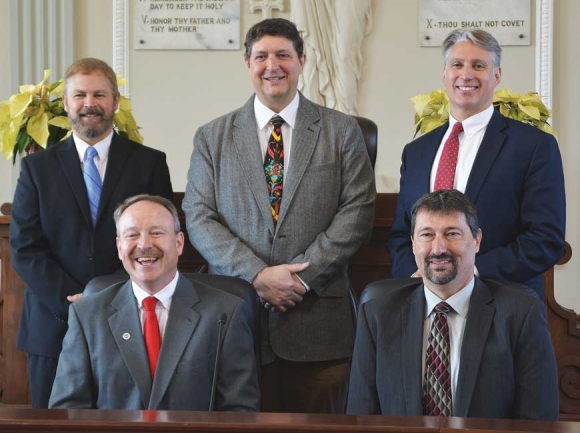 Haywood County Board of Commissioners Brandon Rogers, (back row from left) Kevin Ensley and Kirk Kirkpatrick and Tommy Long (front row from left) and Mark Pless. File photo
Haywood County Commissioner Mark Pless spent 15 years as a paramedic. He's responded to more drug overdose calls than he cares to count — some people he was able to save, while others were too far gone.
"So, from 1988 until today, I have dealt with people who are experiencing some form of addiction, be it alcohol, drugs, whatever the situation is," he said. "I won't go into real specific details for embarrassment purposes, but there are people in my family who have had addiction. It's been to alcohol, never been to drugs. So, it's not that I didn't grow up not seeing it. I saw it and I recognize it."
While he enjoyed EMS work and being able to help people during their worst — and sometimes happiest — moments, he said it wore on him over time.
"I have all the nightmares I want," he said about why he left the profession in 2003. "A lot of times people talk about PTSD in the military and things like that. The EMS workers, law enforcement, social services, you go into people at their worst moment. How many people can you see that have taken their life, some of those violently? I reached a point where I didn't want to do that anymore."
Today, Pless is an insurance salesman and was elected to the Haywood County Board of Commissioners in 2018. Now just two years into his first term on the county board, he is running for state representative to fill the seat left vacant by the retirement of Rep. Michele Presnell, R-Burnsville.
A large portion of his first term as a county leader has been spent dealing with the local repercussions of the drug epidemic, but his assertions about addiction being a choice have raised concerns from residents who say his beliefs are not only misinformed, but also counterproductive to many of the programs being implemented in Haywood to assist people suffering from substance use disorder.
Several constituents have voiced their disappointment about Pless's position on drugs based on discussions during board meetings, and they've been outraged at the commissioner's responses to their concerns. They claim his attitude and comments back to them have been rude and disrespectful while his assertions about addiction are just plain wrong.
"I understand that you are a paramedic and have been for 27 years, but you are not a medical doctor nor a psychiatrist. Yet, you continue to call addiction a choice even though the licensed and trained specialists in our country have proven otherwise," Michele Rogers of Waynesville wrote to him. "As a Haywood County resident and tax payer, as a business owner and co-founder of a non-profit, and a successful contributing member of our community, I was embarrassed and hurt that we have a county elected official who is so outwardly judgmental and uneducated about Substance Use Disorder."
Pless responded to his constituents by posting their emails and his responses on his Facebook page, which of course received plenty of comments from his supporters. He also posted screenshots of one constituent's tax bill and pointed out that she didn't own property in Haywood County.
The heated exchanges and Facebook posts only fueled the flames and further polarized the two sides instead of finding some sort of common ground.
Harm reduction
The constituent emails sent to Pless started to pile up following a May 18 commissioner meeting in which Jesse-Lee Dunlap of the N.C. Harm Reduction Coalition came before the board to ask that some grant funding be reallocated.
Last year, Haywood County was awarded a $275,000 grant from the Centers for Disease Control and Prevention for the purpose of reducing overdoses. The county then contracted with the Harm Reduction Coalition to perform the work outlined in the grant. The contract between the organization and the county earmarked part of the CDC grant funding to hire a full-time peer support specialist to work with people in the community.
Dunlap told commissioners the coalition advertised for the position but couldn't find someone who was qualified between December 2019 and March 2020 when the COVID-19 pandemic hit. Restrictions associated with the pandemic have prevented the coalition from finding someone for the position.
Dunlap asked that $15,000 of the $47,000 earmarked for the position be reallocated toward temporary housing to shelter people with Substance Use Disorder during the pandemic. They told commissioners that the funds would return to the state if not used by the end of May.
Ira Dove, director of health and human services, said the grant allows for funds to be used for a number of harm reduction efforts, including housing, but the commissioners would need to approve a change to the contract with the coalition to be able to reallocate the funds. The contract only allocated $2,000 total for housing needs, but COVID-19 has made that a much more pressing need.
The coalition is currently working with about 14 people and housing them in a local hotel while trying to get them into a more stable living situation. As of right now, Haywood County government has not spent any money on housing people experiencing homelessness during the pandemic like other counties have done, and Pless said he'd rather keep it that way. He asked County Attorney Frank Queen if the county would be setting a precedent for the future if it started funding temporary sheltering for the homeless population.
Queen said that was not a concern in this particular situation because of the relationship between the grant and the contract the county entered into with the coalition.
"This is simply a matter of correctly and in advance reallocating unused funds for an approved purpose from the grant from the state to us," he said.
Pless asked why the people being sheltered in hotels can't stay at the Haywood Pathways Center.
Dunlap explained that the Pathways Center only allows people to stay there and participate in the program if they are not taking drugs, but the Harm Reduction Coalition specifically works with people with SUD.
"So the people you're trying to get us to approve the grant funds for can't go to Pathways Center because of substance use?" he questioned.
"Yes," Dunlap replied.
"So now we're expected to house them because of their choice?" Pless asked.
"Mark, housing is harm reduction. If you don't have a roof over your head you can't make a decision that's good, a lot of times," Dunlap said.
"But they can choose to stay on some sort of substance," Pless said.
"It's not a choice."
"Sure it is," Pless responded.
Dunlap explained that SUD is a recognized medical condition.
"Nobody chooses to have that," they said.
"So if these people had their lives together, they could go somewhere else?" Pless asked again.
"That's exactly what we're trying to do is help them get their lives together, Mark," Dunlap said.
"A simple yes or no, if they had their lives together, they could go to Pathways Center," Pless said. "The reason we're here is because they can't go to the facility where that's the purpose — yes or no?"
"I reject the premise of your question because it's absurd," Dunlap said.
"OK," Pless said.
Commissioner Kirk Kirkpatrick said he would like to see a full-time staff member hired as soon as possible but also didn't want to lose the money allocated to Haywood County if it didn't get used before May 31.
"I'm inclined to say OK," Kirkpatrick said, adding that he didn't want to make a habit of reallocating funds that are specified for a certain purpose. "It's one thing to have Pathways funded by the faith community and nonprofits but it's a different thing having the government fund housing the homeless. It's a slippery slope."
Dunlap said they understood, stating that more funding from the 18-month grant would be administered to the county in June that would allow the coalition to continue the search for someone qualified.
A man takes a nap in the middle of the day in the Frog Level District of Waynesville. Cory Vaillancourt photo
Commissioner Brandon Rogers (no relation to Michele Rogers) asked if another 12 days of funding for housing would even make a difference.
Dunlap said it would — if the coalition can continue to keep the vulnerable population housed temporarily, staff can continue to work with Meridian Behavioral Health Services to get clinical assessments performed on all of the clients and get them set up for long-term resources. They also emphasized that some of the clients are veterans.
Rogers agreed with Kirkpatrick that he'd approve reallocating the money this time, but in the future wanted to see the money used to hire someone.
Commissioner Tommy Long said he understood the need to house people who are homeless during the COVID-19 Pandemic to lower their risk of contracting or spreading the virus.
"That's the urgency behind this," Dunlap said.
The board voted 4-to-1 in favor of amending the county's contract with the harm reduction coalition to allow the funds to be reallocated for housing costs. Pless was opposed.
"Part of what we're here for I think is oversight. Regardless of what we want to use it for, it seems like we're getting in a business we don't want to be in. It's not a good use of taxpayer money. I think we should let it go back," he said.
Email exchanges
Rogers said she had ignored concerns about Pless's attitude toward Dunlap and the Harm Reduction Coalition in the past, but after seeing the May 18 meeting, she couldn't let it go. She sent the commissioners a lengthy email May 21 expressing her position. She explained to the board how she lost her 29-year-old son to an accidental overdose over a year ago, which is why she started an organization called The SHARE Project (see page 12) along with Lisa Falbo, another mother who lost her son to addiction.
"On September 28, 2018, my son, after having been clean for 11 months, died alone in his apartment from what we later found out was fentanyl poisoning," she said.
One way she has coped is by trying to educate herself and others about SUD. The number one thing she said she'd learned is that no matter how someone becomes addicted, once they're addicted, SUD is a disease.
"When I watch your Board of Commissioners meetings, I am often horrified in the tone and arrogance in which Mark Pless speaks to Jesse-Lee Dunlap any time something related to NC Harm Reduction comes before your board," she wrote. "As Mark boasted this past week, it is no secret how he feels about the organization and its programs… The purpose of our letter is not to chastise one board member, it is to plead with the other board members to please continue to support NC Harm Reduction and the work they are doing in our county."
Rogers also referred to a December 2019 meeting in which Pless had a similar interaction with Dunlap regarding the Harm Reduction Coaltion's clean needle exchange program. There's no denying the homeless and drug problems in Haywood County, but Rogers said some people — like Dunlap — are making a difference in the community while trying to save lives one person at a time.
"We are not all going to agree on whether a program is good or even worth it. But, we can all address each other with respect and dignity and it is our opinion that has not always been the case at your board meetings," Rogers said.
She went on to talk about the stigma and misperceptions associated with SUD despite the evidence that shows addiction is a chronic disease. Contrary to popular opinion, addiction does not discriminate — it can impact any family — and it doesn't mean there was a moral or parental failure.
"Lisa and I are proud of our sons. We are proud of how hard they fought their disease and proud of ourselves for raising such fine young men," Rogers wrote. "No one should ever make someone suffering from SUD or their family members feel ashamed."
Pless responded at 9:30 p.m. that same night saying he opposes the decision to reallocate the grant funds and will continue to oppose it because the taxpayers in Waynesville, especially Frog Level, need the blight left by the homeless removed from their businesses and properties.
"Jesse Lee is welcome to take them to her property too and she will not need to drive so far to give them needles," he responded.
Pless said addicts are given free food and allowed to sleep on the streets while the health department and harm reduction coalition gives them free needles, fentanyl test strips, alcohol preps, tourniquets and a pamphlet on how to safely take their drug of choice without the fear of dying from it.
"Your picture left out a lot of the realities that affect other people. You are looking at this through your experience and trying to minimize the affect (sic) it has on anyone but the addict. Don't ever think for a second that drug addiction is a victimless crime," he wrote in closing. "You want to help then go ALL IN and take these substance addicted people home with you. They can feel safe and you can know every night they are safe from people like me who expect them to have respect for other people and other people's property."
The email exchanges between Pless and Rogers continued for several days. Pless also posted their exchanges on his Facebook page. Rogers said she posted her side of the story on Facebook and tagged Pless in the post, but then he untagged himself and blocked her. Rogers chalked it up to "another example of Mr. Pless' bullying nature, specifically his cowardly aggression toward women."
"The fact that your feathers were so ruffled over one thought out, fair email with simple constructive criticism really speaks volumes about your character," Rogers wrote. "Out of curiosity, does bullying people, particularly women, make you feel better about yourself? One would think in a County Leadership Elected Position, a person would have more emotional self-control and know how to respond to constituents in a civil and professional manner."
Pless denied that he was trying to bully her, Dunlap or any other women.
"The best thing I can tell you is if you didn't feel comfortable speaking about this to a man send your husband next time. I can assure you he would have gotten the same responses but you would not have been in a position to suggest I am bullying a woman. You are only trying to bring this up so others will see me as a woman hater," he wrote.
Pless relayed the same type of message to other constituents that emailed the board of commissioners regarding the commissioner's attitude and behavior.
Ginger Alfrey, who has lived in Haywood for 31 years, wrote to the board about Pless' statements on homelessness and addiction.
"Commissioner Pless used a recent community cleanup as an expose of his thoughts on homelessness and the organizations that serve our homeless population. It was gross but not surprising at alI — his vitriol toward marginalized people is well known at this point," she wrote. "What is most disturbing about Mr. Pless's stance on things is not that he is woefully uneducated but that he tries to dictate public policy based on his ignorant stance."
Pless again asked for her to take them to her home.
"I can see you have a passion for these folks. So lets make something work for everyone. I have transportation and will gladly bring 10 of them to live with you. Kindly give me your address and I will relocate them from property (in frog level) where they are not welcome to your property where they can live in a judgment free atmosphere," he replied. "I have searched your name as paying property taxes both real and personal (vehicle) in Haywood County without finding you. Do you pay taxes here?"
Pless posted Alfrey's letter on his Facebook page along with screenshots showing that she does not own property in Haywood County and that she has an overdue vehicle tax bill from 2012 for $15.54. He also shared emails sent to him by Kasey Valentine Steffen and Cindy Yarborough regarding the same issues.
NARCAN, an overdose reversal drug used by first responders.
Attitude toward people
Pless's responses to constituents has exposed a pattern of aggressive behavior, which prompted SMN to dig a little further into his background.
In May 2008, Pless's wife Rebecca Pless filed a domestic violence complaint and restraining order request against her husband in Haywood County following an alleged incident at their home in Canton.
According to the official court documents, Rebecca stated that she and Mark got into an argument after she confronted him about having an affair. She said he wanted her to go to church with him but she wouldn't because that's where the affair originated, so she decided to attend a different church that day. When she got home, she said they got into a verbal altercation because Mark accused her of lying about where she'd been. She said she tried to leave, but Mark kept pushing her and telling her she wasn't going anywhere while calling her a "liar" and a "bitch" in front of their two sons.
In the report, Rebecca claimed she and Mark got into a fight two weeks before where he grabbed her by the throat and slammed her onto the bed. She said her youngest son was hysterically screaming for Mark to stop. According to the report she filed, there had been several times Mark had pushed and hit her in the past.
"Mark started punching me in the head. He was screaming I hate you, I hate you, I hate you," she wrote. "On 4-20-08 my sons were home and witnessed the fight. My older son became so scared of Mark that he went to the gun cabinet and got a shotgun (loaded) and pointed it at Mark. Mark took the gun and made both the kids go outside. My sons love their father but are also scared of him."
On May 22, 2008, Rebecca filed notice to voluntarily dismiss the case without prejudice before it went to court. The court documents have been public for a couple of months on a website published by Waynesville resident Monroe Miller.
When asked about what happened on April 20, 2008, Pless said, "Oh, that's the little thing with the domestic."
He said didn't want to go into specifics about the incident between him and his wife, who are still married after 32 years.
"I guess the nicest way of putting it, you can be accused of everything in the world. When it comes down to being accused and the real story, my wife has a story. I have a story," he said. "Now, when it came down to it, the situation that's portrayed in there is not the situation. That's not what happened."
When asked if his wife filed a false police report, Pless would only say that "the situation that happened that is filed in there is not what happened. We had an argument, we had a time in our life that we didn't get along. When it came time to do something about that, the charges were dropped."
Pless said he and his wife have now lived for 12 years without any issues other than normal marital challenges. Though he denies everything in the report, he wouldn't share specifics about his side of the story. He added that an isolated incident doesn't define a person.
"Now, when it comes right down to it — and my wife will say this above and beyond anything else — whatever happens, we don't get in the middle of anybody else's stuff because we don't want anybody in the middle of ours," he said. "Now, I dispute everything that's in that report and it got dismissed without a court date."
Pless also discussed allegations that he was fired from his job as a paramedic in Haywood County because of sexual harassment charges against him. He said those claims were not true and provided documentation as to the real reasons he was terminated. He claimed he was fired because he reported another paramedic who had falsified a medical record to the state after being instructed not to investigate it any further.
"I was the acting supervisor. The paramedic gave medications at one point and then lied about the time that it was given. I reported it and I got fired because of that. It's called insubordination," Pless said.
Since details about why someone was terminated can't be made public by the county, Pless did provide The Smoky Mountain News with documents pertaining to his dismissal. An internal investigation was performed following a complaint from EMS Director Greg Shuping and EMS Manager Randy Fugate on April 16, 2003. Fugate stated Pless called him at home one evening and they got into an argument about new uniforms that were ordered. Pless told Fugate and Shuping that he was quitting. He told Shuping he couldn't work there any longer and that he was going to "f*ck the system" and was "going to f*ck Fugate."
Pless later called Fugate to apologize and said he wouldn't attempt to do any harm to Fugate. A personnel advisory committee met in May and issued a letter in June 2003 finding that Pless's actions and attitude did merit a written reprimand by his supervisor and that he then violated provisions of the reprimand and ignored a valid and proper order.
"This action and attitude constituents willful and deliberate misconduct which resulted in the termination of your employment," the committee concluded.
Pless said he doesn't treat women any differently than he treats anyone else, but admits that he has a dry, no-nonsense personality that can often rub people the wrong way. He said he didn't question Dunlap any differently than he'd question County Manager Bryant Morehead and didn't think there was anything wrong with his interaction with Dunlap during the county board meetings.
His stern disposition is why he said he didn't pursue a career in the military despite being in ROTC throughout high school.
"I decided that I really didn't want to go in the military because I might be told what to do. I was 17 years old so I was bound and determined that nobody was going to do that," he said. "My boys both went to the Marine Corps and they were reservists and had I went in the eighties, they'd have probably killed me. I was a smart mouth, stupid kid, and I would've never gotten out of bootcamp, but nonetheless, I started in the fire service in '94."
Attitude toward drugs
Pless said he likes to keep his personal life separate from his role as a county commissioner, but so often one's personal beliefs and personal life experiences play a major role in how a leader makes decisions, which is why it's important to understand how and why Pless feels the way he does about substance use.
His experience as a paramedic no doubt shaped his relationship with drugs and the people who use drugs, but Pless also had his own personal experiences with alcohol. He said he felt like he had a predisposition to becoming addicted, which is why he steers clear of alcohol today.
"I have had my time when I was in my teens and in my early 20s that I liked to drink. I chose not to do that for that very reason," he said. "I don't touch it. I don't go around it. If we go somewhere and it is at a facility, especially with something I have to do for the county and they are drinking, I stay the very minimum amount of time. I leave. I don't participate with anybody that drinks. I don't go to parties. I don't do any of that stuff because I know I could become addicted."
Pless claims to have sympathy for people who struggle with substance use disorder but maintains that they wouldn't be suffering had they made better decisions in the first place. He said he "feels sorry" for Rogers who lost her son to SUD but argued that Rogers was making it personal when he was simply trying to focus on the best use of taxpayer dollars.
"I don't want anyone to die from a drug overdose. When it comes right down to it, that was not the point. I didn't ask why she felt the way she did. She volunteered the information in a way that I was supposed to change my mind, or that was my perception, and because of this tragedy change my position," he said. "My position is still the same. I don't wish anything ill. And I am so sorry that she had this happen in her life. I have saw too many overdoses. I have saw too many alcohol-related deaths, but I still got to watch out for taxpayer money."
As the November election draws closer, Pless will be campaigning for state representative. If elected, he will then be faced with how to approach the drug epidemic from a statewide perspective while still being a voice for his constituents in WNC. Again, Pless's beliefs are counterintuitive to many of the initiatives implemented by the state to stop the drug crisis.
"I can agree with some of the things that they're doing. I personally, because of my background and the people I have dealt with, I have a different insight to it," he said. "I have seen people in a lot of different situations, but I also understand the completed picture. I think they're (General Assembly) doing a lot of good things. Personally, we need a drug treatment center. Making laws and changing things is the easy thing to do. I am to understand that we have a decent amount of money left over out of the budget every year. Why can't we have an in-house treatment facility in Western North Carolina? You'll never put enough beds in it, but why can't we have one?"
While Pless says his goal is not to stop working with the Harm Reduction Coalition or to close down the Pathways Center or Open Door Ministry, he said he asks tough questions trying to get the right answers and to help him make decisions that will actually help people, but his comments regarding these vulnerable populations still has local advocates like Rogers and Dunlap questioning his intentions.
"Stop the handouts and the homeless will simply migrate back to Buncombe county or whichever community they came from. If someone was a resident who originally lived in Haywood county and became homeless they can be considered on a case by case bases (sic)," Pless responded to a constituent.
Pless said he would continue to be available to his constituents and welcomes their feedback at meetings and through email or a phone call. He can be reached at This email address is being protected from spambots. You need JavaScript enabled to view it. or 828.421.8156.
Editor's note
Smoky Mountain News editor Jessi Stone reached out to Pless via email requesting an interview to discuss his stance on addiction and homelessness as well as his responses to his constituents who disagree with him. He was sent a partial list of questions giving him an idea of what the interview would be focused on.
Pless, who has never met or interviewed with Stone in the past, responded by saying he'd interview with SMN reporter Cory Vaillancourt, but not Stone.
"I will gladly interview with cory but your (sic) not an option," Pless wrote.
SMN normally would have denied such a request for a different reporter, but in the interest of giving both sides an opportunity to speak, Stone allowed Vaillancourt to conduct the interview with the understanding that the interview would be recorded, transcribed and given to Stone who would write the story. Pless agreed to those terms.
When asked during the interview why he refused to interview with Stone, Pless said he didn't like the questions posed by Stone.
"The questions that were sent to me were personal. They weren't about my job in the county. So I didn't see that as leading into a discussion of why I asked the questions I ask and the reason that I took the approach that I took. I saw it more as a let's find out about him, let's dig into him because then we have something else that we can use later on… And I don't know where she stands. I just know where you stand."
Vaillancourt informed Pless he'd be asking the same questions Stone had asked.
"If you're going to approach the interview that way, it'll be short because I'm asking you some personal questions about the things, I guess, that inform your decision making," Vaillancourt said.
Leave a comment
1

comment
Nunca me detendré hasta que todo el mundo sepa sobre el sacerdote MÁS poderoso, maurice, cuyos datos de contacto vi en una sección de comentarios aquí hace unas semanas, así que decidí contactarlo porque necesitaba ayuda para SALVAR MI MATRIMONIO. Le expliqué mi situación al SACERDOTE MURICE. que todo se estaba yendo por el desagüe ya que mi esposo constantemente me engañaba con otras mujeres y abusaba físicamente de mí. el sacerdote maurice prometió ayudar a que mi esposo cambie y me ame incondicionalmente en menos de una semana en la medida en que mi corazón aún late por él. SEGUÍ SUS INSTRUCCIONES y preparó un hechizo para mí y mi esposo me llamó exactamente cuando dijo el sacerdote maurice. Suplicó y dijo que me necesita de vuelta desde entonces, ha sido el hombre más dulce del mundo. correo electrónico: psychicspellsolution@gmail.com

Tuesday, 02/15/2022