Archived News
Outdoor adventures reopen in WNC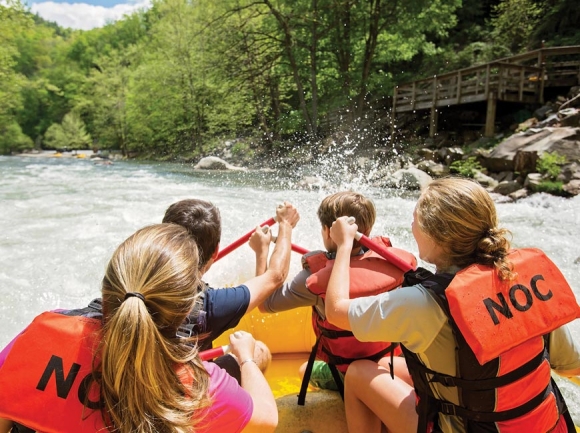 NOC photo
The Coronavirus Pandemic and ensuing shutdown means folks have been spending most of their time at home for the last several months. With travel and leisure opportunities diminished, it may be fair to assume the tourist industry in our region will struggle this summer. But with warmer weather, locals and tourists alike are turning to the outdoors to fill their time and stretch their legs after quarantine. For outdoor recreation and rafting companies in Western North Carolina, this urge to get outside is keeping them afloat.
Nantahala Outdoor Center opened weeks later in the season than normal, taking time to create guidelines to keep guests and staff safe while participating in the range of adventure activities NOC has to offer.
"We are seeing an increased interest from local and regional guests wanting to get outside again and experience the outdoors. We have 500 acres at the Nantahala River for rafting, ziplining, lake rentals and more, which makes it easier on our business to run trips and activities," said Kristin Kastelic, NOC marketing director.
The only adventure activity NOC has kept shutdown for now is the treetop adventure net, as there is almost no way to sanitize this area between groups and keep safe social distancing.
"This is like nothing we have seen before so many things about it have been unexpected. Luckily, we are in the business of managing risk and change on a daily basis, and our team has been able to adapt quickly to ensure we operate with everyone's health and safety in mind," said Kastelic.
To ensure everyone's safety, NOC is requiring face coverings in their retail stores, restaurants, and during ziplining trips. Each guest must go through a touchless temperature check before they are able to begin any activity. Sanitation has increased with staff disinfecting all shared equipment including paddles, lifejackets, rafts, bikes, helmets and harnesses.
Shuttle services have been modified to remain at 50 percent capacity. Restaurants and retail stores are open only to reduced capacity. To allow for COVID-19 related changes to planned trips, NOC has begun a more flexible booking policy. Social distancing is encouraged whenever possible.
"We acknowledge that in some of our adventures social distancing is not always possible," said NOC President William Irving.
Additionally, every staff member has a health screening before they are hired and are checked for temperature and symptoms daily.
"Surprisingly, our team has hired more guides this year than the previous year," said Kastelic.
Because of the nature of the outdoor adventure business, in keeping people safe as they undertake inherently risky activities, NOC was perhaps more ready to adjust to safety protocols than other businesses.
"As leaders in outdoor adventure, risk management is built into the core of our business and has been for over 40 years. However, because a pandemic like this is new to everyone, including the travel and outdoor industries, we have had to get creative with solutions. We closely follow state and local guidelines regularly which has helped guide our decision making," she said.
"If you are a high-risk individual, or feeling ill, please stay home," said Irving.
Several other outdoor adventure companies have reopened around the region. Deep Creek Tube Center and Campground outside of Bryson City has also reopened for tube rentals and camping, with safety regulations for both.
French Broad Adventures has reopened for rafting and other activities, with same-household units only allowed in one raft. Tuckasegee Outfitters have reopened their rafting services and have increased sanitation of shared gear including rafts, paddles and lifejackets.