Archived News
The conversation to defund the police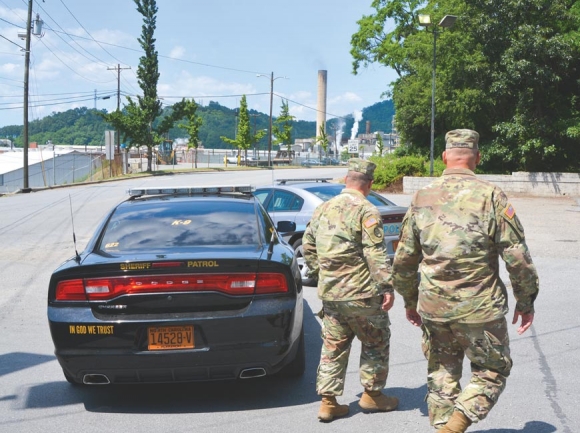 Members of the N.C. National Guard help conduct a training exercise in Canton in 2017. Cory Vaillancourt photo
Innocent people murdered in their own homes, police departments equipped with military-grade weapons, students with school resource officers but not a counselor to be found, district attorneys unwilling or unable to prosecute police who have broken the law — these stories heard across the nation have birthed the movement to "Defund the Police."
The conversation became national when protests erupted after George Floyd was murdered by Minneapolis Police Officer Derek Chauvin. Protests morphed from justice for those murdered by the police into a broader discussion about what role the police should play in their communities.
Amna Akbar, professor of law and social movements at Ohio State University, said the idea of defunding the police challenges the prevailing logic of police reform, "the idea that police brutality is caused by individual bad apples acting without sufficient oversight and training … Defunding suggests the problem is not isolated, nor is it a result of a few officers' attitudes. It challenges the power, the resources and the enormous scope of the police. Whether they are responding to a mental health emergency or deployed to a protest, their training and tools are geared toward violence."
The complex nature of police work is part of what has led to continually rising budgets. Police are expected to respond to incidents ranging from cats stuck in trees to hostage crises, from unregistered vehicles to homeless folks. A range of responsibilities creates the need for a range of tools, resources and lots of money.
In law enforcement's defense, it is this broad nature of the work that is perhaps making it more and more challenging for LEOs to do the work they are called to do effectively. Defunding the police is more of a way to reallocate resources in a way that would allow officers to focus on violent crimes while turning over social issue cases to social workers better equipped to handle those situations.
"Campaigns to defund the police and prison system do not argue that every prison should close tomorrow, and every police officer be sacked the day after — they argue that social problems are better addressed through social responses," said activist and writer Dr. Adam Elliot Cooper.
The conversation and effort to defund the police is intended to narrow the scope of responsibilities police have and reallocate funds to people better suited to certain scenarios.
The money spent on police budgets gives communities the ability to act reactively to crime and other problems. If some of that money were used for education, affordable housing, accessible health care, mental health and addiction resources, some of the problems creating crime could be addressed proactively.
"Defunding the police does not mean an immediate end to policing, but instead investing in social policies that prevent people from experiencing violence and harm in the first place," said Cooper.
According to the ACLU, 1.7 million children in the U.S. attend a school with police present but without access to counselors. This is a simple yet clear example of how funds could be directed toward a resource students can use for mental wellness and planning for their future.
Police are primarily funded locally, which means local funds could be moved from police budgets to address local issues. There would not have to be one blanket fix. Changes in funding could be very individualized to address the particular needs of each community.
"So much of policing right now is generated and directed towards quality-of-life issues — homelessness, drug addiction, domestic violence," said Ailicia Garza, cofounder of Black Lives Matter. "What we do need is increased funding for housing, we need increased funding for education, we need increased funding for quality of life of communities who are over-policed and over-surveilled."
In a recent investigative report, AVL Watchdog analyzed 911 calls and requests for assistance to Asheville Police and found that less than 1 percent involved a violent crime. A majority of the calls involved traffic accidents, domestic disputes, loud parties and other non-violent crimes like shoplifting, trespassing and prostitution, according to the analysis of more than two years of 911 calls.
"The reality of policing is that the majority of their time is spent on things totally unrelated to crime,'' Matthew Robinson, a professor of criminal justice at Appalachian State University in Boone, told AVL Watchdog. "We know that 75 to 80 percent of an officer's time is spent providing social services and routine administrative tasks like filling out reports."
Allowing for the reallocation of a portion of police funds could mean money and resources put into social and mental health. This would allow for greater decriminalization and de-stigmatization of people with mental health conditions and addiction problems.
"The demand for defunding calls into question the fundamental premise of policing: that it produces safety," said Akbar.
According to research conducted by the Brookings Institute, approximately 38 percent of murders, 66 percent of rapes, 70 percent of robberies, and 47 percent of aggravated assaults go uncleared every year. In response to current and past protests, there is an argument to be made that police need more time and resources to do their job well. The defunding conversation is asking the country whether problems can be solved through reallocating some non-violent responsibilities from police to other, better-trained people. Share their responsibilities instead of piling on more and more money, expecting law enforcement officers to get the job done.
"Altogether, it is clear that municipalities across the U.S. are making changes in line with the defund police movement. So, while the word 'reallocate' may be a more palatable, digestible word on the House floor or at a city council meeting, 'defund' surely gets more attention on a protest sign. And more importantly, it seems to be having an impact," said Rashawn Ray of the Brookings Institute.