Archived News
Maggie Valley Fall Days, a community affair
Wednesday, September 23, 2020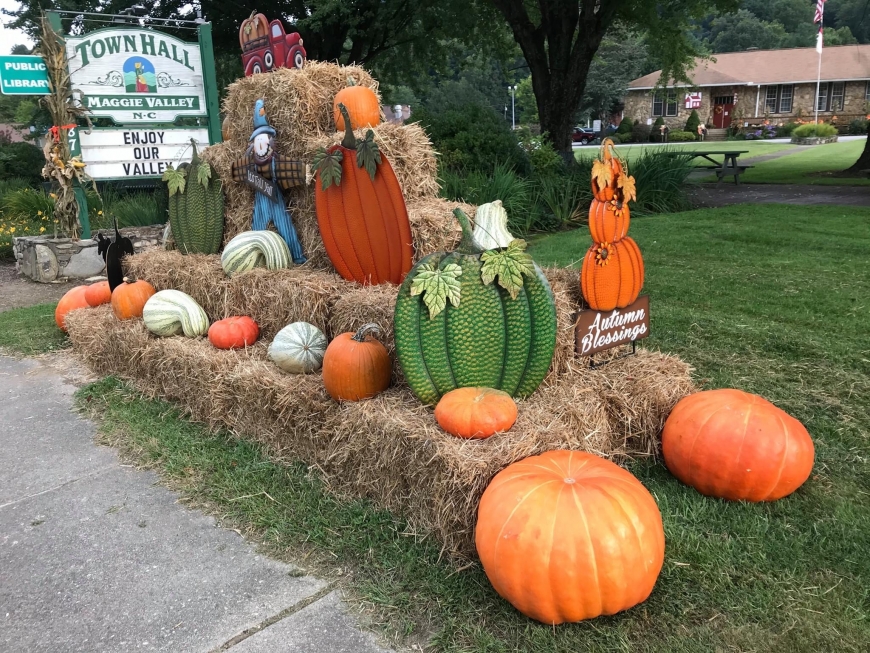 Fall decorations in Maggie Valley are a tradition that involves the entire town.
This year the Town Board of Aldermen voted to donate $1,500 to the effort to decorate a 5-mile stretch of road in Maggie Valley, despite only being asked for a donation of $750.
"I think this is a pretty important deal, especially this year we're going to have a lot of people in town, going back and forth," said Mayor Mike Eveland. "I want to make sure we put a good impact on this."
This is the 26th year that Maggie Valley has been coordinating with volunteers, the town, the Maggie Valley Chamber of Commerce, local businesses and the Haywood County Tourism Development Authority to decorate the Valley for fall. According to TDA Executive Director Lynn Collins, this year the TDA gave $7,000 toward Fall Days.
Each year businesses in the town submit orders for decorations. Those orders are coordinated by Sue Pendley, owner of Maggie Mountaineer Crafts and all decorations are sourced from local merchants.
"Steve at Ace Hardware was one of our merchants that supplied us with 700 bales of straw to build all of our displays. Justin Smathers grew 700 bundles of corn stalks to decorate our telephone phones. More than 1,000 pumpkins came from right inside the Tennessee line, 450 bundles of Indian corn was grown close by in Tennessee. Sloan's Nursery in Canton grew 280 of our mums. Maggie Mountaineer Crafts ordered all the metal pumpkins for each display," said Pendley.
At a Maggie Valley Board of Aldermen meeting Sept. 8, Town Manager Nathan Clark said that orders for Fall Days decorations were down this year due to COVID, and for that reason they were seeking additional funding.
"I think everybody enjoys it, even residents, and visitors, everybody loves the decorations throughout the town," said Alderwoman Twinkle Patel. Patel later made the motion to approve a $1,500 donation for Maggie Valley Fall Days.
This year there were 35 volunteers who helped decorate, without whom Pendley said, the whole thing would not be possible.
"It is hard work but can be really fun too, and you can get to see your neighbors and make new friends," said Pendley. "We have been blessed with everyone's love to make it look great."