Archived Outdoors
Jackson County Farmers Market celebrates 20 years
Wednesday, October 07, 2020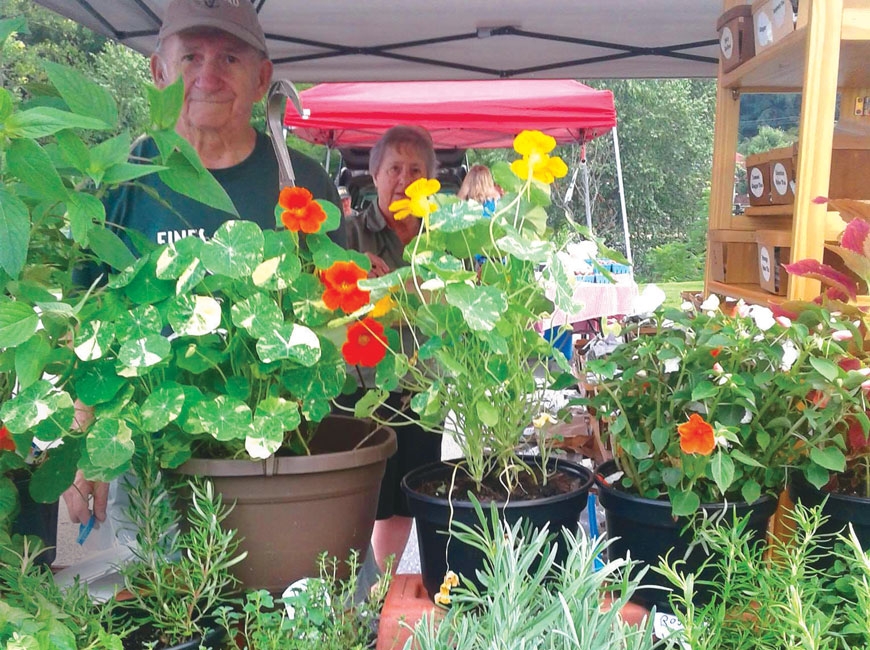 Walter and Joanne Meyers display a bounty of plants for sale during a pre-COVID farmers market. Donated photo
Back in the 1990s, Karen and Johnny White were in a nomadic phase of life, spending several months traveling the country in search of a place to call home. Time after time, they found themselves most drawn to small towns with vibrant farmers markets.
"While we fell in love with Western North Carolina, they didn't have a farmers market, so we wanted to add that to the place that we lived," said White, who now lives in Oklahoma.
The Whites moved to a small farm in Cullowhee in 1998, where Karen began working as a nutritionist at Western Carolina University. A couple years into the move, her desire for a local farmers market was still there, so Karen wrote a memo addressed to a list of 12 different people, including Christy Bredenkamp, who at the time was the horticulture extension agent for Jackson County.
In the memo, dated June 23, 2000, Karen wrote that the previous week she'd been driving through Waynesville and noticed "a half dozen trucks parked in a parking lot with fresh produce and honey in the backs and people hanging about in front." Jackson County could have something like that, she said, and she hoped that recipients of the letter might be willing to help pull it off.
The early days
The idea took hold. By September, the Jackson County Farmers Market had launched in the Sylva parking lot that abuts what is now Bridge Park — the same place it's still held now, 20 years later.
"Of course when you first start, you never know how things are going to unfold, and certainly farmers markets have been attempted before and have failed," said Bredenkamp, who is now director of the Macon County Extension Center. "I'm happy to say this one did not, and has succeeded and carried on for 20 years."
Ron and Cathy Arps were longtime vendors with the market, joining in the market's first years and participating continuously for 15 more before retiring at the end of the 2017 growing season. In the early days, said Cathy, the market was a far cry from the organized, bustling affair that exists today. Twenty years ago, selling extra produce for money was something of a foreign concept in this area — if you had extra, you'd just give it to your neighbor. Shopping at a farmers market wasn't a thing people did.
In a 2004 photo, Cathy Arps helps a customer at the vendor station she and her husband Ron ran for 15 years. Donated photo
"In the beginning it was definitely kind of your social break," she said. "You did all that work so you could sit there for three hours and talk to each other and trade stuff and go home. But then it really did grow. It became a thing that people did both for local produce and for the social scene of the farmers market."
"It was fun," Bredenkamp said of those early days. "There were no fees, no management, no rules or regulations really. The only rule we had was we had to grow something to sell it."
Bredenkamp helped launch the organization, heading it up for four years before turning it over to White and the vendors in 2004. Susanna Patty became the first official market manager in 2007 and served through, when it was still a loose, informal organization. White remembers going to the bank with Patty to open the market's first business account, and Arps remembers that Patty was initially paid for her efforts with vegetables rather than with cash.
Jenny McPherson was the market's next leader, did much to grow the market over the years that she remained in the position. The average number of vendors grew from the handful of five or so that had appeared in the early years to between 20 and 30 depending on the season, and in 2011 the market began moving indoors for the winter rather than ceasing operations until spring. A board of directors was established and the organization became more formalized. It also worked to make the market a welcoming place for lower-income people, in 2012 becoming the first farmers market west of Asheville to accept SNAP benefits as payment for produce. It wasn't just about shopping, either — the market would often include live music as well as activities for kids.
A continuing story
The version of the farmers market that the most recent market director, Lisa McBride, encountered when she took the job in 2017 was miles removed from the informal social gathering of small-time growers that White first mobilized in 2000, and she worked to advance the organization even further.
The farmers market is no longer limited to summer, to Saturday or to Sylva. Rather than moving indoors for the winter, the Saturday market now remains outside at Bridge Park year-round — though with slightly shortened hours — and during the growing season a Wednesday evening market that was initially held at Bridge Park as well is now offered in downtown Dillsboro in an attempt to expand the market's reach. The market has also increased its outreach to low-income people through the Double Your Bucks program that went into effect last spring thanks to collaboration with MountainWise. The program provides matching funds on food purchases made with SNAP benefits, up to $20.
The market is now a genuine destination for shopping and produce, but the social aspect still looms large, as it has since the beginning.
"It's something people go to because it's a Saturday morning getting together and seeing people and knowing the farmer and knowing who makes their product," said McBride. "The relationship part is huge."
COVID-19 has, of course, made that type of face-to-face interaction much more difficult. The market has continued through the pandemic, though with substantial operational changes that, while they make the experience safer for everybody, also make it less enjoyable for those who find the social aspect one of the market's biggest draws.
"We have to keep people moving," said John Bubacz, chairman of the market's board. "It used to be standing around in groups, talk and hug. We brought chairs and everyone would sit around. Now there's no stopping. There's no free samples anymore. Everyone keeps moving, do your shopping and get on out. We look forward to getting back to where we can be more social."
Steve Whyman sits with his nursery plants during a market day in 2004. Donated photo
It's been a tough year for the farmers market, as it's been for countless organizations in countless ways, but with 20 years under its belt, the Jackson County Farmers Market has survived its share of challenges.
"I've always been so proud of that market," said Bredenkamp. "At times there were conflicts between customers or vendors, but that market has just started and slowly grew, and they really took off."
White said that she's "thrilled" to hear that the market she helped create is still going strong and hopes to see it continue for years to come.
"It's kind of an intimate thing to exchange food that goes to sustain another person and their family, so to have that relationship in your community brings a deep sense of connection and contentedness," she said. "It's just a bigger picture of wellbeing."
Market sees leadership change
Lisa McBride, who has served as director of the Jackson County Farmers Market since 2017, left her post last week in order to pursue a new venture.
McBride is working to launch WNC Farm to Table, an online ordering system for locally grown food in Jackson and surrounding counties. She was unable to fulfill her role as director while also successfully heading up her new project, but she said she's grateful for the years she spent leading the farmers market and for how quickly she was able to feel at home in her new town after joining that community.
"It's home," she said of Jackson County. "Honestly that position made so much of a difference in it becoming home for me."
McBride's departure will mark the beginning of a new era for the farmers market, which will not immediately look for a new director. Instead, board members will divide the day-to-day tasks of running the market.
Finances have been tight lately, especially in the wake of COVID-19, said Board Chairman John Bubacz. By refraining from hiring a new director, the board hopes to save enough money to get the market through this difficult chapter. The board plans to revisit its decision about leadership of the organization before the next growing season begins.
All parties came to a mutual agreement this would be the best move, said Bubacz, and the board is supportive of McBride's decision to give her full attention to her new venture.
"We want to see Lisa be successful and are happy to see her working full-time on her endeavor because it's 100 percent in line with the goals of the market," he said.
The farmers market currently operates 9 a.m. to noon Saturdays at Bridge Park in Sylva and 3:30 to 6:30 p.m. at Innovation Station in Dillsboro. In November, Saturday hours will be 10 a.m. to 1 p.m. and the Wednesday market will cease until April.