Archived News
Haywood schools rolls out COVID-19 dashboard
Thursday, October 15, 2020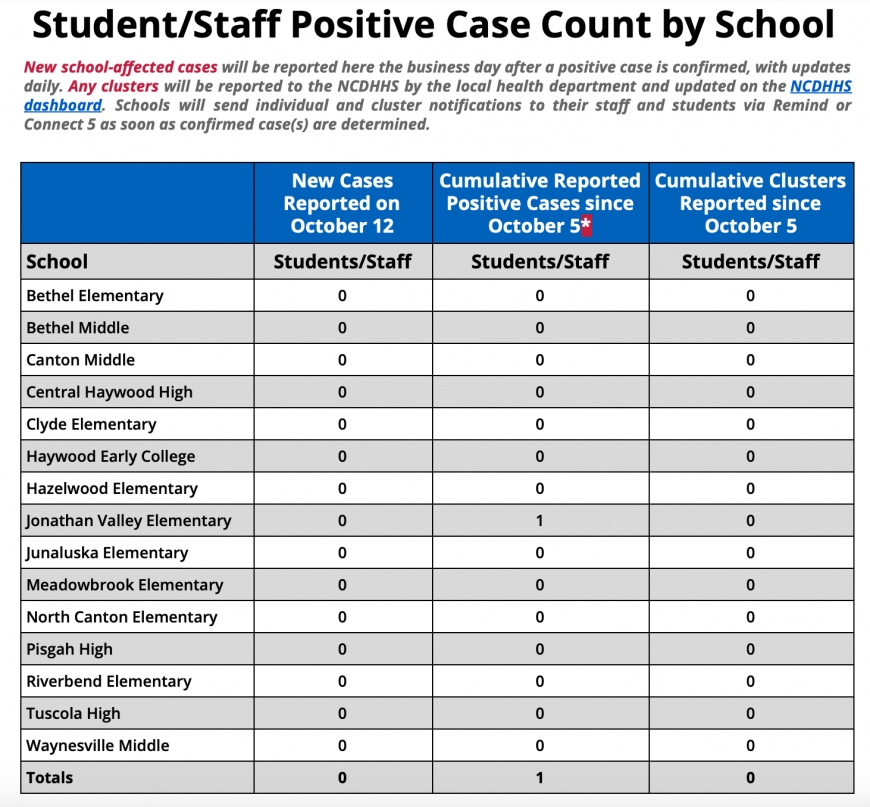 Haywood County Schools Administration announced the creation of the COVID-19 dashboard, intended to keep the public up to date on COVID cases within the Haywood County School system.
The announcement comes on the heels of the first confirmed COVID-19 case in Haywood County Schools. Administration was notified Friday afternoon that it had its first in-person student test positive at Jonathan Valley Elementary.
Superintendent Bill Nolte and Associate Superintendent Trevor Putnam presented the dashboard at the Haywood County school board meeting Monday, Oct. 12. They also described how the notification process would work for students, families and the public.
According to Dr. Nolte, public health officials will notify Haywood County Schools when there is a positive case in the school system. Then, Haywood County Schools will notify parents at the school of a positive case in the grade level where it occurred.
"We can't be more specific than that, because we do not want to violate HIPAA or FERPA regulations," said Nolte.
If anyone else is considered a close contact by public health, they will be contacted by those officials. Contact tracing will be done by public health.
"We're trying to be as transparent as we reasonably can," said Nolte.
According to Dr. Putnam, the dashboard was created to help keep everyone aware of what was going on at all the schools. Created by Kim Jackson, the dashboard can be found on the Haywood County Schools website. It contains new cases reported each day, cumulative reported positive cases since Oct. 5, and cumulative reported clusters since Oct. 5. The cases reported will be those of students and staff engaged in face-to-face learning.
"It's a record of what's going on at all of our schools in Haywood County," said Putnam.