Archived News
Vandalism, campaign sign thefts show deep division in Haywood
Wednesday, October 21, 2020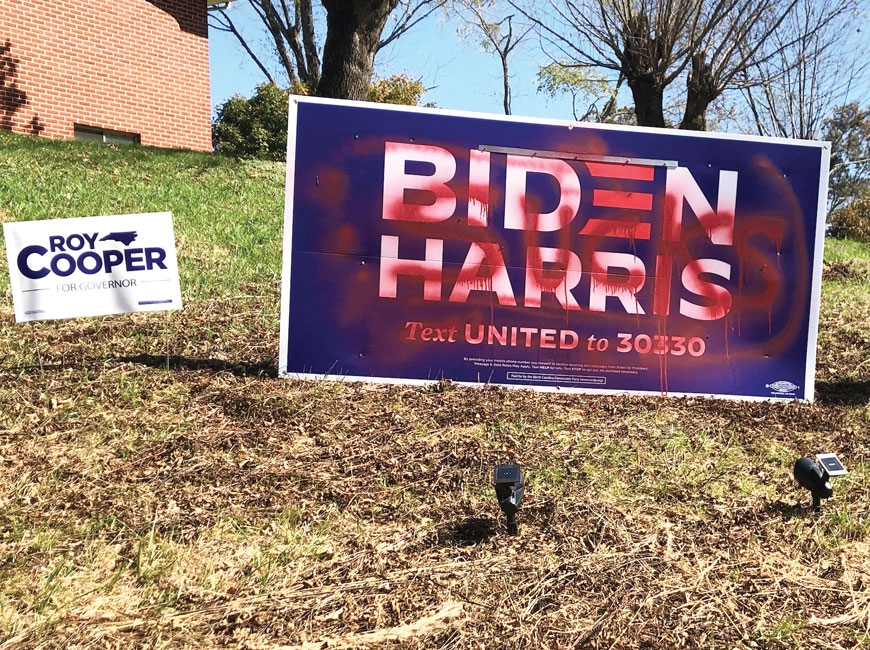 A Biden/Harris sign (left) at a private home on Russ Avenue in Waynesville was defaced earlier this week. Donated photo
As the tumultuous 2020 election season draws to a close, partisans on both sides of the aisle are expressing anger and frustration over a rash of vandalism and sign thefts in Haywood County.
"We have had several reports, as have the municipal police departments," said Haywood County Sheriff's Office Chief Deputy Jeff Haynes. "It certainly is against the law. There's a General Statute that clearly defines the fact that you are not to remove political signs. At this point we would offer up that if anyone has any information that would lead us to some of the people who are committing these crimes and causing these issues, we would certainly appreciate it."
Candidates and party officials have complained about the issue for weeks, but it seems to be getting worse, day by day.
"I don't understand why we can't just have a healthy competition with these elections," said Myrna Campbell, chair of the Haywood County Democratic Party. "I don't understand why it's gotten to this level of maliciousness. This is the fourth presidential election I've actively been involved in, and I've never seen anything like this."
That's saying a lot, considering the competitiveness of the 2008 presidential election in which then-Sen. Barack Obama won North Carolina by less than one-third of 1 percent. It's also a bold statement in light of the hard-fought 2016 campaign, when Donald Trump defeated Hillary Clinton in North Carolina by 3.6 percent.
Campbell said she's aware of at least four police reports that have been filed due to vandalism and theft of Democratic signs.
One of them involves a woman recently caught on camera removing a Biden/Harris sign at Lake Junaluska. According to Campbell, the woman admitted her actions when confronted by law enforcement and returned the sign to Democratic Party headquarters, so no charges ended up being filed against her.
Although yard sign wars have been a part of campaigning since campaigning became a thing, it's not simply an innocent prank — aside from the logistics and labor involved in their distribution, installation and maintenance, small yard signs can cost between $2-3 each, and the larger signs can run upward of $100.
"In addition to the big signs we've had damaged or smashed, I bet at least 150 to 200 yard signs have been run over or stolen," Campbell said, noting that volunteers had begun placing cameras within eyeshot of some signs in hopes of catching vandals in the act.
Haywood County Republican Party volunteer Ted Carr picks up another load of several hundred Trump/Pence signs in Asheville on Oct. 19. Donated photo
Especially disturbing to Campbell is the fact that a number of signs and banners have been stolen from the lawns and porches of private homes, which adds another dimension to the list of potential crimes.
"Stealing from public property has been going on forever, but this is a trespassing issue," she said.
This behavior isn't strictly limited to the anti-Biden crowd; Haywood County Republican Party Chair Kay Miller said they've seen plenty of Trump/Pence signs turn up missing or mangled.
"I can vouch for what I've seen and know about, and I think we've had about 900 signs stolen," said Kay Miller, chair of the Haywood County Republican Party.
Miller said that they, too, had filed police reports and even caught someone in the act, following them to the Haywood Materials Recovery Facility (MERF) at Jones Cove, where campaign signs are often dumped and then salvaged and reused.
In one such instance, Miller said a car's tag came back to a Charlotte address; Miller thinks people are being paid to come from outside the immediate area to engage in campaign chicanery.
"I don't advocate anybody messing with anybody's signs," said Miller. "I would never direct volunteers to do anything like that, but you can't control everybody."
And you can't — Miller said there's an "eye for an eye" mentality on both sides that's difficult to contain.
When asked by The Smoky Mountain News, Miller said she'd be open to issuing a joint statement with Campbell and the Democrats encouraging people to knock off the shenanigans.
"Sure I would. We're all Americans and we're above that," Miller said. "I'd be happy to do that, but I don't know if it'll help. Let everyone have their opinion, and accept that not everyone agrees with you. Anybody out there doing that, just stop. It will all get worked out on Nov. 3."
Campbell said she'd also be open to joining Miller in condemning the vandalism and thefts.
"I appreciate Chairwoman Miller's willingness to join me in speaking out against the senseless theft and destruction of candidate signs we've experienced during this election. Displaying candidate signs reflects our constitutional right to speak freely and a sign expresses an opinion that should be respected even if you disagree with it," Campbell said. "Bear in mind that supporters have volunteered their time and worked hard to put the signs out so respect their efforts and leave the signs alone."