Archived Arts & Entertainment
Cooking on The Mountain
Tuesday, October 27, 2020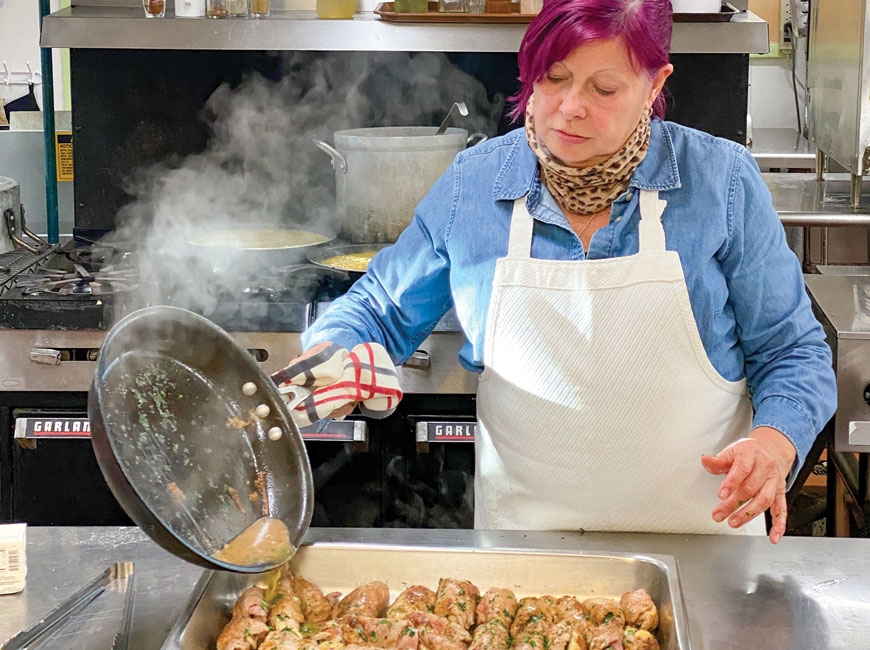 Chef Sandra Stefani deglazes a pan over Veal Rollatini.
The drive to The Mountain Retreat & Learning Center in Highlands sets the stage for its seclusion from the outside world.
Tourists crowd the winding two lanes that thread through the red, yellow and orange hues of fall. All of this makes the trip slow going, giving a person ample time to take in the beauty of the season.
When we finally arrived at The Mountain, we came upon a sign that said "Authentic Italian Cooking Class," set up in a field with a sprawling garden, a giant greenhouse, warm mint tea and a flock of chickens just a stone's throw away.
After driving up the mountain to check-in, catching glimpses of the stunning views through breaks in the forest along the way, we hurried back down to the farm to join the cooking class we had come for.
Miranda, resident farmer at The Mountain, led the group around the farm, describing what grew in different beds during different seasons. We harvested greens and calendula for salad, sunchoke and fresh eggs for a souffle and butternut squash for risotto.
Basket of fresh eggs and foraged mushrooms (below) for the Italian cooking class.
She explained to us how you know that sunchoke roots are ready for harvest when the plant above ground dies and turns brown, at which point it returns all of its nutrients to the root.
She showed us clover plants at the corners of the beds that help bring nitrogen and nutrients back into the soil and explained the medicinal properties of Calendula. She told us how butternut squash need a warm, dry place to rest after they are harvested so their skin can harden. This is what helps them last through the winter.
She showed us the mushrooms they had already foraged, in preparation for the event, from the surrounding forest. Maitake, also known as hen of the wood, and Laetiporus, or chicken of the woods.
To be exact, I had landed in a heaven manufactured for aspiring chef-botanists.
Miranda later told me that although the farm is a relatively new project at The Mountain, they have big goals. They want to work towards supplementing a greater portion of food for the kitchen at The Mountain so they work in close concert with Kitchen Manager Jenn Tuft.
In addition, they are participating in Farmer's Markets in Highlands and Cashiers and have become the de facto public relations arm of The Mountain. Miranda said she hopes this involvement in the community will lead to more opportunities to collaborate and make connections.
Once we had gathered what we needed, we headed back to the top of the mountain to cook.
Under the direction and leadership of visiting Italian Chef Sandra Stefani, we fell into the chaotic routine that is cooking a large meal. Some of us cleaned sunchokes, whose skin comes off simply by scrubbing them in water, some of us peeled potatoes, some of us cleaned greens, and some of us peeled and chopped butternut squash.
All the while Chef Stefani was making a stock with onion and the peels of the butternut squash. This was one of countless things she taught us throughout the class. That risotto is not determined by what you put in it, but by the stock it is cooked in. Butternut squash risotto cannot be butternut squash risotto if you simply put pieces of squash in your dish. It must be cooked in a stock made with butternut squash.
So, while we prepped away she boiled onions and the peels of the squash in a giant pot. The smell began filling up the whole kitchen as the liquid turned more and more golden. Eventually she would strain nothing from the stock, but simply puree everything in the pot to reserve as much flavor as possible.
We boiled sunchokes and potatoes in lemon juice and water; made a vinaigrette from herbs, onion, lemon juice, and olive oil; sautéed chopped butternut squash in small batches in big paella-like pans until the prep work was mostly done.
As we put together the souffle Chef Stefani explained that separating the egg yolks from whites was vital to the construction of a souffle. After several of us had gotten a serious arm workout, and the egg whites could form stiff peaks, we folded them into the rest of the souffle batter.
Chef Stefani later told us about her journey from Italy to The Mountain. She found her first restaurant job at 20 years old as a coat check attendant in Washington D.C. who, because she didn't yet speak English, would sometimes slip up and say, "Can I catch your goat?" Instead of, "Can I take your coat?"
From that point, she climbed her way through the restaurant and cooking world as a hostess, maitre'd, wine connoisseur, emergency chef on the day of President Reagan's inauguration, trained cook and chef. She went on to have her own restaurants and cook for a fundraising event for President Obama. Her story is fascinating.
During the class her ability and comfort in the kitchen were communicated without words. Her easy command meant everyone in the class was hanging on to each specific direction as she showed us the secrets of risotto.
What started out as grains of rice, shallots and white wine was slowly coaxed to life through each spoonful of golden, butternut squash broth. By the time Chef Stefani topped the finished risotto with a dollop of Mascarpone it was a perfect cushion of Umami.
Chef Stefani showed us how to roll spinach and cheese into pre-pounded cuts of veal after which she seared them in the pan, deglazed it with marsala and poured the remnants onto the rolls of veal to be baked in the oven.
We learned that to season ingredients as valuable and high quality as the foraged mushrooms too heavily would be a "crime." It would be "to bastardize them," she said.
While there were several batches of mushrooms, we used only a pinch of minced garlic in the first batch to help season the pan, and olive oil throughout.
She taught us that she never washes her mushrooms. Ever. You can brush dirt off of them if necessary, but when you wash mushrooms, they absorb far too much water.
To say those mushrooms changed my life would be an obvious hyperbole, but if you've never eaten chicken of the wood, you're doing yourself an egregious disservice.
After all of our attentive cooking with Chef Stefani we had created a fresh green salad with citrus vinaigrette and a potato and sunchoke souffle, butternut squash risotto, fontina-spinach stuffed veal rollatini with sautéed wild mushroom, and ricotta gelato with pistachio and fig.
Somehow the end result was even more than the sum of all the parts we had put together throughout the evening. Perhaps it was the addition of perfectly paired wine or the captivating sunset we got to watch while eating.
After the whole affair we enjoyed our dessert in the main lodge beside the fire with port and warm conversation. Miranda from the farm, Chef Stefani, Kitchen Manager Jenn, and others indulged us with conversation ranging from their personal stories of how they came to be part of The Mountain to the underground lymph connections of mushrooms. From how the microbiome surrounding The Mountain determines foraging and crop capabilities to truffle dogs.
Sunday morning, we went for a hike to Chinquapin Mountain and then wound our way off The Mountain, back into the real world. By early afternoon, the whole experience felt like a dream. One full of Italian cooking, professional chefs, intelligent farmers and gelato with a view. The perfect local adventure in a quarantine riddled world.
For more information about The Mountain Retreat & Learning Center and the events available there, visit www.themountainrlc.org.