Archived Outdoors
Cleanest air on record: Pandemic accelerates long-term move toward cleaner air in N.C.
Wednesday, November 04, 2020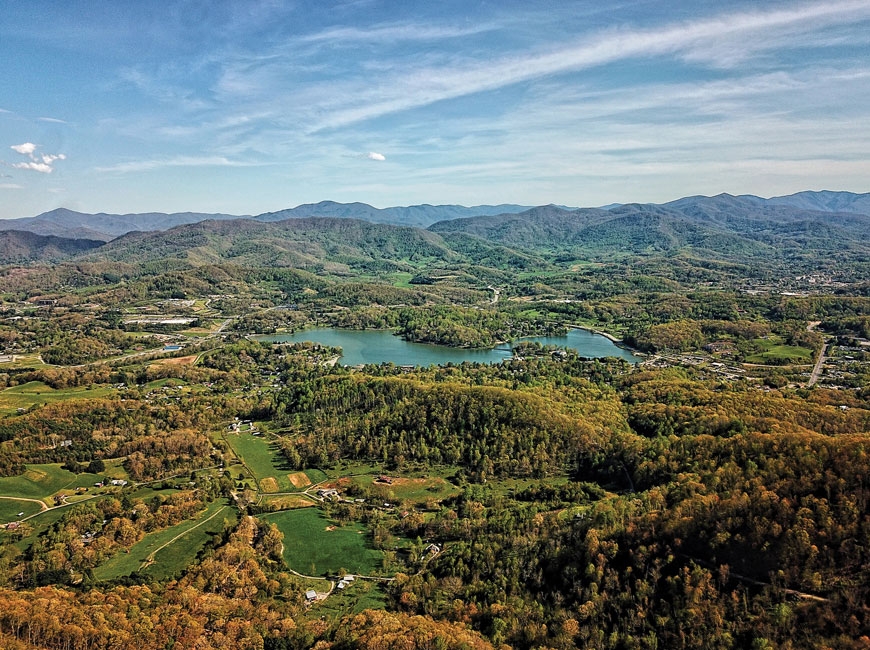 Blue skies like the one shown over Lake Junaluska weren't the norm 30 years ago like they are today. A Shot Above photo
When President Richard Nixon 's signature on the Clean Air Act of 1970 prompted North Carolina to create its Division of Air Quality, air quality was bad in Western North Carolina.
"Back in the '80s or the '90s, once summer hit your mountains would disappear," recalled Jim Renfro, longtime air quality specialist for the Great Smoky Mountains National Park, during an interview earlier this year. "You're outside in the valley looking up, and you couldn't see the mountains through the haze."
Miles down, air quality up
In one of the true environmental success stories of the past century, the situation has improved dramatically since then — and as 2020 fades into 2021, it's expected to keep getting better.
"Without a doubt we are seeing the lowest ambient air pollution levels that have been recorded since the inception of our program," said N.C. Division of Air Quality Director Mike Abraczinskas. "That's wonderful news, testament to all of our good work, advancements in technology, regulatory and non-regulatory measures. North Carolinians are definitely breathing the cleanest air that they have anytime during their lifetimes."
Abraczinskas spoke during the Land of Sky Regional Council's annual State of Our Air Quality Briefing and Press Conference. The event usually takes place in Asheville during the early spring, but due to COVID-19 it was delayed and held virtually Oct. 30.
That's not the only impact COVID-19 has had on the world of air quality, but unlike most impacts related to the virus, these have been overwhelmingly positive.
Data from the early days of the pandemic — March and April — show reductions of about 30 to 50 percent in vehicle miles driven as compared to 2019 figures. For the six-month period ending Sept. 30, traffic counts at the DAQ's roadside site in the Research Triangle Park, one of the busiest stretches of road in North Carolina, were down an average of 26.8 percent compared to the same period in 2019, Abraczinskas said.
It appears that this drastic reduction in time on the road is leading to a noticeable improvement in air quality. Preliminary data show a decrease in mean levels of toxic nitrogen oxides in urban areas across the state. Compared to the average of 2018 and 2019 figures, 2020 data through Sept. 30 show a 23.1 percent reduction in Charlotte, a 38.5 percent reduction in Winston-Salem and a 40 percent reduction in Raleigh.
Similarly, there have been considerably fewer ozone warnings this year than in 2019, when the DAQ was "very nervous" about how close it got to violating EPA standards in the Charlotte area, Abraczinskas said.
Last year, three monitor sites in the Charlotte area reported a total of 189 Code Yellow ozone days and 16 Code Orange days. Through Oct. 12 this year, the number of Code Yellow days has decreased drastically and there have been no Code Orange days at any monitor. The Garinger monitor recorded 62 Code Yellow days last year, but only 14 this year, while the University Meadows monitor reported 67 Code Yellow days last year and 22 this year. The Monroe monitor, which recorded 60 Code Yellow days last year, has so far turned up a goose egg for 2020. While the monitors did not show any Code Orange days this year, in 2019 they reported seven, six and three such days, respectively.
"I'm going to caveat all this by saying that it's preliminary," said Abraczinskas. "It's a preliminary examination of pre-quality assurance data, and further detailed analysis is going to be necessary to fully support any conclusion, but at least it provides some data that supports what we've all been presuming, and that is a reduction in vehicle traffic leading to improved air quality."
Duke Energy has replaced its 1964 coal-fired power plant in Asheville with a new, cleaner-burning natural gas facility. Duke Energy photo
Looking to the future
The pandemic-related decrease in vehicle use coincides with another notable headline in air quality news. In January, Duke Energy retired the coal-fired power plant that has been producing energy in South Asheville since 1964, replacing it with a cleaner-burning $817 million natural gas facility that came online in two phases — the first in December 2019 and the second in April 2020.
The new plant is about 75 percent more efficient than the coal facility was, and it emits 60 percent less carbon per megawatt hour with a 99 percent reduction in sulfur dioxide emissions and a 40 percent reduction in nitrogen oxide emissions, said Jason Walls, Asheville area manager for Duke Energy. Mercury emissions have been eliminated, and the use of cooling towers in the new plant significantly reduces the amount of water required to run it. Ashley Featherstone, director of air quality for the WNC Regional Air Quality Agency, said her organization was "very excited" about the project and the reductions in pollution it will cause.
This all fits in with the state's goal of reducing greenhouse gas emissions from electric power production to 70 percent below 2005 levels by 2030 and reaching carbon neutrality by 2050, Walls said, and Duke is an "active participant" in helping the state reach those goals.
"It's just a really exciting piece of work to be a part of," he said.
To be determined is how the pandemic will affect overall energy use. Sophie Mullinax, project manager for the Blue Horizons Project, said that electricity and heat are responsible for 30 percent of greenhouse gas emissions, and that heating is responsible for about one-third of home energy use. In the mountains, peak energy use occurs on cold winter mornings as people are waking up and warming up the house, Mullinax said. While the rest of the Southeast experiences peak use on hot summer afternoons, the mountains' winter peak is 30 percent higher than its typical summer usage.
With the pandemic, energy use across the board has become more stable as more people are working from home on a flexible schedule. However, many people are seeing higher individual energy bills — how energy use will shake out overall is an open question, Mullinax said.
"We haven't had winter yet, so I think it's fascinating and it remains to be seen," she said. "Certainly, we'll be seeing a reduction in some of the buildings and offices that are not in use right now, but of course factories and other organizations and businesses that keep our community running are still operating."
Continued improvements
Where air quality is concerned, initial indications are that the pandemic has had a positive impact, but whether that impact proves to be a short-term boost or a longer-lasting norm, air quality metrics have been trending in a positive direction for decades.
In the Great Smoky Mountains National Park, standard visual range on the most impaired days has nearly doubled from 28 miles in 2009 to just under 50 miles in 2018. Similarly, particulate matter concentrations have plummeted from about 10.5 micrograms per cubic meter in 2009 to about 6.5 micrograms per cubic meter in 2019. Ozone concentrations have fallen significantly as well, from 0.07 parts per million in 2009 to just over 0.06 parts per million in 2019. For the past decade, particulate matter and ozone levels have all come in well under the EPA standard applicable at the time.
"That's progress you can see, and it's great proof that our partnerships are working," said Abraczinskas.
Conference organizer Bill Eaker, senior environmental planner for Land of Sky, agreed with that assessment as he gave an encouraging conclusion to the program.
"What we learned today is that if we do all work together and get really focused on something, that we can be very successful," he said. "We've really got a tremendous environmental success story here in Western North Carolina and across the state."