Archived News
Haywood Republicans fill commission vacancy
Friday, December 11, 2020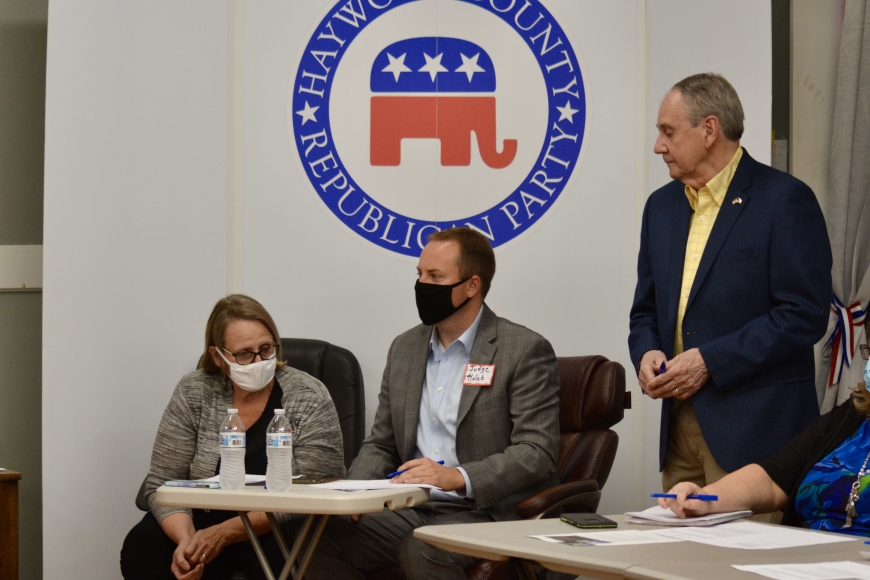 District Court judges (left to right) Donna Forga and Kaleb Wingate, along with NCGOP 11th District Chairman Aubrey Woodard count ballots.
Cory Vaillancourt photo
After several public meetings where intensive questions were posed by the Haywood County Republican Party to seven candidates, the party has chosen its nominee to fill an impending vacancy on the Haywood County Board of Commissioners.
Clyde resident Jennifer Best, 52, is an insurance agent and recently ran her first political campaign earlier this year. Best was a candidate in the Republican Primary Election as part of a four-candidate field seeking two commission seats. Those seats were eventually won by Republican incumbents Kevin Ensley and Brandon Rogers, but Best finished a close third, nearly knocking off Ensley.
The vacancy comes as a result of first-term Republican Commissioner Mark Pless' victory in the 118th House District race. As Pless transitions to Raleigh, he leaves a half-served term on the county commission. Per statute, Pless' seat must be filled by a person of the same party. Haywood is one of just 42 counties where the local county party's recommendation to commissioners is binding.
Rather than simply submit a nominee, the HCGOP and new chairwoman Kay Miller conducted a very deliberate, very public process to select a candidate from a field that initially stood at eight.
After the withdrawal of Haywood Health and Human Services Board member Paul Turner, remaining candidates included Maggie Valley Alderman Twinkle Patel, Haywood School Board member Ronnie Clark, Jennifer Best, Hylah Birenbaum, Todd Bradley, Terry Ramey and Jeff Sellers.
Candidates answered questions from Miller and other party members at public meetings held on Nov. 21 and Nov. 30, as well as several previous HCGOP events.
Best was selected by a vote from duly qualified members of the HCGOP, a number Miller pegged at 24.
On the first ballot, victory could only be declared by a candidate with more than 50 percent of the votes. In the event no candidate was able to garner that much initial support, the second ballot would consist of the top three candidates. If that ballot didn't result in a winner, the third ballot would consist of the top two candidates. Best won on the first ballot.
Best will serve on a commission that had been and will remain a 4-to-1 Republican majority. She joins fellow Republicans, Rogers, Chairman Kevin Ensley and Tommy Long as well as the commission's lone Democrat, Kirk Kirkpatrick.
The HCGOP's nomination of Best means that for the first time since 2008, a woman will serve on the Haywood commission. However, since she didn't secure the seat in an election, the streak of no woman being elected to the commission by voters of Haywood County – dating back to 2004 – will remain intact.