Archived Arts & Entertainment
This must be the place: Sometimes the righteous win; most times, it's a losing battle
Tuesday, January 12, 2021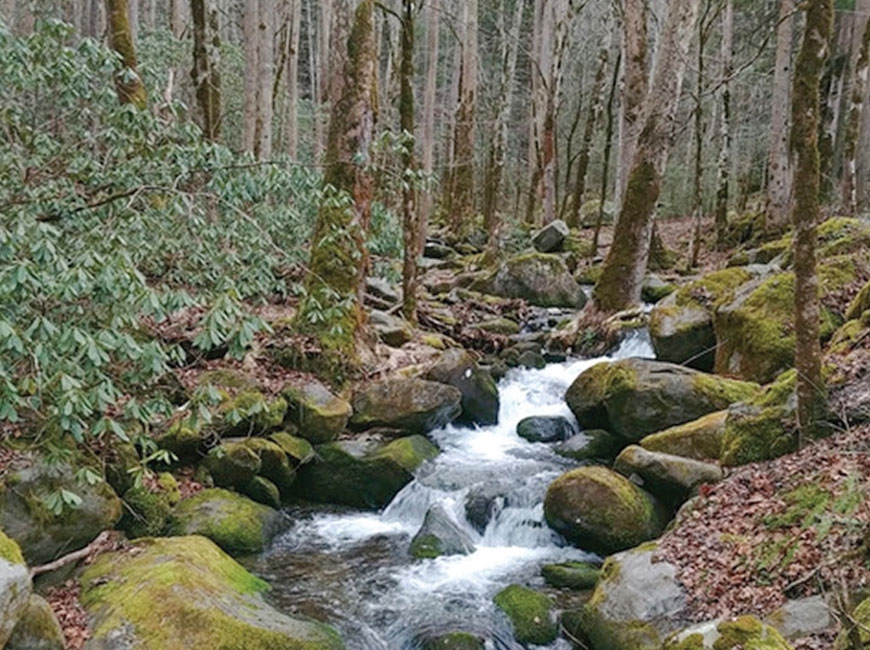 Finishing up my second cup of coffee at Orchard in Waynesville, I gazed out the large bay window onto Depot Street. There's the historic Haywood County Courthouse, a few vehicles parked on the hill. Snowflakes fluttered down from high above on this Friday morning.
Right when I started to get lost in the sight of the mesmerizing snowflakes amid memories of my childhood back in the North Country, that train of thought was broken when a large truck flew by the window with an enormous Trump "Make America Great Again" flag waving proudly from the tailgate.
And it was also in that moment where I also noticed the newly placed dumpster on Depot Street for the current building renovations going on next to Orchard. Those two objects in the same space within my field-of-vision conjured a flood of images from the past year — hell, the past four years — now forever written in the pages of American history, for good or ill.
I'm a middle of the road guy, politically speaking. As a journalist and an open-minded person who travels extensively, I see both sides of the coin when it comes to real deal Democrats, Republicans and Independents (or folks who subscribe to no party).
Every single day, I chase after conversations, interactions and experiences with any and all: in an effort to better understand the human condition — especially of those within the borders of this country — and to better understand myself in the grand scheme of things.
Over the course of Trump's 2016 campaign and the last four years of this current administration, I've seen and covered it all. I've stood in the middle of a capacity crowd at the Asheville Civic Center (7,000+ folks) in September 2016 and watched Trump in his element: ripping and roaring up and down a laundry list of finger-pointing and pandering.
And I remember how I felt immersed in that audience, as stated in my reporting from the event for this publication in 2016: "But, like Trump himself, the crowd was more subdued than what's been seen in previous rallies. Sure, there was shoving and even a punch thrown, but, for the most part, those in attendance stood and listened, hoping for something, anything of substance that would come from the man at the podium who actually stated, 'Take a chance on me — it can't get any worse.' No matter who wins the presidential election, both Trump and Clinton come out the victors. They're playing with house money and they'll only continue to get richer and have more political influence as the years go along. The real losers this election season are, well, all of us, seeing as we're seemingly angrier with our neighbor than at our politicians or those behind the scenes running the show."
Skip ahead to August 2020 and there I was, reporting and walking alongside Black Lives Matter protesters (and by counter-protesters) moving up and down Soco Road in Maggie Valley: "Both sides were mostly peaceful and respectful, truth be told. Yes, I heard some vile things shouted at the protesters here and there. And yes, there were countless motorcycles revving their engines to drown out the protest chants. But, I also witnessed incredible compassion and unity among those marching, many of which are folks who live in Haywood County and who I've called friends for several years. While I observed and photographed those familiar faces in the march, I didn't see or experience people trying to upend their own backyard. Nobody was there to physically destroy local businesses in a riot-like scenario. Nobody was there to fight and disrupt peace. If anything, it was a display of courage and personal conviction to seek out a better tomorrow, perhaps today."
Skip ahead to last Thursday afternoon. After finishing up some writing in Orchard Coffee, I jumped into the truck and cruised to the Big Creek entrance of the Great Smoky Mountains National Park. Emerging from the vehicle, a crisp air and serene silence greeted me, this sense of solitude much needed and always chased after.
Heading into the woods, I trotted up Chestnut Branch to where it intersects with the Appalachian Trail, from there along the AT to TN 32 at the state line and back down the dirt road to the Big Creek parking lot. Just around five miles total.
Hundreds of miles from Washington, D.C., and my thoughts couldn't stray far from the images witnessed the day before on national television. Thousands charging up the steps of the Capitol Building. Hundreds pushing their way in and demanding their voices be heard and their stances be taken seriously.
The same faces who were utterly offended by Colin Kaepernick taking a knee during the national anthem, now standing and yelling atop the dais of Congress in a bison costume and face paint, heavy boots of another planted firmly atop the desk of the Speaker of the House — this bizarre modern world that proves the old adage: "truth is stranger than fiction."
Like probably most of you reading this, I was shocked (although not surprised this was the culmination of four years of rhetoric and conflict) to watch the events unfold in D.C. last week. And I can say most of this country is, too. Most of us want peace, but how? Most of us harbor compassion for fellow man, but when will all of our efforts and goodwill be the sum of great things to come?
The fringe elements of both sides of this country are the squeaky wheels getting the grease. And yet, where to from here? How do the vast numbers of us walking along the middle of the road proceed into the New Year, not to mention this new administration?
As I got back to my truck at Big Creek, covered in sweat and dirt, I raised my head and let out a humble sigh. New Year, but the same shit, eh? I'm tired, emotionally exhausted, but I won't stop trying to understand, to find common ground with others and champion the idea of compromise. I remain optimistic. I do.
Life is beautiful, grasp for it, y'all.