Archived News
Leading the way: Love for nature spurred HCC's Black forestry grads to barrier-breaking lives
Wednesday, February 17, 2021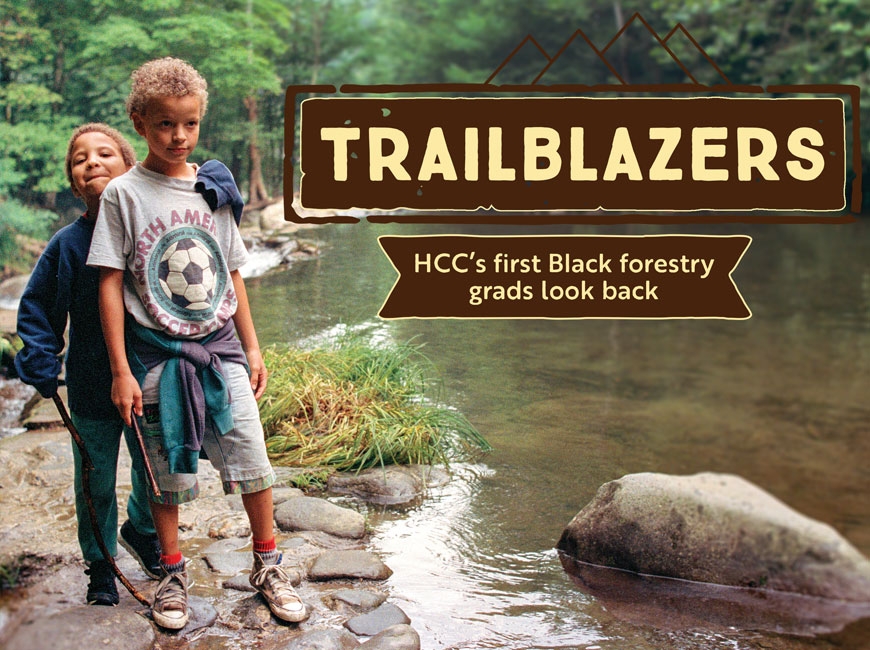 In a late 1980s photo, Ron Davis' nephew William Davis IV and his younger brother Max Davis explore Jakes Creek during a family visit to the Mebane family's Elkmont cabin. Donated photo
Ron Davis Sr. was just 17 years old when he arrived in the tiny town of Clyde, completely alone.
It was 1967, and Davis, a Black man from Knoxville, was there to start the new forestry program at Haywood Technical Institute, now known as Haywood Community College. He worked out a boarding agreement with the only Black person who lived within walking distance of the school, then located in the building that today contains Central Haywood High School, and nervously reported for his first day of class.
That's when he first saw Hilliard L. Gibbs Jr., the only other dark face in that room of 45 or so young men. Davis felt a cool relief wash over him at the sight.
"As an African American not knowing anybody there — had never been there before in that town — you can only imagine how I felt seeing another African American come into the classroom," said Davis.
Davis would later learn that his landlord was actually one of Gibbs' uncles, and by the time he graduated he'd consider Gibbs' people his North Carolina family. But that initial introduction was just the first frame in a friendship that would carry the two men not only through forestry school, but through decades of trailblazing professional success in the natural resources field.
At home outside
From a young age, Davis knew that he was happiest when he was outdoors.
A butler's son, he grew up one of seven children in the historically African American West Knoxville community of Lyons View, but his dad William Davis made sure to teach his kids the joy that comes from time in nature.
"Not only did he have that interest and pass it on to us, but my dad was kind of an environmentalist before the term was even coined," said Davis, now 70.
As scoutmaster for the local Boy Scouts troop, the elder Davis often took the boys out hunting, fishing and camping. The wealthy couple he worked for — Hal and Elizabeth Mebane — had a cabin in the Elkmont area of the Great Smoky Mountains National Park, and every fall and spring Davis would join his dad for a few days to open up the cabin in the spring and close it down in the fall. Those were some of the best times of Davis' boyhood. During lunch breaks, they'd fish Jakes Creek, which flowed directly behind the cabin, or hike the trail that started just across the street.
"All of that exposure to the outdoors in a young person — it just internalized the love of out of doors, the love of the mountains, the love of mountain streams, the love of fishing, seeing wildlife," said Davis.
In a photo taken in the late 1980s, Ron Davis' parents William Davis Sr. (far left) and Mary Davis (second from right) stand in front of the Mebane family cabin with his brother Steve, his wife Tanya and their children. Donated photo
The family had to give up the cabin in 1992 when the U.S. Department of Interior ended Elkmont's use as a summer residence. The Mebane cabin, known as Dudley Cabin, was ultimately torn down. But Davis' boyhood experiences there had a "profound" impact on his later career path.
Not that Davis had tons of leisure time as a young person. His father believed in the importance of hard work, often repeating the mantra that "money doesn't grow on trees." When he was 11, Davis started doing yard work for the Mebanes during school vacations. Around the eighth or ninth grade, his older brother left town for a job in Minnesota, so Davis took over his old job helping out at a local veterinary office, continuing to work there through the end of high school.
Davis' future was looking pretty bright by this time. Hal Mebane — who was part employer, part family to Davis and his parents — had years ago offered to send Davis to college after he graduated. Meanwhile the vet, Dr. George Shiflett, was encouraging him to go to vet school.
Unfortunately, Mebane died the same year that Davis graduated from high school, and the promise to fund his education wasn't reflected anywhere in the will. He wasn't sure about vet school, so he applied to a summer jobs program. When all of his answers to questions about his passions and interests led back to the outdoors, the counselor steered him toward a job opening at the Tennessee Valley Authority.
That summer changed Davis' life.
"I loved the work so much if I had not gotten paid I would have been there every day, working," he said. "I was that passionate about it then and even now. I just loved it."
He was outdoors, of course, helping with fisheries research in the lakes. But he was also working directly with pioneers in the profession. The TVA was created in 1933, so by the late 1960s most of the organization's original leaders were reaching the end of their careers. They were ready and willing to mentor the young people who would lead the organization through the coming decades.
Those were the early days of integration and affirmative action, and as an African American with an interest in natural resources, Davis was viewed as a "low-supply, high-demand" person, he said. By the time the summer was over, the TVA had offered not only to hire Davis on permanently but to pay for his education. That's how he ended up at HCC.
"It's the Lord working in my life to put me in the right place at the right time," he said. "The TVA viewed me as someone that could help them meet a need that they had. All the while I had a love for doing the work I was doing."
Mountain legacy
Growing up in Waynesville's Pigeon community, Gibbs too came to know that the best parts of life were found outside.
His mother Thelma Gibbs was a Cub Scout leader, intent on getting her boys out in the mountains whenever possible. Gibbs spent a lot of time out on Country Club Drive, as well, where his grandfather Fred Moore owned a farm. He'd help tend the crops and the animals, learning about ecology and agriculture in the process.
"He had quite a bit of influence on me," said Gibbs. "It shaped me to a career in forest management."
As Davis does his father, Gibbs remembers his grandfather as an environmentalist, even though the word itself wasn't invented until long after the men developed their respective environmental ethics. Later, after enrolling in the forestry program, Gibbs would discover that Moore had spent his younger years as a mule team logger at the Sunburst logging camp in southeastern Haywood County — that's why he was so often able to stump his grandson with insightful questions about forestry and timber management.
Gibbs' dad was an avid hunter and sportsman, and as a young person Gibbs would often have the chance to roam the mountains, hunting and fishing. The woods were also a gathering place for the family, which was exceedingly large. Both of Gibbs' grandparents had 13 children, and when gathered together all those aunts and uncles, plus their children and eventually their children's children, would make quite a crowd. Every July, they'd meet at the Pink Beds Picnic Area in the Pisgah National Forest and share a meal.
Gibbs was a high school senior in 1966, when integration prompted his move from the all-Black high school in Canton to the formerly all-White Tuscola High School in Waynesville. But Gibbs had an easier time than some. As a standout football player and state wrestling champion, he was a popular guy.
As he neared graduation, he started pondering more seriously what his post-high school years might bring. Maybe he'd be a wildlife officer, he thought. But there were no educational opportunities available for that. Then he heard about forestry school.
"My grandmother, who was Odessa Gibbs, she always took interest in listening to me about what I wanted to do with my life," he said. "One day she called me on the phone."
Haywood Technical was starting a forestry program, she said. Maybe her grandson would consider enrolling? It turned out that the only prequisite for acceptance was the agriculture class he'd ended up taking at Tuscola. Soon, Gibbs was a forestry student.
Opportunity for education
Despite the racially fraught climate of the 1960s, both Gibbs and Davis recall their years at HCC fondly and have little negative to say about their white classmates and professors.
Gibbs said his classmates were "really nice guys" hailing from a diversity of backgrounds. Even 50 years later, said Davis, he still maintains friendships with a good number of them.
"We were the first class that was enrolled in the forestry program in HCC, so that was an opportunity for all of us," said Gibbs. "We had a myriad of different students. We had some that had just come back from service in the military, come back from Vietnam. It was a mixed class of backgrounds."
A 1968 TVA publication features a photo of HCC's inaugural forestry class, including Davis on the far left, Gibbs on the far right and instructor Jack Brodhage. Donated photo
That's not to say that there weren't some jerks in the mix, said Davis. Neither he nor Gibbs remember any overt racism, like racial slurs or violence, but there was a "very, very, very small minority" that engaged in "subtle behavior patterns" that Davis recognized as racist. Gibbs remembers some discussions in a current events class he had to take as part of his studies, and how some of the guys had a "different theme" about the unfolding events of the Civil Rights Era.
"But that was OK. We worked through all that and I think we were better for it, having our professor lead us into some conversations like that," he said. "We were getting ready to move into other areas of the United States by being hired, so we needed to make sure we understood about the situations we could encounter."
Gibbs was focused on the future. So was Davis.
"I don't know what we were called behind our backs, but it didn't matter to me," Davis said. "I was so passionate about what I was doing and my career path that nothing was going to discourage me from pursuing it."
The program they were enrolled in was setting them up to do just that. Gibbs recalls with particular fondness a professor named Walter Rice, who had come to HCC from Lake City Junior College in Florida. He also had significant experience in private forest industries.
"He offered a lot of opportunities," said Gibbs. "We did do a lot of travel during our two years as students. He made sure we got around to look at different forest types, management practices — all that."
About twice a week, the students would leave campus and travel somewhere in the surrounding national forest or to various research facilities. Most of those trips were two or more hours away from Clyde, and at the end of the second year the class took a tour of the entire Southeast, gaining first-person familiarity with each of the many forest types contained there.
"We traveled through Macon, Georgia, and we visited the Macon fire lab there," said Gibbs. "I was impressed by that facility. Little did I know that was the facility that finally ended up hiring me for my first job in the Forest Service."
Working with racism
When Gibbs and Davis graduated in 1969, they were two of a handful of African American forestry graduates nationwide. So, it's not surprising that Gibbs was the first Black technician to work for the U.S. Forest Service's Macon Fire Science Laboratory — or that he was immediately confronted with the all-too-real reality of racism in the Civil Rights Era South.
Gibbs' initial papers said he'd be working on a forest inventory crew — the crews traveled through a multi-state territory taking forest measurements — but two weeks later he got a follow-up letter that said the lab was actually not taking on new fire inventory trainees. He was offered a different job instead, for less money.
Gibbs knew something was up when he discovered that one of his white classmates from HCC had just been hired to that same crew, as a trainee. He quickly figured out what had happened.
"Traveling around in rural areas like Louisiana, Mississippi, Alabama, what happens is those field crews when they finish up, they have to seek housing," he said. "They thought I was going to have a problem getting a house."
That attempt to avoid placing Gibbs in racially charged situations didn't completely work. Three years later, he was working on a fire research program that required him to travel with two field crews deployed to Charleston, South Carolina, for a prescribed burn. The group came back home on a Saturday and stopped for a meal in a small town off Interstate 16. Gibbs sat down with his co-workers, only to have the waitress tell him that he could eat in the kitchen, but not at the table. That restaurant didn't serve Black people, she said.
Gibbs stood up.
"Everybody got quiet in the restaurant," he said. "I stood and said, 'Is there anybody that objects to me eating here in this place today?'"
Nobody spoke, but the waitress still refused to serve him. Gibbs' boss informed her that she was committing a civil rights violation, and that they were there as a crew, together. They would all eat there, or none of them would. The men left, ignoring their hungry stomachs for the next hour or so until they made it home to Macon.
"I tell you, it was enlightening for the field crew members, because some of them were reluctant to believe that discrimination was a thing that was going on in the Southeast, but there it was, a striking example," Gibbs recalled.
The experience galvanized him. Throughout the rest of his career, Gibbs was active in his station's Civil Rights Committee, years later in Alabama serving as committee president and even going out as his station's representative to the National Civil Rights Committee. Employees would submit grievances, and the committee would review them. Many were simple instances of a supervisor and employee not getting along, but some were indeed "dire civil rights problems," and the committee would make sure those issues were dealt with, and not just swept under the rug. He enjoyed the work, and it allowed him additional travel opportunities. His efforts eventually earned him recognition as the winner of the U.S. Forest Service Southern Research Station Multi-Culture Award for Civil Rights in 1996 and 1997.
Gibbs credits his parents with giving him the tools he needed to stay calm in the face of discrimination and then push back against it. Growing up, racial prejudice didn't slap him in the face on a day-to-day basis, but he knew it existed. There were "places we didn't frequent as a Black community," and he remembers the time that the KKK burned a flag on the backside of his neighborhood. But his parents taught him how keep his cool, and his dignity.
"It didn't make me upset. I didn't get upset," he said of that 1972 day in the Georgia restaurant. "I had a pretty good focus about what I was trying to do, so I maintained that."
Meanwhile, Davis was over in Tennessee, working to carve out a career of his own. After finishing up at Haywood, he went to the University of Tennessee — still on the TVA's dime — to earn his four-year degree, all the time working for the TVA whenever he wasn't at school. Much of his work involved required him to travel to remote areas, measuring trees.
Even though he always traveled with a partner, almost always white, "there were parts of the Tennessee Valley region where TVA would not let me work for fear of racial problems," he said.
Their fear was not unfounded. About a decade ago, Davis had the chance to meet a man who had been fishing with some white friends in Telico Lake — one of the places Davis was not allowed to work — around the same time Davis' TVA career began. It was the middle of the day, and a guy in a truck came around to tell the man, who was Black, that he'd better get out of there if he wanted to live. The young man figured the guy was bluffing. Anyhow, it was the middle of the day and he was surrounded by his white friends.
"The guy came back and shot him," said Davis. "Fortunately, it hit him in his thigh and his leg, and it didn't hit any vital organs. He shot him and took off in his truck."
Fortunately, Davis stayed safe from such racial violence, but sometimes he had trouble finding a place to sleep when traveling for work. The motels would never tell him that he couldn't stay there because he was Black, as the waitress in Georgia had once told Gibbs. They would say that they didn't have any rooms available. But on those occasions, Davis would often drive by later at night, just to see. Usually there were very few people there, if any.
"Because I was working with professional people, for the most part I had people looking out for me," he said. "Ultimately the Lord was looking out for me. I was safe. I never had any time that I can reflect back on where I knowingly was in danger. There were probably situations where I was in danger and just didn't know it."
'It's been an adventure'
Gibbs and Davis had no choice but to notice and adapt to the realities of racism in the South, but they weren't pursuing careers in civil rights. They were pursuing careers in natural resources, and aside from being trailblazers in a profession that is still overwhelmingly white, they proved to be talented and driven at their jobs.
Both ultimately completed four-year degrees after leaving Haywood. While in Macon, Gibbs earned a bachelor's degree at Mercer University in math with concentration in natural science and a minor in computer science. After graduating in 1986, he was promoted to physical scientist and transferred halfway across the country to Missoula, Montana, where being Black was an oddity, but not a stigma.
"Those people out there didn't see us too different as far as patrons at the restaurants, hotels, all that stuff — it's Mr. So-and-so, Mrs. So-and-so," he said. "We got more respect there than we did in the Southeast."
Gibbs spent the rest of his career in physical science, working in so many different research areas that he never got bored. He started off with fire research, and then went into atmospheric science, looking at the chemical content of smoke plumes and later the hazardous effects of forest fire smoke and which worker protections are necessary to guard against it. He was in Montana when the devastating Yellowstone fires of 1988 ravaged the West, an opportune time given his research interests.
After two years out West, he transferred back to Auburn, Alabama, where he began working with Jerry Michael, Ph.D., to research water quality, work that he considers to be the best of his career.
"All of the chemicals that were produced for forest management had to go through what they call a field evaluation, and that meant we had to set up forest areas and then apply herbicide to it and then track it through the waterways to find out what significant compounds were from that application," Gibbs explained.
Gibbs and his team had to test water quality during the first five significant rainstorms after the herbicide application, and it proved quite burdensome — not to mention dangerous — to get out and collect samples every time it stormed.
Ron Davis (left), pictured doing TVA field work in the late 1970s. Hilliard Gibbs (right), pictured around the year 2000.
"Once or twice, you smell the ozone from the lightning because you're working in those kind of situations, and you kind of want to remove yourself from those situations," he said.
So, together with Michael, Gibbs figured out a better way. He came up with a scheme that would automatically collect and store the water samples when the stormwater caused the stream to rise. Then, the team could come back sometime in the next 24 hours, after the storm had cleared, to collect them.
Gibbs retired in 2014 a decorated employee. In addition to recognition for his civil rights work, he received the USDA Superior Service Award as a Physical Science Technician in 1982, the Southern Research Station Support Technician of the Year Award in 1985, several awards for Exceptional Performance as a Physical Science Technician between 1985 and 1987, the U.S. Forest Service Support Scientist of the Year Award in 1998, and the USFS Southern Research Station Director's Support Scientist of the Year Award in 1998 and 2010. In 2010, he was inducted into the Boy Scouts of America's National Hall of Leadership and selected as HCC Outstanding Alumni in 2011.
"It's been an adventure," he said of his career, "but it's been great and enjoyable."
The TVA path
Davis graduated from UT in 1975, took a 10,000-mile road trip with his dad to visit as many national parks as possible in three weeks, and then started a 39-year upward journey through the TVA's ranks.
He became supervisor of the TVA's Upland Wildlife Section in the Land Management Division in the early 1980s, and then started work on a graduate degree in wildlife management. He never completed his thesis, but the unfinished degree didn't hurt his career.
"TVA was recognizing my passion for the profession, and I continued to move up in the agency to the point where I ended up a department head," he said. "I headed up TVA's environmental compliance department for the Land and River Management Divisions."
Davis' department was responsible for supplying the large amounts of research, reporting and recommendations required under the National Environmental Protection Act. At one point, he had more than 100 people under him, everything from biologists and water quality specialists to divers and archeologists.
"For me it was great because not only did I have a technical knowledge of those areas, I also could get out in the field every now and then," he said. "Because my job became a desk job, I could get out in the field on occasion and do some field inspections."
TVA is a power agency, but Davis said he was proud of the ways he found to protect the environment within the confines of his compliance work. His team would conduct reviews and assessments and then write in mitigation measures designed to protect the environment from harms that the proposals in question could have inflicted.
"I felt good that not only were we helping the valley — which was a part of TVA's mission — with economic growth, but we were also as a part of our mission protecting natural resources and the environment," he said. "All the while we were helping grow jobs and doing other things."
Even as his own career matured, Davis kept his responsibility to the next generation of natural resource professionals — and particularly to minority members of that generation — at the forefront of his mind. Back when he was coming of age, African Americans were trying to meet more traditional definitions of success — becoming doctors, lawyers, business owners — and to distance themselves from careers that were viewed by some as a continuation of the slavery and sharecropping legacy, Davis said.
"The connotation of working outdoors was not viewed from a positive prism or point of view by a lot of African Americans back in the '40s, '50s, '60s, and even into the '70s," he said, "and that's why we felt such a need to just increase awareness, because even when I got started in the '60s, into the late '60s, I wasn't aware that I could make a living in forestry or wildlife or fisheries."
Hilliard Gibbs stands with HCC President Rose Johnson in 2011 during a reception honoring him as that year's Outstanding Alumni. HCC photo
In the 1980s, Davis helped found an organization called Minorities in Natural Resources Conservation that seeks to make minority students aware of natural resources career opportunities and to work with agencies to increase employment opportunities for minority students — the organization is still active today. Together with his fellow 1969 HCC graduates, including Gibbs, he put together a scholarship aiming to help support natural resource students at the school.
Davis retired in 2004 after 39 years with the TVA and plenty of professional accomplishments to boast of, but when asked what he's most proud of in the last four decades, his answer is simple.
"I am most proud," he said, "of protecting and enhancing the natural resources of the Tennessee Valley region and being a role model to others, especially African Americans in this career path."
Donate for the future
Established in 2012 by the 1969 Forestry Class, the Rice, Seibert, Brodhage Scholarship was named after faculty and staff who had a significant impact on the natural resources program at Haywood Community College — and it aims to help the students who will become the profession's future.
To apply, students must be enrolled in the natural resources program for at least 12 credit hours, hold a minimum GPA of 2.5 and have financial need. It is awarded to one student each academic year, who can then receive $500 annually. Over the past six years, the scholarship has provided $5,570 in financial aid.
To donate to the fund, visit www.haywood.edu/foundation or mail a check payable to the HCC Foundation with the scholarship name on the memo line to HCC Foundation, 185 Freedlander Drive, Clyde NC 28721.