Archived Reading Room
Spilling words like a house afire
Wednesday, March 17, 2021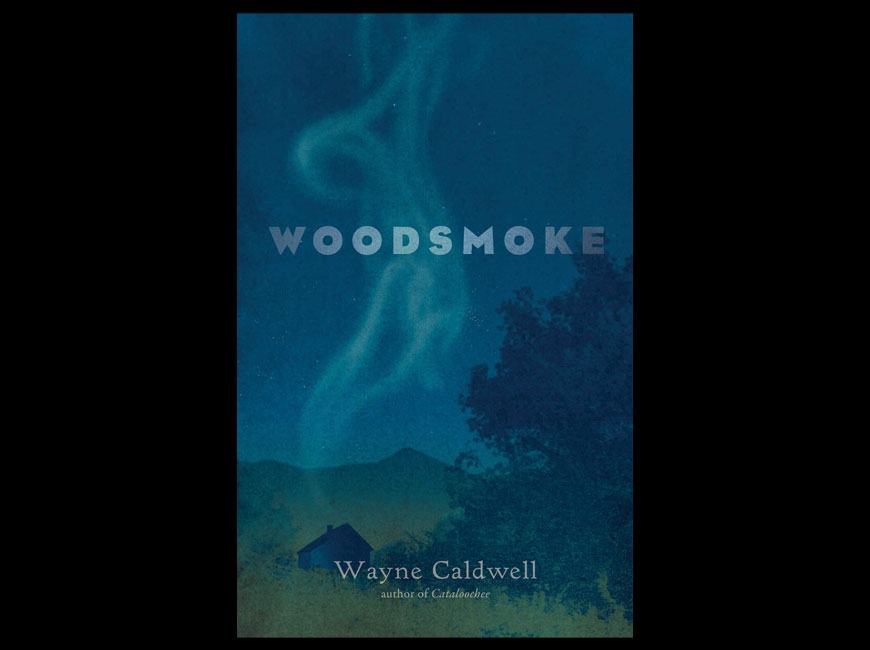 News flash: Buncombe County author Wayne Caldwell is also a poet! Evidenced by his just-released collection Woodsmoke (Blair Publications, Durham) we are treated to a life in the Western North Carolina mountains from the perspective of an elder gentleman who has lived, according to a multi-generational tradition, the old ways.
Caldwell's first person narrator, Posey Green, invites us into his inner sanctum and fills our minds with wisdom, stories and good fun. In Woodsmoke there is something for everyone, whether you are "from here" or not. If nothing else, this book is something of a dictionary of old sayings and Southern Mountain Speech. A language in and of itself unique that is dying out fast with a few remaining elders and the baby boomer generation.
I could literally fill the rest of this review simply citing the list of sayings and mountain colloquialisms I underlined in the book at first reading. Appalachian idoms such as "redding up the woodlot," "confounded jaspers," "jimmy-jawed," "whipsawed," "fotch" (fetch), "limb wood," "in an eyeblink," "raining go-devils," "stove up a glut or two," "knocked me arse over teakettle into the fence," "wood hens" (woodpeckers), "hear bones" (ears), "colder than billy hell," "splain" (explain), "polecats" (skunks), "thunderboomer" (thunderstorm), "ditch lilies," "tomb rock" (gravestone), "skeeters" (mosquitos), "fat the hog," "bangled-up front room pine (christmas tree), "a glory-be armload," "scritched" (scratched), "hidey holes," "a tall glass of mind-quiet" (whiskey), "lid to lid" (cover to cover). And if this aint enough, the list goes on....
The main focus for Woodsmoke is the process of and actions involved in heating one's home with wood. As someone who has heated his home with wood heat for more than 40 years, this is the best book on heating with firewood I've ever read. In poem after poem we get a how-to, hands-on manual of the work involved in heating with firewood. Knowing that Wayne Caldwell himself has heated his home with a woodstove for most of his life, I can hear his voice in Posey's descriptions of splitting wood or wood heat as he probably was sitting near his winter woodstove as he wrote these poems with "words about a tree of life that gives/a man a big ole stack of — fireword — for his soul." In poems with titles such as "Woodstove," "Work," "Woodstack," "Knock on Wood," "Tree Wood," "Splinter," "Firewood in Heaven," "A Devil in Ever Fire," "Striking a Cord," "Logsplitter," and the title poem "Woodsmoke," we witness the work and the worry firsthand from one who knows — one Posey Green, aka Wayne Caldwell. "Stovewood here, backlogs there, kindling by the door./Skinny old Posey creates order from chaos."
But this book is not just about the act of chopping, splitting and stacking wood, but much more. Caldwell gives us in the character of Posey Green a true wisdom-keeper in the Euro-Appalachian style. "The hurrier I went the behinder I got ... /Let your tools do the work;/Lift with your legs, not your back./Gravity is your friend, long's you're on its up side" he states in describing the act of splitting wood. Or on a broader scale, these lines from a poem titled "May Fourteenth": "I reckon the way this world's a-going/When we run slap out of lightning bugs/We'll have flat run out of hope." Or in a poem speaking about his Uncle Howard: "He gave me words/To tote around a lifetime/And unload on some as yet unborn/ten-year-old tadpole/Hell-bent on conquering/The unbustable world." Or on a not so humorous note: "Snuffy Smith ain't fitten stuff for the funny papers./Most times it aint funny, and besides, there ain't a lot of truth to it." And again as the teacher; "The smell of a stack of green wood has weight/Relative to the heat it gives when dry."
And if all the above weren't enough, Caldwell has woven a kind of intergenerational love story into the framework of his book with several poems written by Posey's new younger neighbor named Susan McFalls who has bought the land up on the ridge above Posey's place. This neighborly connection gives rise to back-and-forth poems in a kind of conversation that is reminiscent of the love poems between the French poet Yvan Goll and his wife Claire in the book 10,000 Dawns. In what is more of a friendship than a real romance, we still get a sense of Posey's interest in a poem titled "One Bright Day" with Susan saying "I can live without a man," to which Posey responds: "Miss Susan, please don't take me wrong,/But if I had thirty-five years less, I'd/Try my best to rid you of that notion." And goes on later in the book in the poem "Lonesomes" to say: "But I'm glad to have a next-door neighbor./Not that I craved one to begin with,/But if I got to have one, Susan's top-notch." To which Susan then replies in her own poem: "He's a bona fide, original,/Green-thumbed, beautiful soul./I love him like a father, I love him like a friend."
In the end Wayne Caldwell is a storyteller, as we've seen in his novels Cataloochee and Requiem By Fire, and Woodsmoke is poetic storytelling at its best. In the tradition of JimWayne Miller's Brier, John Lane's Old Rob Poems and the writings of James Still, Wayne Caldwell with Woodsmoke has written a classic which will be read and remembered, I swan, for generations to come. But James Still was an outlander to the Southern Appalachians. Wayne Caldwell is the real McCoy, or should I say, "the real Posey Green."
He ends the book with these words in "Swing Low": "Me, I'm proud of a good day's work,/Long's I can cut and split and stack and burn/I'm all right. When I can't?/Send that chariot right on down./I'll climb in, you can give me my crown." As an exclamation mark to that statement and to this review, I simply quote from an earlier and more emphatic phrase in the book: "Son, that'll preach."
Thomas Crowe is a regular contributor to The Smoky Mountain News and author of the multi-award-winning non-fiction nature memoir, Zoro's Field: My Life in the Appalachian Woods.