Archived News
Sports betting opens March 18 at Harrah's
Wednesday, March 17, 2021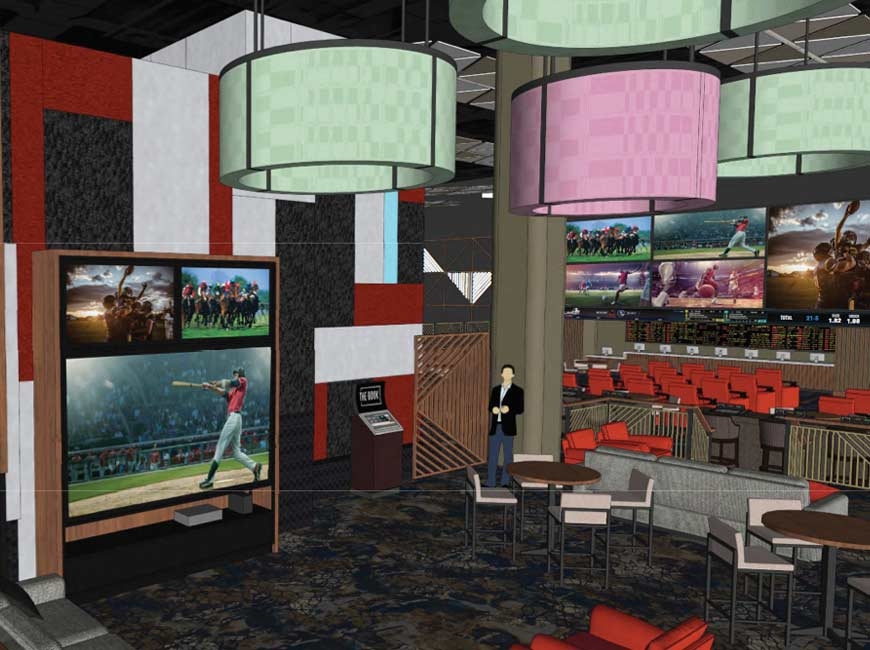 An artist's rendering shows plans for The Book.
The Eastern Band of Cherokee Indians' new sports betting venue is set to open following a ribbon-cutting ceremony tomorrow at 10 a.m., just in time for March Madness.
The Book, with locations at Harrah's Cherokee Casino resort in Cherokee and Harrah's Cherokee Valley River Casino and Hotel in Murphy, will offer plush reclining chairs and ultra high-definition screens for guests to watch the games they're betting on.
"We are excited to offer legal sports betting at The Book, and just in time for March Madness," said Principal Chief Richard Sneed.
The Cherokee facility will have a 90-foot screen, seven ticket-writer windows, ten self-service betting kiosks, full beverage service and reservable space in the Fan Caves or Upper Deck for those who want a more private viewing experience. The Murphy facility will have a 32-foot screen, four ticket-writer windows, five self-service kiosks, full beverage service and an additional lounge area that can be reserved for parties.
"We are grateful for our relationship and partnership with the Eastern Band of Cherokee Indians and are ready for sports fans to join us at The Book at Harrah's Cherokee Casinos," said Harrah's Cherokee General Manager Brooks Robinson. "We are proud to house North Carolina's first sports betting venues and are confident that it will be an amenity our guests will enjoy."
The Book is the culmination of a partnership between the EBCI, Caesars Entertainment and William Hill, the world's preeminent sports betting company.
When Gov. Roy Cooper first signed the bill allowing sports betting on the Qualla Boundary in July 2019, the tribe expected to have The Book up and running within months. However, the project took significantly longer than expected to come to fruition.
Opening The Book required approving an amendment to the tribe's existing gamign compact with the state. After Cooper signed the bill into law, tribe began working on the amednment with Cooper's office, delivering a proposal on Oct. 14, 2019.
Cooper had 180 days from that date to approve or reject the compact, but when the mid-April deadline came he still hadn't taken action. It wasn't until Dec. 3, 2020, that Tribal Council had the chance to give final approval to the Cooper-approved compact amendment. After that, it needed signatures from state officials and approval from the U.S. Secretary of the Interior, with a 45-day public comment period through the Bureau of Indian Affiars required before that approval could be given.
Sports wagering is expected to bring in an additional $14 million in casino revenue, accounting for 3 to 5 percent of total casino revenue. The state expects to gain $1 to $1.5 million each year in taxes, and the compact also requires to pay $191,000 annually state regulatory costs.
Leave a comment
2

comments
Such nice ideas.. you have written it so well. Love this post!

Tuesday, 02/08/2022

This really good article I looking forward for your next article blog.

Monday, 12/20/2021