Archived News
Long overdue regulation bans rebel flag in Haywood County Schools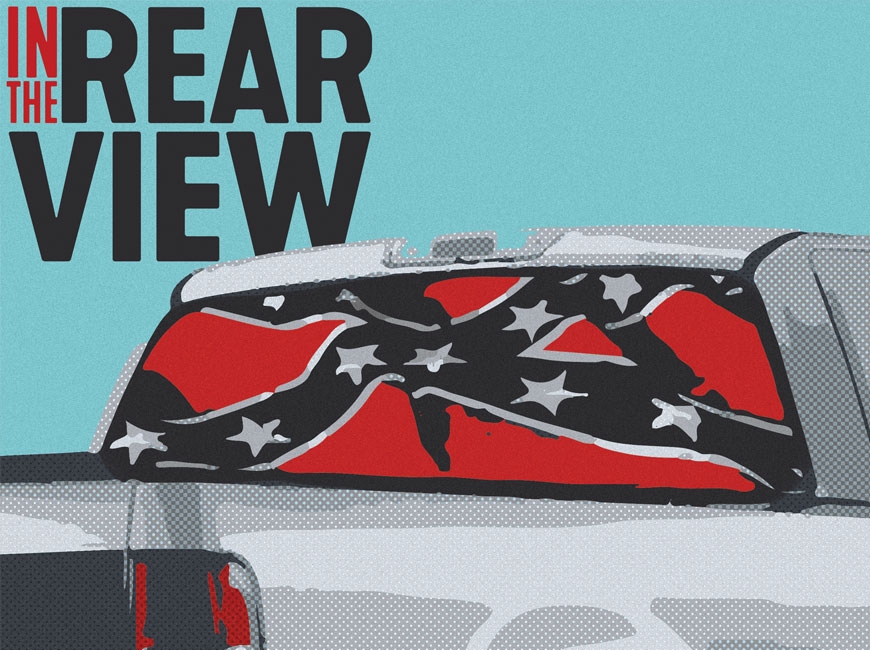 J.D. Moore started his first year at Tuscola in 1999. He was an athlete, played football and basketball. He learned pretty quickly the parts of the school that he needed to avoid, parts where the rebel flag was more ubiquitous and racial slurs were directed at him more frequently.
From a young age, 4 or 5 years old, Moore's mother told him that in this town he would stick out like a sore thumb. She told him the things he should look out for, warned him about going certain places he shouldn't be, told him he had to be extra careful around girls because chances were their dads may not take kindly to him.
Moore said he dealt with racial slurs at sporting events all the time from other teams, other student sections, other parent groups. Playing through the frustration was something his white friends, the majority of players on his teams, never had to think about dealing with.
J.D. Moore graduated Tuscola High School in 2003.
He remembers the night one of his friends went to a party down on Jonathan Creek. His friend was black and quarterback of the football team. He was asleep in his car after the party when a few peers dragged him out of his car and beat him to a pulp.
"They beat him up so bad, you could tell what their reasoning was behind it," said Moore.
For him, seeing the rebel flag creates a heightened sense of awareness. He doesn't believe that every person he's ever seen with the flag has malice towards him, but he has to be on alert when interacting with those people, because "you never know."
"There is a problem with the way the Confederate flag is being used," said Moore. "The Ku Klux Klan used it, the Confederacy used it. That war was fought to either keep on with slavery on one side, or get rid of slavery on the other. So for somebody to keep on saying that they're not racist, it's just Southern heritage, they're not looking into the depth of what the flag is, who is represented."
Another Haywood County Schools graduate spoke with the Smoky Mountain News on the condition of anonymity for fear of retribution. This student started at Tuscola in 2012. He'd been playing football since youth league and had been looking forward to the chance to play for Tuscola High School. But after one semester, he left Tuscola for HCC adult high school where he earned his GED the following year.
"I encountered a lot of racism, racial slurs being thrown around left and right. It got to the point where I started to just walk around with my headphones on so I didn't have to hear it," he said.
For him, the racism didn't end with the school day, it carried over into the locker room. He remembers "Hell Week" for football, when the team slept in the school cafeteria and was woken up at 5 a.m. every morning for two to three grueling practices a day. One night someone popped holes in all the air mattresses of players who weren't white, five players in total. He said some of them had their air mattresses popped again after getting new ones.
This was the same year that four Tuscola students burnt a cross in the yard of a 14-year-old mixed race girl. He remembers a football practice that summer, having to run sprints up and down the field for the entire practice "all because of one players decision to burn a cross in someone's yard."
"When I complained to the office, I was told there was no racism at the school. But how would you know if there was any racism when you're not the target? When I was told that, that's why I made my decision to leave Tuscola the following week," he said.
Haywood County Schools has taken its first step in prohibiting the rebel flag on school property and at school related events.
Superintendent Dr. Bill Nolte passed "Regulation 5210R-INSD, 5240R-INSD Informal Non-School Displays" on March 10, banning informal non-school displays at school activities and events. It states "the purpose of this regulation is to foster a positive climate on school property and at school activities and events." However, the unstated intent of the regulation seems to be to prohibit the use of the rebel flag at school events.
The fight to prohibit use of the flag has been a long-fought battle. Philip Gibbs, vice president of the Haywood NAACP, remembers seeing the rebel flag crop up at football games a couple of years ago.
"The kids were flying rebel flags at the football games at Pisgah and Tuscola, and me looking across the field, I felt it to be so disrespectful because of what the flag stands for. I thought it had no part and no business being on a school ground where it's not representing everybody," said Gibbs.
He got together with members of the NAACP and talked about what they could do to change this. The group began discussions with Dr. Nolte in 2017 about banning the flag from school events. Gibbs said the reaction was negative from the start.
"I could tell he didn't want to do it. He didn't want to ostracize the parents of the students because he thought that would PO the parents of the students that wanted to fly the flags and that if it wasn't causing any melee of fighting or anything, there wasn't really anything they could do about it."
This made Gibbs feel terrible. It probably was true, he said, that Nolte felt taking any action on the issue would make white parents angry, the parents of the kids flying the rebel flag. It was challenging at that time for Gibbs to bite his tongue, he said, to do what was prudent and not fly off the handle, get too angry and say what was actually on his mind.
Over the past year, the issue of the rebel flag in public schools has come to the forefront of national consciousness with the rise of the Black Lives Matter movement. According to data from Civis Analytics, between 15 and 26 million people in the United States participated in demonstrations during June 2020 over the murder of George Floyd and others. That data suggests the protests are the largest movement in U.S. history. This doesn't include the millions of protesters that took up the Black Lives Matter mantle around the world.
Several Black Lives Matter marches took place across Western North Carolina during the summer months and most were met with intense counter protests where rebel flags were brandished.
In July 2020, during the peak of the local demonstrations in support of — and opposed to — Black Lives Matter, Haywood County Schools Superintendent Dr. Nolte was temporarily relieved of his duties after posting a controversial meme some called racially insensitive. He was reinstated less than two weeks later. During that time the school board conducted an investigation into Nolte's work in Haywood County Schools and found no pattern of bias or racism. Also during that time, Dr. Nolte was tasked with developing a plan to bring about healing and set the framework for addressing inequalities moving forward.
Part of that plan included the creation of the Racial Justice Advisory Committee to advise Dr. Nolte on issues of bias and racial justice. According to Nolte, Tammy McDowell was instrumental in putting this committee together. McDowell is assistant director of programming at Lake Junaluska Conference and Retreat Center, chair of the Haywood County MLK Committee and a member of the Haywood Community College Board of Trustees.
"She was very instrumental in helping find members of the community that represented a pretty broad base in the community," said Nolte.
"I think that it is necessary to have the committee, because there is work to be done in Haywood County schools, as far as racial and social justice," said McDowell.
Tara Oloughlin is a teacher at Waynesville Middle School and the president of the Haywood County Association of Educators. She is a member of the Racial Justice Advisory Committee.
"Being part of the RJAC has been an opportunity to highlight the systemic racism in our schools and society as a whole. We have discussed topics including how racism adversely affects all learners and especially our students of color. As we see our nation grapple with how to solve such dilemmas, the same holds true for this committee. It seems like real change comes when people are ready to upset the status quo and are willing to make a stand in ways that may make some folks feel uncomfortable and question their own ways of thinking," said Oloughlin.
After discussions with committee members, community members, board of education members and principals, Nolte decided to implement a regulation banning informal, non-school displays. The regulation is a superintendent regulation and did not have to have the approval of the elected school board. However, School Board Chairman Chuck Francis said the board was kept in the loop about the regulation.
"I think it was a well thought out decision," said Francis. "It takes a lot of things that could be controversial off the table."
The issue of the rebel flag in Haywood County Schools was discussed among the Racial Justice Advisory Committee, but the regulation was not made in consensus with committee members, several of whom were aiming for a more focused regulation. The regulation does not ban any symbol specifically, but bans all large displays other than the U.S. flag, N.C. flag and authorized school symbols or authorized advertising. It applies only to large displays, not to students' personal dress, car bumper stickers, license plates, or other personal items.
Philip Gibbs is Vice President of Haywood NAACP.
"The regulation prohibits all third-party displays that are not authorized by School Board Policy, the superintendent, or the principal," it reads. "The regulation applies to any school-sponsored athletic event or contest, extra-curricular activity, cultural arts event, as well as activities that occur during the school day, such as assemblies and rallies. This regulation applies to all school property, including but not limited to, gymnasiums, stadiums, athletic fields, parking lots, and auditoriums."
The regulation does not nullify or contradict any existing current rules or regulations of Haywood County Schools. Large displays include, but are not limited to "banners, flags, pennants, signs, and posters that are not otherwise displayed by the school or school system, regardless of any message or viewpoint expressed in or on the display."
In response to the regulation, schools are expected to address actions, behaviors, or messages that are vulgar, indecent, or obscene; contain libelous statements, personal attacks, or abusive language, such as language defaming a person's character, race, religion, ethnic origin, gender, family status, or disability; cause, or clearly threaten to cause, a material and substantial disruption of a school activity; encourage the commission of unlawful acts; are inappropriate considering the age of the students; or are violations of School Board Policy and Administrative Regulations.
Nolte said the intention of the regulation is to allow any student, as reasonably as possible, to attend a school activity and be able to focus on the activity, to ensure school functions are not a place where third party social or political causes can share their message.
"The message at the school activity should be the school activity and the focus of the school activities should be the students participating in that activity," said Nolte.
"This does not fully address the issue, until all the paraphernalia is gone completely. But this is a step in the right direction," said Gibbs. "You don't have to sit at a game and watch a big old rebel flag across the field and kids waving it.
As established in the Supreme Court case Tinker v. Des Moines (1969), a school district may only regulate student speech if the district can show that the student's speech would cause "substantial disruption" or interference with school activities. According to the National Law Review, the specific debate over whether school districts can prohibit display of the Confederate flag is unsettled in federal courts, but several school districts have used the Tinker standard for substantial disruption as grounds to ban the flag.
Under the new regulation, personal items like license plates can still display the rebel flag.
"I believe this regulation was a step forward in addressing symbols of hate without specifically stating such. I would like to see the Confederate flag banned not only at games but also specifically addressed in the dress code and beyond," said Oloughlin. "I believe as educators it is our job to promote equality for all students and to help them find their path to speaking out on injustice and other forms of hate. The climate today is quite divisive, but there should be nothing divisive about racial and social equality."
Just this year, Jackson County School Board voted to retire the rebel mascot at Cullowhee Valley School. The rebel mascot had been in use since 1958. School parents, students and community members petitioned the board to retire the rebel mascot, which had been fading in visibility, popularity and usage in recent years. On Jan. 26, the board of education voted to discontinue use of the controversial mascot and allow students at CVS to choose new representation.
J.D. Moore's son attends middle school in Haywood County now and will enter high school later this year. The social and political climate has changed a lot since Moore graduated high school in 2003, but, especially in Haywood County, much has remained the same.
Moore has made sure to pass on the importance of awareness to his son. They talk often about why it's vital to always know their surroundings and why they can't fully trust that they are safe around people who sport the rebel flag. Moore has instilled in his son the necessity to always be sure of the intentions and feelings of the people he is surrounded by, to know who he is dealing with at all times to avoid being caught off guard.
Just last week, Moore was on video chat with his son and his son's mother when they all witnessed a truck pull up to Pisgah High School with several rebel flags flying on the back. In many ways, Moore's son is dealing with the same situations Moore endured in Haywood County Schools.
"Stuff like that. It's just unacceptable. I mean like why, why, why would you do that? What is your true meaning?" said Moore.
The regulation banning large displays is a good step forward in Moore's eyes, though he thinks the rebel flag should be abolished within the schools. He said that minority kids come up knowing constant fear, constant awareness. But, they shouldn't have to feel that way in school.
"I without a doubt, 110 percent think this should have happened a long time ago," said the student, who wishes to remain anonymous. "Because ultimately the rebel flag represents hate, and represents a dead ideology. When I see a rebel flag on a shirt or a rebel flag on the back of a truck I instantly think racism, slavery in a time where our country was divided. And I truly believe for us as a people we have to find ways to break down these barriers in order for us to grow as one race, the human race."