Archived News
COVID-19 vaccine means getting back to 'normal'
Wednesday, April 07, 2021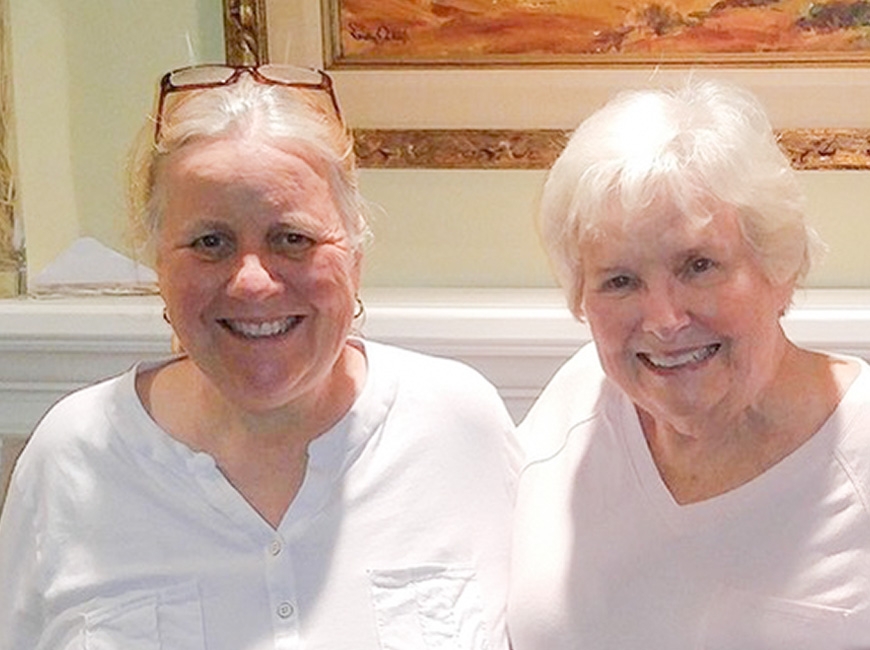 Kathye Shuman with her mother Meg Jones.
People who have been fully vaccinated can start to do some things they had stopped doing because of the pandemic, according to the CDC. This includes gathering indoors with fully vaccinated people without wearing a mask, gathering indoors with unvaccinated people of one household without wearing masks and traveling within the United States without COVID-19 testing or quarantine.
For many people, the most valuable part of getting a COVID-19 vaccination is the ability to spend time with family they haven't had the chance to see since the beginning of the pandemic.
Michelle Stewart is a small business owner in Waynesville. Before the pandemic, Stewart's grandkids would sleep over at her house twice a month. This hasn't happened since January 2020.
Being severely asthmatic, Stewart is high risk for COVID-19 and running a small business means she encounters a lot of people every day. Some from Waynesville, some from all over the country. For her, getting the vaccine is a necessity for being safe at work.
Kathye Shuman lives in Asheville. She has not seen her 81-year-old mother since Christmas of 2019. Her mother lives in Alabama and is very high risk for COVID-19. So even though Shuman's mother has already received her vaccine, they will not feel comfortable visiting in person until Shuman receives her vaccine.
Elaine Slocumb, of Bryson City, is 76 years old and as soon as it is safe, she plans to visit family in Maine that she hasn't been able to see in person since the beginning of the pandemic. She is a registered nurse, holds a Ph.D. in her field and is trained in research. Slocumb says she trusts good science and understands what is meant by the clinical trials and the rigors of emergency use authorization as it relates to COVID-19 vaccines.
"I am in the older age bracket and have pre-existing conditions. The potential for a bad outcome if I contracted COVID-19 was clear to me," said Slocumb.
These Western North Carolina women are getting the vaccine because they know this is what it will take to get back to "normal." Working to keep a small business alive; spending time with kids, grandkids, parents and grandparents; traveling and meeting new people.
COVID-19 vaccines help develop immunity to the virus that causes COVID-19 without having to get the illness. Different types of vaccines work in different ways to offer protection. According to the CDC, for all types of vaccines, the body is left with a supply of "memory" T-lymphocytes as well as B-lymphocytes that will remember how to fight that virus in the future. Because bodies that have been vaccinated remember how to fight the virus, should it encounter it in the future, the risk of severe illness or death goes down tremendously.
Despite the necessity of vaccination to slow the spread of the virus, and move toward "normal" life, there are barriers to access for many. Vaccine availability varies greatly by state and even county, due to the localized nature of vaccine campaigns. Reliable access to transportation and internet access in rural communities can be insurmountable obstacles to vaccination. Vaccine hesitancy among communities that have been historically mistreated by the United States government, like Black and indigenous communities, is common.
Michelle Stewart and her husband Jeff with their dog Cooper.
Additionally, there are extreme anti-vaccination sentiments and vaccine hesitancies among populations that have fallen prey to conspiracy theories about like "Plandemic" and "QAnon" that promote dangerous ideas about sinister motives behind the vaccination campaign. There are also those who believe getting a vaccine, or wearing a mask infringes on freedoms owed to the people of the United States.
Shuman is worried that sensationalist media reporting is also contributing to vaccine hesitancy.
"There is the issue with the reporting of the mRNA/DNA technology. Most reports in the vaccine development period focused on the 'new, unproven' gene technology being used. Never mind that gene technology has been used to treat many other serious diseases for many years now; the reporting on this technology made most people suspicious of 'something messing with my genes,' and they are having none of it. Many people I know of are 'waiting to see' if it's safe, so it is imperative that the media stop reporting just the bad stuff and start reporting on all the people with no problems. Until people believe that, I think they won't get the vaccine, and COVID will not go away."
According to the Cleveland Clinic, a vaccinated person acts as a barrier to slow and prevent the virus from continuing to spread. The ultimate end goal is to get as many people vaccinated as possible so that more people are protected. The entire population benefits from a high vaccination coverage. The estimated vaccination rate needed for the herd immunity threshold for COVID-19 is roughly 50-80 percent of the population. In contrast, the flu needs only 33-44 percent of the population vaccinated.
Stewart's husband was a research biologist for 25 years, so it is easy for her to understand that getting the vaccine itself is safer than contracting COVID-19.
"I think people who aren't getting vaccinated are scared. They're afraid of the unknown. I personally am afraid of the known .... COVID-19 kills people. I'll take my chances with a vaccine that is not FDA-approved over dying," said Stewart.