Archived News
Skaters make case for Franklin skatepark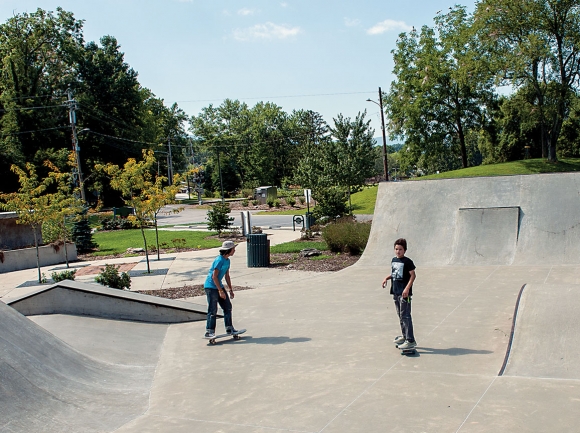 Waynesville skatepark.
The Franklin Town Council board room was standing room only last week as several local teenagers expressed their desire for a skatepark to be developed somewhere within the town limits.
Evan Lampkin, 14, addressed the board first and explained that it was difficult for his group of friends to find a safe and legal place to skate in town without being asked to stop by law enforcement officers.
"We've been told multiple times it's illegal to skate in town, but we haven't found anything in the town or state ordinances that says that," he said. "There is no state ordinance prohibiting skateboarding on sidewalks, and when my mom called the town a few years ago, she was told that the town ordinances don't address it at all."
He referenced successful skatepark projects in Highlands, Cherokee and Waynesville, but the distance makes it difficult to get there, especially for his friends that don't drive yet. In speaking to someone with the town of Highlands, Lampkin learned that an estimated 50 people a day utilize the skatepark and that the only problem initially was litter. That issue has been addressed with more signage.
Highlands' skatepark cost $220,000 to construct in 2017, and it's the most utilized public recreational asset the town has, Lampkin said.
"If they did it all over again, they said they would make it bigger because it's so popular," he said.
Waynesville opened its skatepark in 2013 at the encouragement and assistance from a group of local skaters. The project cost $400,000 and is also a well utilized asset for the town.
Lampkin told the board that constructing a skatepark in Franklin would keep kids from skating on the streets and sidewalks where it's not safe and would provide something positive for teenagers to do after school.
"There's a misperception about skaters — we're not bad kids," he said. "And skating is for everybody. If you would consider putting in a skatepark here in Franklin, my friends and I would be more than glad to sit down with you and talk about the features and options that could be included."
Tim Shaw, the father of two skaters, said having a safe location for his kids to skate would give him piece of mind.
"After school they say they're going to skate town and that makes me cringe," he said. "They need a legal, safe and free place to skate."
Another local teen, Scott Elliott, said skating saved his life and helped him make friends. "Someone handed me a skateboard when I was young, and I quickly fell in love with it," he said. "I've also had many taken from me over the years by the law, but if there's nowhere to go, kids will be on the streets. I'm lucky that everyone in my life has helped me pursue this hobby and I've had the chance to drive hundreds of miles to these skateparks, but there are 10-, 12- and 13-year-old malleable kids that need somewhere to go."
Former Councilmember Adam Kimsey said he also supported the development of a skatepark, though he knows there's an issue of liability on the town's part. However, he said the town takes on a greater liability by having kids skating around town where they could get injured, and creating a safe environment for skaters is the better option.
As a law enforcement officer, Jordan Sutton said he too wants a safe place for them to go in town so their parents will know exactly where they are when they go skating.
"The things we have in town for kids to do are these kinds of activities or drugs and premarital sex," he said. "We used to have a bowling alley and skating rink. We have Parker Meadows (recreation park) in the middle of nowhere, but they need somewhere in town to go."
Mayor Bob Scott suggested putting together some kind of fundraising or advisory committee so discussions on the proposed project can begin.
Councilmember David Culpepper volunteered to help coordinate that effort with the police department, local skaters and the town.
Scott also asked if the police chief could research a place in the town limits that might be safe to block off in the short term so that the skaters would have somewhere to safely go sooner than letter.
Police Chief Bill Harrell said he'd look into a few options and report back to the board.
This article was reported using maconmedia.com video footage.