Archived News
Strong start for SHARE Project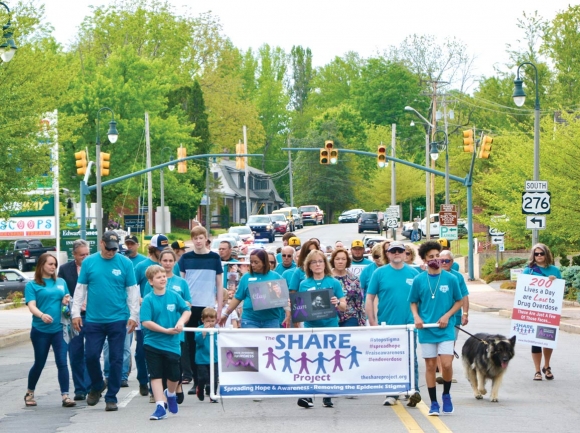 Nearly 200 people took part in a May 16 march in Waynesville, hoping to end the stigma surrounding drug abuse.
If the newly-formed SHARE Project's May 16 drug awareness march was any indication, the group can look forward to strong community support as it attempts to influence both the perception of and legislative agenda surrounding the nation's ongoing opioid addiction crisis.
"One of the inspiring things for me is the message I got, which is that people really do want to help," said Michele Rogers, co-founder of the SHARE project. "People really do want to make a difference and try to come up with a solution in a non-judgmental way."
Michelle Rogers, a co-founder of the SHARE Project, shares the story of her son Clayton's battle with opioid addiction. Cory Vaillancourt photo
Around 200 people showed up on a cloudy Sunday afternoon to carry banners down North Main Street in Waynesville, including Mayor Gary Caldwell, Alderman Jon Feichter, Long's Chapel lead pastor Chris Westmoreland, novelist David Joy, former Chief of Police Bill Hollingsed, Sheriff Greg Christopher and the two men seeking to replace him, Haywood Sheriff's Office Capt. Tony Cope and former Asheville Police officer Bill Wilke.
Each of the banners displayed more than 150 faces of people lost to addiction — black and white, men and women, young and old.
Michele Rogers' son, Clayton Suggs , was on one of them, as well as Lisa Falbo's son, Sam Johnston. The banners read, "Can you see me now?"
"It's personalizing the issues of substance use disorder and addiction. That's certainly what I take from it," said Falbo. "Talk about impactful — seeing all those young faces. I use the word 'normal' loosely, but look how average they are. These are ordinary people, walking down the street."
Lisa Falbo, also a co-founder of the SHARE Project, relates the story of her son Sam's struggle
At the end of the march, which concluded on the front steps of the Historic Haywood County Courthouse, Rogers and Falbo both spoke of the heartbreak involved with watching a loved one die after developing an addiction to opioids.
The mission of the SHARE Project, Rogers said, isn't to create a forum to battle it out over who's fault an addiction is, or which treatment may or may not be best for a particular person, but rather to change the stigma surrounding addiction because lives hang in the balance.
"We are not going to say that one treatment is better than another, because everyone's recovery is different," Rogers said. "The message we work so hard to get across is that this is a judgment-free zone. It doesn't really matter how they got there. The bottom line is, they got there."
To that end, the SHARE Project will continue to be active in Haywood County's fight against opioids, especially through hosting ongoing support groups.
"It's actually kinda sad that we have to have this, because people are losing their loved ones every day, but we did have several people sign up for our support groups," said Rogers.
Although plans aren't yet set in stone, Rogers said the SHARE Project's next major event would be in conjunction with International Overdose Awareness Day, which is Tuesday, Aug. 31.
For more information on the SHARE Project, visit www.facebook.com/theshareprojectwnc or www.theshareproject.org.