Archived News
Staffing a hurdle for Haywood summer school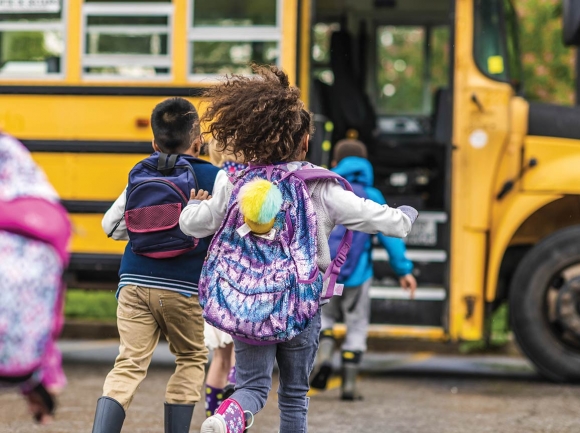 Students in Haywood County will not be provided normal bus transportation for the robust summer school program intended to address learning loss during the Coronavirus Pandemic.
In April, the North Carolina General Assembly passed the Summer Learning Choice for NC Families , an "act to establish school extension learning recovery and enrichment programs in each local school administrative unit to mitigate the impacts of COVID-19 on at-risk students."
The bill lays out specific requirements for the summer school program, that are much more involved than the summer school of years past. Districts are required to provide 150 hours, or 30 days of instruction over the course of the summer.
This year's summer program will look more like the regular school year by including all grades K-12, regular school transportation, meal service for each day of instruction and a period of physical activity.
This is not an easy undertaking for districts that have been stretched thin, working on an almost constantly changing learning plan over the past year and a half. Haywood County in particular is having trouble recruiting enough staff for its summer program.
"Our folks are exhausted and to add a full-length summer on, is asking a lot of them, and they need a break," said Trevor Putnam, assistant Superintendent for Haywood County Schools.
According to Angie Dills, Chief Academic Officer at Jackson County Schools, and Josh Lynch, Director of Curriculum at Macon County Schools, neither Macon or Jackson County Schools are experiencing similar staffing issues. Both counties will provide regular bus transportation to and from school, and both counties have enough teachers to staff a full summer program. Both counties are providing competitive pay for all staff contracting to work the summer program.
"This could be problematic for some folks for sure," said Haywood County School Board Chairman Chuck Francis. "And it's just a sad situation that we're not able to find employees or bus drivers to fill the need. The whole situation is difficult nation-wide, and we're feeling it here as well. We're continuing trying to work on it."
The legislation laying out guidelines for the 2021 summer school session in North Carolina says schools must provide transportation services to the school facility housing the program, provided in accordance with the Plan A requirements for transportation established in the StrongSchoolNC Public Health Toolkit (K-12) issued on March 24.
In order to make the summer school program function with staff available, Haywood County Schools will provide transportation to and from a few pick-up locations around the county, to the schools where instruction will take place, instead of taking students to and from their homes.
Pick-up spots will be located at Bethel Elementary, Clyde Elementary, Hazelwood Elementary, Junaluska Elementary, Jonathan Valley Elementary, Meadowbrook Elementary, North Canton Elementary and Riverbend Elementary. Students can choose to be picked up at any of these locations and taken to school where instruction will take place — Tuscola, Pisgah, Waynesville Middle, Canton Middle, Clyde Elementary, Hazelwood Elementary and North Canton Elementary.
Parents will be responsible for transporting students to and from the pick-up location of their choice. School will be released each day at 12:30 p.m., meaning parents will have to pick kids up from their pick-up site around 1 p.m.
According to Putnam, administration believes this transportation structure is in alignment with the transportation required under the Summer Learning Choice for NC Families bill.
"We believe it covers enough. It wouldn't matter if it didn't match. I mean, the reality is that's the number of drivers we have and that's the amount of transportation we can provide. Even if they said you shall provide transportation, great, come find drivers. We're in an absolute pinch in regard to drivers, we only have what will work."
Haywood County Schools will pay bus drivers $20 per hour, slightly less than double their normal rate, to try and incentivize summer work. So far, 30 drivers have signed up to work during the summer school program. There are 68 bus routes, covered by 68 drivers during the normal school year. Many of the 30 who were willing to work the summer program could not commit to the entire summer.
"We'll utilize 16 of those and we'll have 14 others that actually sub or fill in when those 16 are not available to drive," said Putnam. "Because, you know, people are taking vacations and they're tired, they only want to drive a couple of days a week."
Staff shortcomings don't end with transportation services. Putnam said there are weeks and days during the summer school program when no teachers signed up to teach. In those instances, summer school directors will fill in for teaching staff.
"The other thing that complicates this is, we have a number of kids who signed up and say they are coming," said Putnam. "But what we've experienced with other summer school programs for some time, is that it tends to trail off the longer summer goes. So we may be adequate in the numbers we have, but it's hard to know at this point, because this is, just like everything else this year, it's uncharted territory."